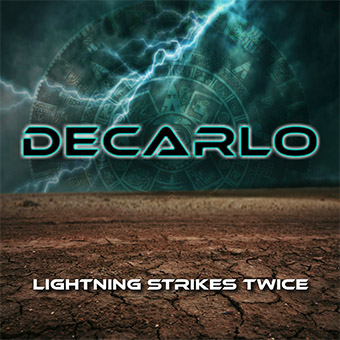 The Cinderella story of vocalist Tommy DeCarlo has added another chapter to the amazing book of a rock and roll vocalist living the dream with the release of Lightning Strikes Twice through Frontier Music s.r.l.
Tommy DeCarlo is best known as the vocalist who went from being a credit manager at a major home improvement store to fronting the rock band Boston. It's a position he's been in since 2007 following Brad Delp's passing.
The band titled DeCarlo is fronted by the vocalist and sees him collaborating with his son Tommy DeCarlo Jr. along with Dan Hitz (drummer) and bassist Brett Nelson. Lightning Strikes Twice has the band delivering a fine, polished piece of classic, melodic, album-oriented rock.
Fans of Foreigner, Survivor, REO Speedwagon and Boston will appreciate the 12-song debut. The album offers up plenty of rocker tracks like "You Are the Fire," the first single "Lightning Strikes Twice," the Boston influenced instrumental "Into the Storm," "There She Goes" and "Stand Up."
As anticipated, ballads are present such as "Still In Love" well as the relaxed "The One." The songs are not filler tracks but thought out compositions.
DeCarlo's performance on "Gotta Go" is eerily in the vain of Delp. It illustrates why Tommy DeCarlo was tapped to fill his shoes. The tone and vocal style run parallel with each other. Some people are gifted with a vocal talent and Tommy DeCarlo is one of those individuals.
Once word spreads that Tommy DeCarlo's music is available, fans of melodic rock will take notice. Lightning Strikes Twice is pleasant offering that has been in the making for years. The wait is over. It's now time to support and spread the word of the new chapter in Tommy DeCarlo's musical journey. Lightning Strikes Twice will be released on January 24, 2020 via Frontiers Music s.r.l.