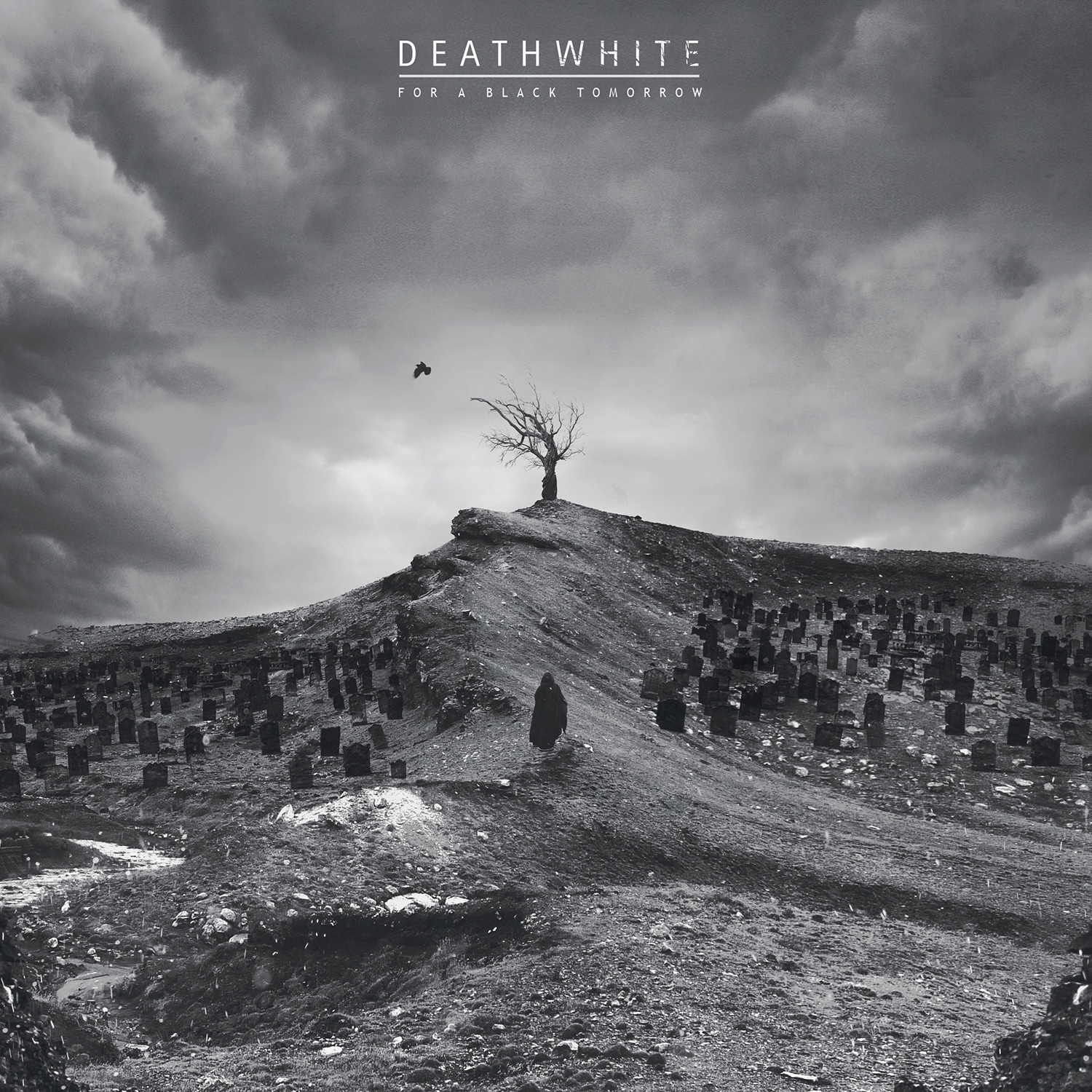 Enigmatic dark metal outfit DEATHWHITE have released a live version of their track "Poisoned" as a free download via their official Bandcamp page. The live recording was captured at DEATHWHITE's first-ever live performance on September 7 at Mr. Smalls in Pittsburgh, PA. It can be streamed and downloaded at THIS LOCATION.

Regarding the track, the band comments, "This version of 'Poisoned' is taken from our very first live show this past September. The audio was captured on a hand-held video recorder, of all things, but, we wanted to share at least one song from this performance to demonstrate the gradual evolution of the band. For our first six years, DEATHWHITE existed solely as a studio project, but the move into the live arena has been fulfilling to the point where we will certainly be doing more shows. We are currently knee-deep into the demo process for our second full-length studio album, which we hope to record in the near future. For now, we hope you enjoy this version of 'Poisoned' and extend our sincere gratitude to those who have supported us throughout 2018."

DEATHWHITE's latest album, 'For a Black Tomorrow', is world-class dark, melodic metal, and has been praised as "one of the best albums of 2018 so far, without question" (Progressive Music Planet), and "another consistently very good release with moments of true greatness" (Angry Metal Guy). DEATHWHITE craft vivid songs that are sharp, polished and deeply emotional. A work of timeless metal, DEATHWHITE's 'For A Black Tomorrow' is profound and powerful. Stream it now at Deathwhite.bandcamp.com or streaming services (Spotify, Apple, etc) everywhere.

'For a Black Tomorrow' is available now  at fine indie record stores the Season of Mist E-Shop across multiple formats.

The artwork and track list for 'For a Black Tomorrow' can be found below:

Track List
1. The Grace of the Dark
2. Contrition
3. Poisoned
4. Just Remember
5. Eden
6. Dreaming the Inverse
7. Death and the Master
8. Prison of Thought
9. For a Black Tomorrow
DEATHWHITE
are available for interviews upon request. To speak with the band please contact
Katy Irizarry
at
Katy@season-of-mist.com
.
DEATHWHITE
news and updates will be made available through the Season of Mist
website
and the
DEATHWHITE
Facebook page
.
What the press is saying about DEATHWHITE:
"Some bands get lost in the transition from EP to full-length, but the gentlemen of Deathwhite directly hit the bullseye on For a Black Tomorrow. Memorable riffs that can veer from dark and brooding to melancholic and genuinely emotive couple with strong vocals that bring each feeling to the next level. It shouldn't be too long before you see Deathwhite mentioned in the same sentence as other depressive heavyweights such as Katatonia, Anathema, and Alcest." – Dead Rhetoric
"It's almost like Deathwhite want to be the Zodiac Killer of goth-rock, taunting us with impressive songs instead of creepy letters, daring us to catch them and end their musical rampage. Mystery aside, this is a band with real talent and a deft hand at songcraft, and For a Black Tomorrow is another consistently very good release with moments of true greatness."  – Angry Metal Guy
"Deathwhite's first record pushes and hurts and bleeds, and if you're OK with displaying your vulnerability, "For a Black Tomorrow" could be the ideal passenger for your travels. This is heavy both mentally and physically, and its gothic undertones only help to elevate the blackness. This band revels in your and their doom, and the music they make should help you feel better about embracing your own darkness and sadness." – Meat Mead Metal
"The full-length album from Deathwhite delivers on that promise with a gloomy slab of majestic metal with towering riffs and soaring melodies. Deathwhite more than succeeds in its mission to pack a wallop with an undercurrent of melancholy." – The Pittsburgh Post Gazette
Subscribe to Season Of Mist on YouTube for new releases : https://som.lnk.to/YouTube
Follow Season Of Mist:
Online: http://www.season-of-mist.com
Facebook: http://www.facebook.com/seasonofmistofficial
Instagram: https://www.instagram.com/seasonofmistofficial
Twitter: https://twitter.com/SeasonofMist