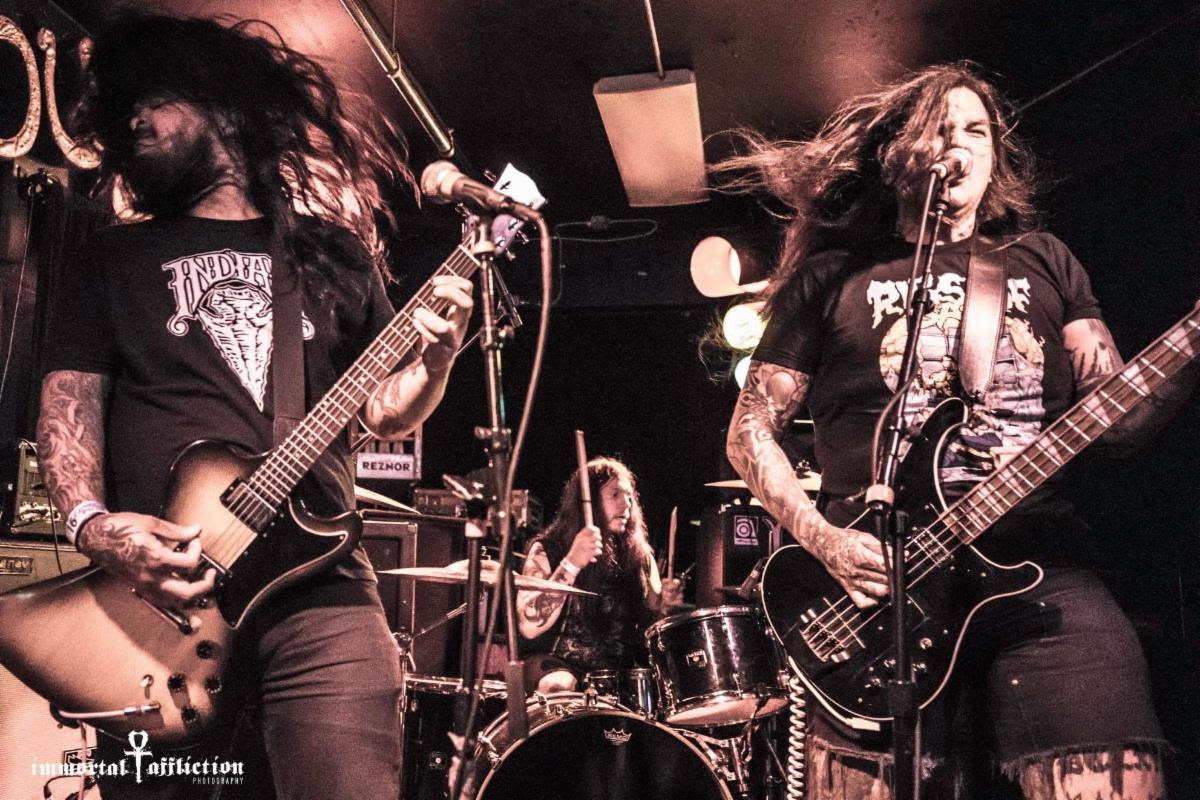 Debut From Seattle Doom/Sludge Trio On The Eve Of Its Official Release; Record Includes Guest Appearances By Members Of Botch, Holy Grove, And Black Breath
Stream DEATHCAVE's Smoking Mountain HERE.
New Noise Magazine is currently streaming Smoking Mountain, the debut full-length from Seattle-based doom/sludge trio DEATHCAVE. The premiere comes on the eve of the record's official unveiling via Satanik Royalty Records.
A devouring fusion of thrash, psychedelic, stoner, and doom elements with lyrics based on personal stories reinterpreted in the realm of mythological tales, DEATHCAVE's Smoking Mountain revolves around the concept of inevitable death and decay of not only humans, but nature as well. "Just south of Seattle, the Klickitats called Mount St. Helens 'Louwala-Clough,' while the Cowlitz tribes called it 'Lavelatla,'" elaborates bassist/vocalist Freiburger. "These two terms had the exact same meaning: 'Smoking Mountain.' This idea is what cemented the name and general theme of the record."
Stream
Smoking Mountain
, alongside a track-by-track breakdown of the record, courtesy of New Noise Magazine, at
THIS LOCATION
.
Smoking Mountain was recorded by Ben Verellen (Harkonen, Helms Alee) at The Unknown in Anacortes, Washington, mixed by Verellen at Verellen Amplifiers in Seattle, Washington, and mastered by Brad Boatright (Integrity, Full Of Hell, Gatecreeper, High Command) at Audioseige in Portland, Oregon. The thundering five-track offering, which includes guest vocals by Andrea Vidal (Holy Grove), Dave Verellen (Botch, Narrows), and Neil McAdams (Black Breath), as well as a track dedicated to late Black Breath bassist Elijah Nelson, will be released digitally and on limited edition vinyl.
For Smoking Mountain preorders, visit the DEATHCAVE Bandcamp page at
THIS LOCATION
.
Named after the Apache Death Cave in Arizona, DEATHCAVE was forged in 2018 and hit the ground running as its three members – Freiburger (Throne Of Bone, Brain Scraper), Benny Koslosky (Swampyheavy), and Tony Muñoz (Razorhoof, Worship) – are longtime veterans of the underground touring circuit. The band released one three-song, self-titled demo last year. Captured by Tad Doyle (Tad, Hog Molly, Brothers Of The Sonic Cloth), the recording reaped critical accolades from critics and underground fans in-the-know ultimately earning them a spot on Northwest Terror Fest (now moved to 2021).
"If you like the combination of Cirith Ungol, Black Sabbath, Mastodon, High On Fire, and slabs of Sleep then you will want to experience the sheer force of DEATHCAVE. A punishing ride, the opportunities for exploration are substantial." – The Razor's Edge