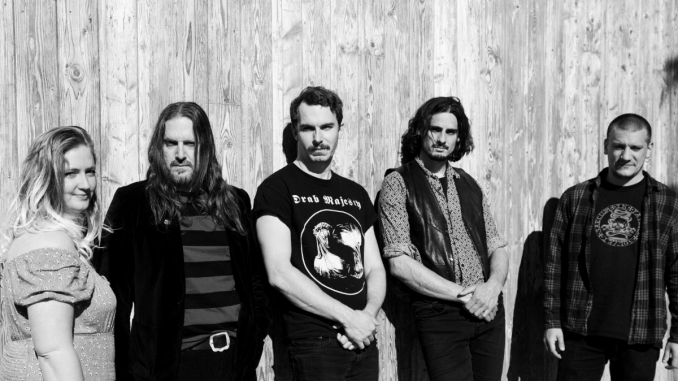 DEATHBELL, the mysterious fuzz-doom unit from the south of France, have announced the details of their new studio album. The band will release 'A Nocturnal Calling' on February 25th, 2022, and the first single, "The Ladder", is out now.

"A man wakes up in the woods and hears a mysterious voice. He meets different entities that will guide him or threaten him towards a greater knowledge of himself", explains the writer of the video Bastian Commelongue, the band's guitar player, "It is a solitary initiation ritual that one is called to perform, in order to ascend or descend the ladder, which is a metaphor for our ever-changing paradigm. This is an exploration of the potential to transform what is carried deep in one's heart."

Directed by Robin Levet and Edza Films, the video for "The Ladder" is out now and can be seen below.
'A Nocturnal Crossing' will be released in vinyl, digital, and CD formats worldwide on February 25th, 2022 via Svart Records.
Written and recorded between 2018 and 2021 in the French Pyrenees, 'A Nocturnal Crossing' reflects on the metaphysical forces of life and spiritual introspection. Recorded live in April 2021, Deathbell have summoned a demon of Occult Rock to rival the classic greats of Coven and Pentagram and modern legends such as Jex Thoth and The Devil's Blood. For inner journeys alone or group ritual worship, 'A Nocturnal Crossing' works as a gateway or ticket into a wider initiation of Doom Rock's inherent ancient power of black magic. Songs like "Silent She Comes" and "The Ladder" are anthemic, wistful, and beautiful gravestones of heavy incantation that deliver the listener into a blissful sonic salvation, with the guitar duo of Bolzan and Commelongue riffing as though oblivion depended on it. A band to watch out for, surely on the tongues and minds of those who seek out Doom Rock's ever-evolving devilish secrets, on 'A Nocturnal Crossing', Deathbell have concocted a very strong brew.