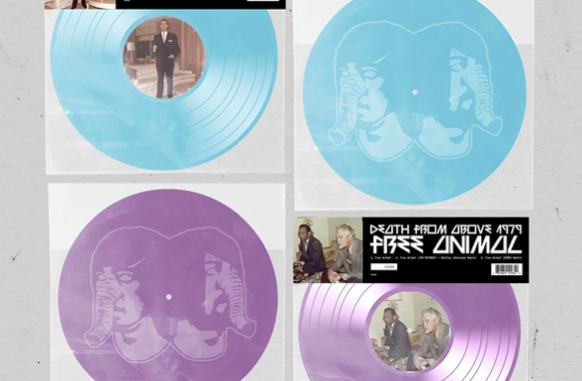 Today, Death From Above 1979 (DFA), made up of Sebastien Grainger and Jesse F. Keeler, celebrate the one-year anniversary of their latest album, Is 4 Lovers, by releasing two limited edition vinyl singles.

There are two types of vinyl — one featuring "Free Animal" on violet vinyl and the second featuring "Modern Guy" on baby blue vinyl. Both include the original track, as well as remixes.

Additionally, the band is heading out on a 26-date tour that kicks off in Ottawa at the Bronson Centre on October 11, 2022, and includes stops in Montreal, Toronto, Chicago, Los Angeles, and more. Ticket details can be found here.

VINYL DETAILS:
"Free Animal"
12″ Single
Limited Run of 2,500 copies on violet vinyl

TRACK LISTING:
"Free Animal"
"Free Animal" (JFK MSTRKRFT + Shelley Johannson Remix)
"Free Animal" (ROMES Remix)"Modern Guy"
12″ Single
Limited Run of 2,500 copies on baby blue vinyl

TRACK LISTING:
"Modern Guy"
"Modern Guy" (grandson Remix)

DFA ON TOUR:
10/11 — Ottawa, ON — Bronson Centre
10/12 — Montreal, QC — Théâtre Corona
10/14 — Toronto, ON — Queen Elizabeth Theatre
10/15 — Guelph, ON — Guelph Concert Theatre
10/16 — London, ON — London Concert Theatre
10/19 — Winnipeg, MB — Park Theatre
10/20 — Saskatoon, SK — The Roxy Saskatoon
10/21 — Calgary, AB — The Palace Theatre
10/22 — Edmonton, AB — Midway Music
10/24 — Vancouver, BC — Commodore Ballroom
10/25 — Victoria, BC — Capitol Ballroom
10/27 — Tacoma, WA — Fawcett Hall
10/28 — Portland, OR — Doug Fir Lounge
10/30 — San Francisco, CA — Great American Music Hall
11/1 — Los Angeles, CA — Fonda Theatre
11/2 — Pioneertown, CA — Pappy & Harriet's
11/3 — Phoenix, AZ — Crescent Ballroom
11/5 — Denver, CO — Bluebird Theater
11/6 — Omaha, NE — Slowdown
11/7 — Minneapolis, MN — Fine Line Music Cafe
11/9 — Chicago, IL — Metro Chicago
11/10 — Detroit, MI — El Club
11/11 — Cleveland, OH — Beachland Ballroom
11/13 — Washington, DC — Union Stage
11/14 — Brooklyn, NY — Music Hall of Williamsburg
11/15 — Philadelphia, PA — Underground Arts
ABOUT DEATH FROM ABOVE 1979 (DFA): Death From Above 1979 (DFA), the boundary-pushing musical alliance created by Sebastien Grainger and Jesse F. Keeler, roared out of Toronto with the uncompromising one-two punch of 2002's fuzz-bomb EP Heads Up and 2004's epochal debut album You're a Woman, I'm a Machine, complete with a North American arena tour with Nine Inch Nails and Queens of the Stone Age, before deciding mid-tour to part ways due to the strain of constant touring. 

Almost a decade later, the rekindled DFA fireworks lit stages around the world ablaze — amassing a posse of fans so passionate they incited a genuine, barricade-smashing riot at Austin's Beauty Bar at the 2011 SxSW. Playing Lollapalooza, Coachella, Glastonbury, Reading/Leeds, Osheaga, Lowlands and more, DFA continued to take the world by storm. Their second album, The Physical World (2014) took a No. 3 spot on the Canadian Billboard album chart and peaked at No. 28 on the U.S. Hot 200, not to mention No. 3 and No. 7 spots on Billboard's Top Alternative and Top Rock registries, respectively. TV appearances around their first two albums on iconic late-night shows including David Letterman, Conan O'Brien, and Jimmy Fallon showed a whole new audience the DFA live goods.  

Arriving at No. 20 on the Canadian Billboard album chart, DFA's scorching 2017 outing, Outrage! Is Now prompted Pitchfork to remark that "Death From Above now sounds more vital than ever." With three smashing albums to their name, the duo drummed up an easy 10 million views before going silent once more, to the dismay of fans.  

In 2021, DFA returned with their new album, Is 4 Lovers — once again creating a new sound and reimagining the format they created more than 20 years ago.