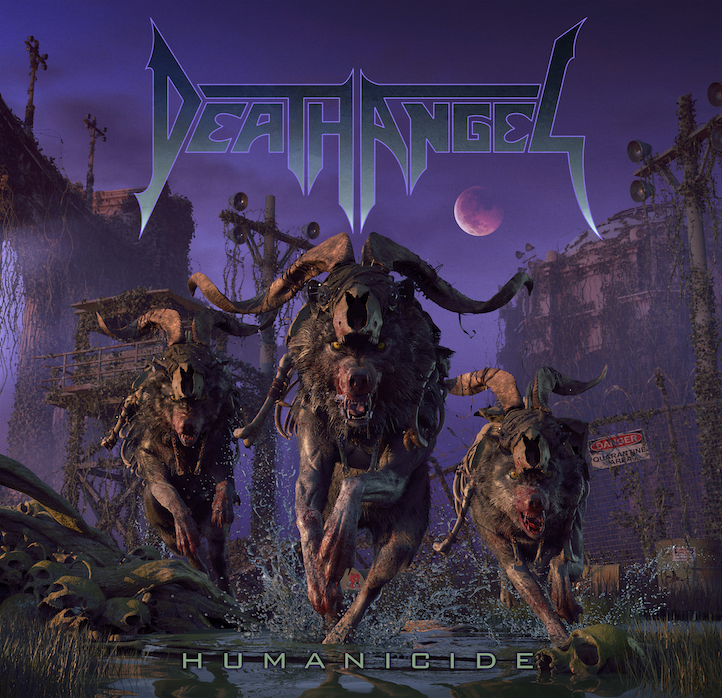 TED AGUILAR DISCUSSES HIS FIRST SONG FOR A DEATH ANGEL
ALBUM IN NEW TRAILER FOR HUMANICIDE
*NEW RECORD OUT NOW ON NUCLEAR BLAST DEBUTS ON CHARTS WORLDWIDE*
After the celebrated release of Bay Area thrash metal legends DEATH ANGEL'S new album, Humanicide, the band is giving fans yet another look inside the making of the record. Today the band has revealed a new album trailer in which guitarist Ted Aguilar discusses writing his first song, "Alive and Screaming," on an album in his 17 years with DEATH ANGEL.
DEATH ANGEL's new album, Humanicide, was released on May 31st and has since received an outpouring of acclaim from critics and endless praise from fans. The record also garnered some of the band's highest charting positions of their career!
DEATH ANGEL is currently on tour in Europe in support of Humanicide with shows throughout June and August. Tickets are available now at DeathAngel.us.

DEATH ANGEL Tour Dates:
June 19 – Siegburg, Germany – Kubana
June 20 – Hagen, Germany – Kultopia Hagen
June 21 – Dessel, Belgium – Graspop Metal Meeting
June 23 – Saint-Hilaire-De-Clisson, France – Hellfest
Aug 8 – Derby, United Kingdom – Bloodstock Festival
Aug 10 – Vagos, Portugal – Vagos Metal Fest
Aug 11 – Leeuwarden, Netherlands – Into The Grave
Aug 12 – Osnabruck, Germany – Bastard Club
Aug 13 – Pratteln, Switzerland – Konzertfabrik Z7 & Mini Z7
Aug 14 – Dinkelsbuhl, Germany – Summerbreeze Festival
Aug 15 – Montagny-Sainte-Felicite, France – Site de Kerboulard

ICYMI:
Trailer #1 – Writing Humanicide: https://youtu.be/Xmj54V4T2jQ
Trailer #2 – Working with producer Jason Suecof: https://youtu.be/M1BGfLzfCrc
Trailer #3 – Humanicide Cover Art & Wolf Trilogy: https://youtu.be/k72JuA8zVYM
Trailer #4 – About "The Pack": https://youtu.be/K8EqMaAdOw8
Trailer #5 – The Album That Made You Want To Become A Musician: https://youtu.be/fADfyLcHk3A
Trailer #6 – Lyrical Concepts On Humanicide: https:https://youtu.be/ITm1-rzDNIk//youtu.be/JadfrHfL6j8
Trailer #7 – Consuming Music Now vs Then: https://youtu.be/ITm1-rzDNIk
Trailer #8 – Mark Osegueda's Stand Out Tracks On Humanicide: https://youtu.be/CSV5Dm4QqNA
Watch the lyric video for "The Pack": https://youtu.be/p4dTl9CI3uU
Watch the visualizer for "Humanicide": https://youtu.be/OVDEMDxNNrQ
Watch the guitar playthrough for "Humanicide": https://youtu.be/C5VwlqcQXnE
Watch the music video for "I Came For Blood": https://youtu.be/BNuliOVJ8O8.

With their newly released album Humanicide, DEATH ANGEL has maintained their throne in the universe of Thrash while still managing to remain progressive in their style. They apply a wide variety of different elements to their music, always pushing to add newness to their sound. This time around they've included everything from acoustic bits, to guest musicians, to even (for the first time) the notes of a piano. All 10 songs flow seamlessly yet each leaves its own distinct impression.

Visit DEATH ANGEL for more information:
https://www.deathangel.us/
https://www.facebook.com/deathangel/
https://www.instagram.com/deathangelofficial
https://twitter.com/deathangel

Purchase Humanicide in various formats, here: Nuclearblast.com/deathangel-humanicide
Listen to the band's new tracks in the NB New Releases Playlists:
http://nblast.de/SpotifyNewReleases / http://nblast.de/AppleMusicNewReleases
Humanicide track listing:
1. Humanicide
2. Divine Defector
3. Aggressor
4. I Came For Blood
5. Immortal Behated
6. Alive and Screaming
7. The Pack
8. Ghost of Me
9. Revelation Song
10. Of Rats and Men
11. The Day I Walked Away (Bonus Track)

DEATH ANGEL is:
Rob Cavestany | lead guitar/vocals
Mark Osegueda | lead vocals
Ted Aguilar | rhythm guitar
Will Carroll | drums
Damien Sisson | bass