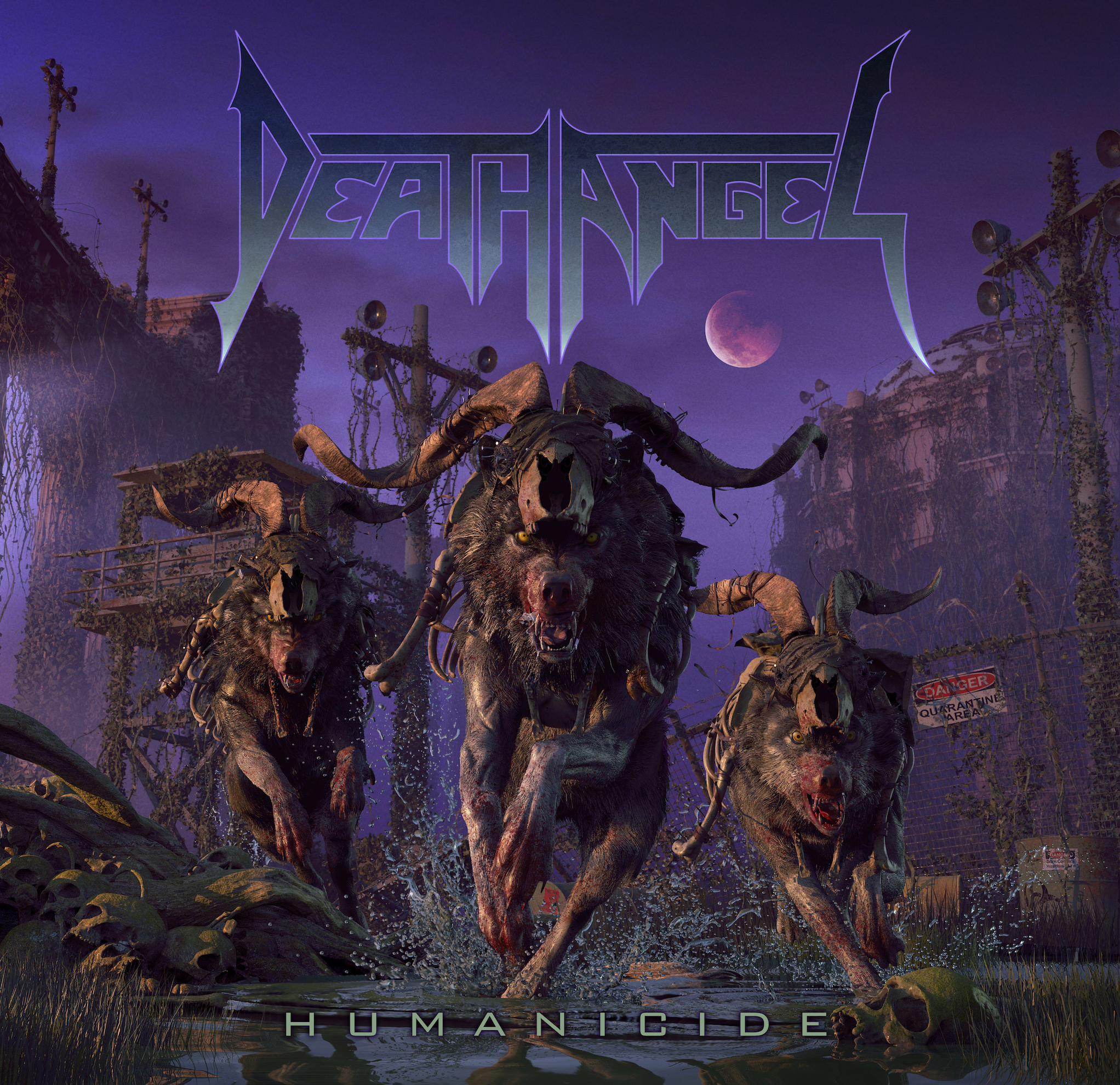 You know what really sucks is seeing a band fall apart. When they write the same old riffs and boring lyrics you think they should have hung it up a long time ago. Death Angel IS NOT that band. I've certainly seen my share of bands I felt who should have hung it up a while ago. I've been a fan of Death Angel Since hearing Act III. I thought that album was among their best. I can say that this new album Humanicide blows it all out of the water.

This will be Death Angel's ninth studio release dating back to The Ultra-Violence released in 1987. Also, the band's current lineup is the longest running of all the lineups. Starting out with founders lead singer Mark Osegueda and guitarist Rob Cavestany on lead guitar, then rounding out the line up is Ted Aguilar on rhythm guitar, Will Carroll on Drums and Damien Session on bass.

There is so much power and emotion in each of the tracks, starting with the opening track "Humanicide." The groove Rob lays down while Mark sings
"This is who I am, despite what you believe. The dark horse black plagued anti-god that lives in you and me…..this is the reason all hope is lost."
All of the songs are top notch. The fifth song in "Immortal Behated" starts out with a slow, but calculated pace through the verse and then drops into an aural assault during the verse. The band has matured, but in the same token kept all of their angst and energy over all of these years.

The thrash scene that the band was a part of and helped establish is still flowing through their veins.  Mark's voice is as strong as ever and Rob's riffs are as energetic and catchy as they were 30 years ago.  I have had this album on my playlist every day since I got my hands on it. A couple of months ago I had the pleasure of see Death Angel live, and a first for me. There was a circle pit the entire time. The energy of the music was not only played, but you could feel it coming through each member of the band. Definitely add this album to your playlist wherever you may get your music from.  You can also go to the Nuclear Blast website to order the album there. May 31, 2019 Humanicide will hit the streets.
I rate this 5 out of 5 metal horns in the air!