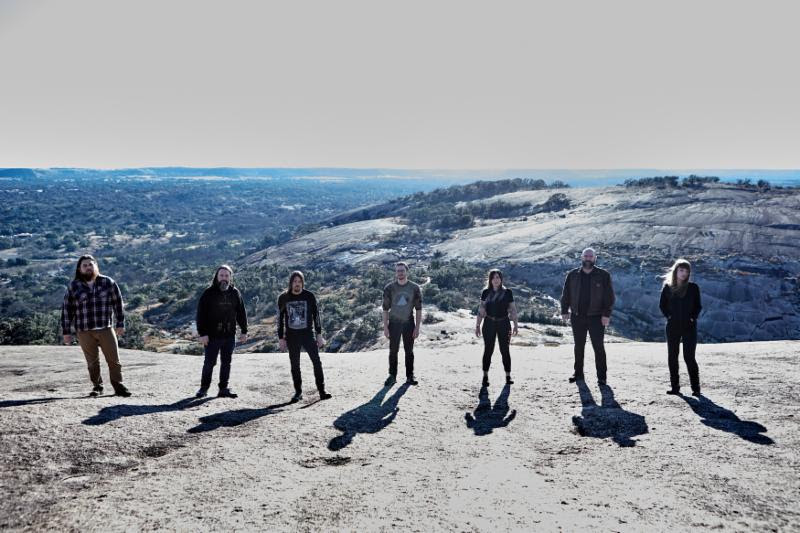 DEAD TO A DYING WORLD: Elegy 2xLP By Texas Dark Metal Septet Out Now Through Profound Lore
[photo by Kathleen Kennedy]
Elegy, the massive double-LP opus from Texas-based dark metal septet DEAD TO A DYING WORLD, is out today through Profound Lore Records, the album now streaming on all platforms.
Following up 2015's ambitious Litany endeavor, DEAD TO A DYING WORLD's Elegy is a foretelling of a post-human world which explores themes of loss, grief, and the dawn of a new ecology through the eyes of a lone wanderer. The last human grieves the end of humanity, reflecting on the temporal insignificance of man and the sixth extinction caused by the Anthropocene – the end of our kind brought about by our own hubris, greed, and desire for power over one another. Elegy marks the third chapter in the trilogy, which explores our relationship to our world by reflecting on our past, present, and impending future.
Produced by Billy Anderson, Elegy stands as one of the most riveting productions from the acclaimed producer in recent times. The album sees the band's seven full-time members welcoming contributions from a small cast of guest musicians, including Thor Harris (ex-Swans, Thor & Friends), Jarboe (ex-Swans), Dylan Desmond (Bell Witch), and Emil Rapstine (The Angelus), Pablo C. Urusson (Sangre de Muerdago), and Tim Duffield (ex-Sans Soleil). The new contingent of guests helps elevate the narrative of Elegy to a new plateau.
Elegy is out today through Profound Lore Records on 2xLP, CD, and all digital platforms. Place orders through the label webshop
HERE
and via Bandcamp
HERE
.
With widespread touring being confirmed in support of Elegy, DEAD TO A DYING WORLD has announced a West Coast tour. Running from May 24th through June 1st, the band will tour clockwise up the western edge of the country with their friends in Dawn Ray'd on their way to perform at this year's Northwest Terror Fest in Seattle, joining the likes of Bongzilla, Wolfbrigade, Indian, Pig Destroyer, Gadget, Indian, Cirith Ungol, Thou, Spirit Adrift, and many others. The band will also announce a new run of East Coast summer tour dates in the weeks ahead.
DEAD TO A DYING WORLD West Coast Tour w/ Dawn Ray'd:
5/24/2019 Beerland – Austin, TX
5/25/2019 Rockhouse Bar & Grill – El Paso, TX
5/26/2019 TBA – Tucson, AZ
5/27/2019 The Resident – Los Angeles, CA
5/28/2019 Blue Lamp – Sacramento, CA
5/29/2019 Siren's Song Tavern – Eureka, CA
5/30/2019 Barboza – Seattle, WA @ Northwest Terror Fest [
info
]
5/31/2019 Vista Bar – Boise, ID
6/01/2019 Diabolical Records – Salt Lake City, UT
Elegy sees DEAD TO A DYING WORLD take their creative spirit to a new apotheosis, resulting in the collective's most focused and moving opus yet, crafting their vast aural landscape in such flourish, one consisting of seamless, sonic textures guided by the likes of apocalyptic dark metal, doom metal, and epic, cinematic post-rock. With a musical structure that consists of three monolithic central tracks reinforced by three stirring interval segments, Elegy presents a new grandiosity in DEAD TO A DYING WORLD's auditory palette. One of the key musical components in the album are the melodic surges that thrive throughout its discourse, whether it's through the more aggressive post-black metal-ish flourishes that counter with the more melancholic yet immense melodic components that truly begin to define the band's sound. The dual vocal projection of Mike Yeager and Heidi Moore continues to serve as a defining staple while the band also continue to expand their instrumentation, solidified even more through Eva Vonne's viola which continues to bridge and become a central element in DEAD TO A DYING WORLD's sound as well as including outer-sound instruments like expanded experimental percussion, hurdy gurdy, Hammond organ/piano, and concert bass.
"If we write our own epitaph for the planet, DEAD TO A DYING WORLD's dark metallic prophecies are there to provide a gracefully vicious soundtrack…" – NPR
"…a well-balanced approach to their mixing of metal genres. More propelling tracks alternate with softer interludes, with one breathing life into the next like the changing of the seasons…. Elegy captures the scene of a world without humankind. As the evolution of the natural landscape mournfully plows forward, just one lone sole is left to take in the dawn or a new day." – Invisible Oranges
"Not to slight the previous two albums, but listening to Elegy back-to-back with either of them is night and day. Elegy is the first album where Dead To A Dying World's music sounds as larger-than-life as it was written to sound. It's also the most focused and confident album they've made yet." – BrooklynVegan
"This is death row metal; something to be acknowledged on its own merit, created as a step above the status quo of the genre, and not to be compared to the other bodies of work by the band itself. If this were your last musical meal, you may well be content with that result. 10/10" – Heaviest Of Art