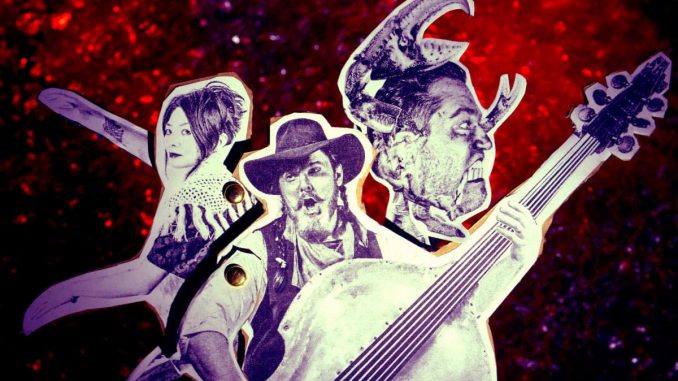 From Atlanta Post-Rock/Doom Trio; EP To See Release Later This Month
Watch DEAD REGISTER's "Don't Fail Me" video HERE.
Atlanta, Georgia-based post-rock/avant doom trio DEAD REGISTER proudly offers their most intricate visual creation to date with a live-action puppet video for their new single, "Don't Fail Me." The song is nearing official release as an expansive maxi-single/EP at the end of the month, and today, the video sees its public unveiling through an exclusive premiere hosted by CVLT Nation.
DEAD REGISTER's most epic song yet, "Don't Fail Me" comes to life through an intense new live-action mixed-media puppet extravaganza which portrays the emotional depths of the song's lyrical focus as an official music video. Crafted by Avril Che and M. Chvasta, this video marks the band's fifth DIY visual production, and the band's first ever foray into puppetry.
DEAD REGISTER delves into the song, writing, "'Don't Fail Me' is a standalone single recorded in an attempt for us ancients to stay active, much like a nursing home trip to the mall for weekly early AM jazzercise. The song deals with feelings of hopelessness, inadequacy, death, compounding soul-crushing depression, mundanity of life, overcompensation, self-reliance, and ghosts."
On the video's creation, they offer, "We were not allowed to have friends in the year 2020. So, it was decided, since real humans can't be used for the video, fake ones would have to be made instead. How hard can a puppet show be? It turns out, it's a hell of a feat with a mere two-person crew."
CVLT Nation writes in part of DEAD REGISTER, "We've described them as post-rock post-punk and deathrock doom, but none of those labels do this Georgia band justice. They're creating a sound that's their own, and it's a pleasure to listen to."
Tune in and experience DEAD REGISTER's "Don't Fail Me" video first only at CVLT Nation now at THIS LOCATION.
DEAD REGISTER will self-release the Don't Fail Me maxi-single on CD and cassette as well as all digital providers through their own AVR Records on February 26th. Included with the single are three soundboard songs recorded live in Lafayette, Louisiana on the band's 2019 tour – "Fiber" (Fiber LP), "Ender" (Captive EP), and "Circle Of Lies" from the band's impending 2021 LP – and "Failed," a remix of "Don't Fail Me" reworked by Lament Cityscape.
Find custom character-based merch bundle options and other preorder options
RIGHT HERE
.
The husband-and-wife team of M. Chvasta and Avril Che burst through the gates forming DEAD REGISTER in late 2013, bringing on a live drummer in early 2014. The DIY-lifers have since produced three critically acclaimed independent releases on their own AVR label (plus a reissue of the Fiber 12″ on Throne Records) and have created four music videos fueled by shoestring budgets and the graciousness of their friends and community. They have toured the US and Canada in support of their Fiber LP and Captive EP and intend to cultivate a life on the road. A large selection of new material is steadily being recorded in-house by drummer, R. Garcia, including the band's new LP, which is now complete.
Watch for updates on the new LP to post over the months ahead.
For review copies of
Don't Fail Me
as well as interviews and all coverage of
DEAD REGISTER
worldwide contact
dave@earsplitcompound.com
.