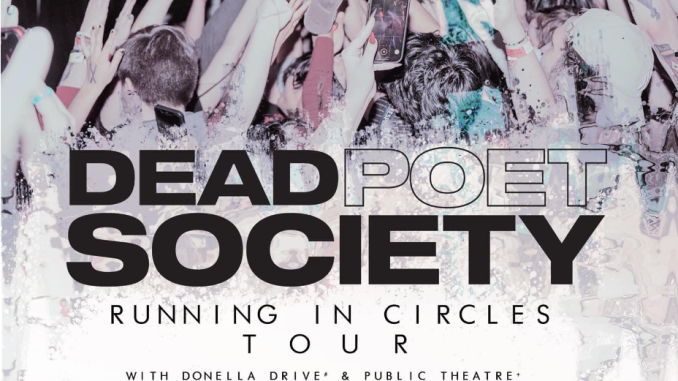 BAND TO APPEAR AT WELCOME TO ROCKVILLE + SONIC TEMPLE

DELUXE VERSION OF -!- OUT NOW
After a successful winter run supporting Highly Suspect, Los Angeles quartet Dead Poet Society will hit the road on the Running In Circles Tour. Donella Drive and Public Theatre will support on select dates. DPS will also appear at Welcome to Rockville and Sonic Temple during this trek. All dates are below. Get tickets here.
"We're always stoked to get back on the road," the band says. "There's nothing like coming to our shows. They are chaos, they are sweaty, and they are emotional. 110% all out. Come get lost in it."
Last year, Dead Poet Society released a deluxe edition of their critically acclaimed and head-turning debut album -!- (said as "The Exclamation Album."). Get it here. The expanded version added six new tracks — a healthy selection of stripped down songs, live tracks, and a remix.
DEAD POET SOCIETY ON TOUR:
WITH DONELLA DRIVE + PUBLIC THEATRE:
5/12 — Phoenix, AZ — Valley Bar#
5/15 — Dallas, TX — House of Blues#
5/16 — Houston, TX — House of Blues#
5/17 — Little Rock, AR — The Rev Room#
5/20 — Daytona Beach, FL — Welcome to Rockville (Festival)
5/21 — Atlanta, GA — Aisle 5#
5/23 — Vienna, VA — Jammin Java+
5/24 — Philadelphia, PA — Milkboy+
5/25 — Buffalo, NY — Rec Room+
5/27 — Columbus, OH — Sonic Temple (Festival)
5/30 — Fort Collins, CO — Aggie Theatre+
5/31 — Colorado Springs, CO — Black Sheep+
#With Donella Drive
+With Public Theatre
Dead Poet Society have had a banner last few years — pandemic notwithstanding.
They accumulated over 70 million global streams, with nearly 30 million streams in the U.S. alone. The band also enjoyed two Top 15 singles at radio and key playlisting. They have also spent as much time as possible on the road — having toured with alt rock powerhouses Badflower, Biffy Clyro, Highly Suspect,and BRKN Love. The band has ultimately established itself as an intense live act not to be missed!
DEAD POET SOCIETY ARE:
Jack Underkofler — Vocals/Guitar
Jack Collins — Guitar
Will Goodroad — Drums
Dylan Brenner — Bass
PRESS PRAISE FOR DEAD POET SOCIETY:
"Dead Poet Society is sure to pave the way for what every other mod-rock band is to become" – American Songwriter

"A profoundly self-reflective body of work, speaking thematically of having loved and lost" – Bring The Noise

"Dead Poet Society have showcased their uniqueness and taken a huge step towards carving their names out as one of the most intriguing bands around right now" – Punktastic

"A promising debut from a band brimming with energy and potential" – Upset Magazine