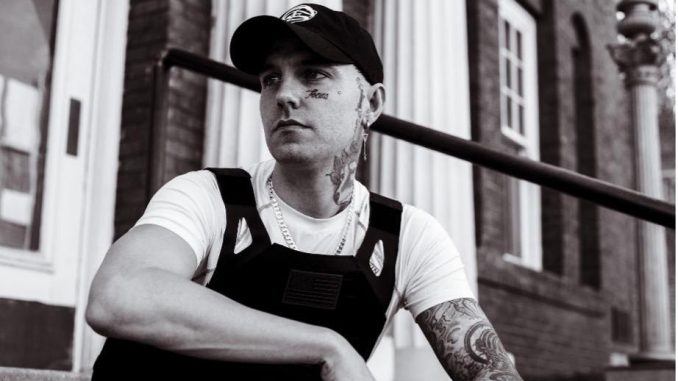 Music Video Premiering via Metal Injection
Watch HERE
New Album 'Pegasus' Out September 22nd!
Pre-Order HERE
Southern California-based metalcore outfit DAYSHELL have released the first single from the band's upcoming studio album. The solo endeavor of former Of Mice & Men vocalist/guitarist Shayley Bourget, DAYSHELL has partnered with Metal Injection to premiere the music video for their new single, titled "You Wish".

The follow-up to 2019's 'Mr. Pain' LP, DAYSHELL will release their fourth studio full-length, 'Pegasus', on September 22nd. The new record was produced by Joey Sturgis (Asking Alexandria, I See Stars, The Devil Wears Prada).

Speaking about the themes behind "You Wish", Bourget shares: "Lyrically, the song touches on the darker side of the limelight. One moment people love you, the next, they wish you didn't exist. In the blink of an eye your friends can become your foes. Your dreams left shattered. This is a song about resilience. No matter how much hate. No matter how hard it is. Just keep rocking while they just keep wishing."

Check Out the Video Premiere for "You Wish" on Metal Injection HERE
DAYSHELL is a one-man band fronted by former Of Mice & Men vocalist/guitarist Shayley Bourget.

Originally formed as a group in 2012 alongside two of Bourget's childhood friends, shortly after Bourget's departure from Of Mice & Men, DAYSHELL was soon signed to Sumerian Records and released their self-titled debut album – eventually touring the world with bands such as Chevelle, Halestorm etc.

The band would come to part ways with Sumerian Records and, in 2016, DAYSHELL released their second album, 'Nexus', through Spinefarm Records. After undergoing more label and lineup changes, Bourget decided to take matters into his own hands and go completely solo/independent. In 2018, he launched a GoFundMe campaign in hopes of funding a new album. To everyone's surprise, the campaign's goal of $20,000 was surpassed.

Determined to deliver his most ambitious album to date, Bourget set out to write and record the third installment in DAYSHELL's discography, 'Mr. Pain'. The 2019 album, a 14-track LP that was released independently thanks to fan funding, eventually became DAYSHELL's most successful release to date.

After the success of 'Mr. Pain's GoFundMe campaign, Bourget once again shifted focus – spending a few years continuing to hone his craft. Bourget then launched another GoFundMe campaign, this time with a goal of raising $50,000. The goal was healthily surpassed once again– bringing in a total of over $53,000!

DAYSHELL's new (and once again fan-funded) album, titled 'Pegasus', is set for release on September 22, 2023. Their fourth studio record, it was produced by Bourget's longtime friend and mentor, Joey Sturgis.
'Pegasus' Track List:
1 You Wish
2 Not Welcome
3 Attitude
4 Give Me
5 The Reckoning
6 Return Of The Doc
7 Letting Go
8 Miss You So
9 C'est La Vie
10 Play The Beast
8 – Labrakadabrador