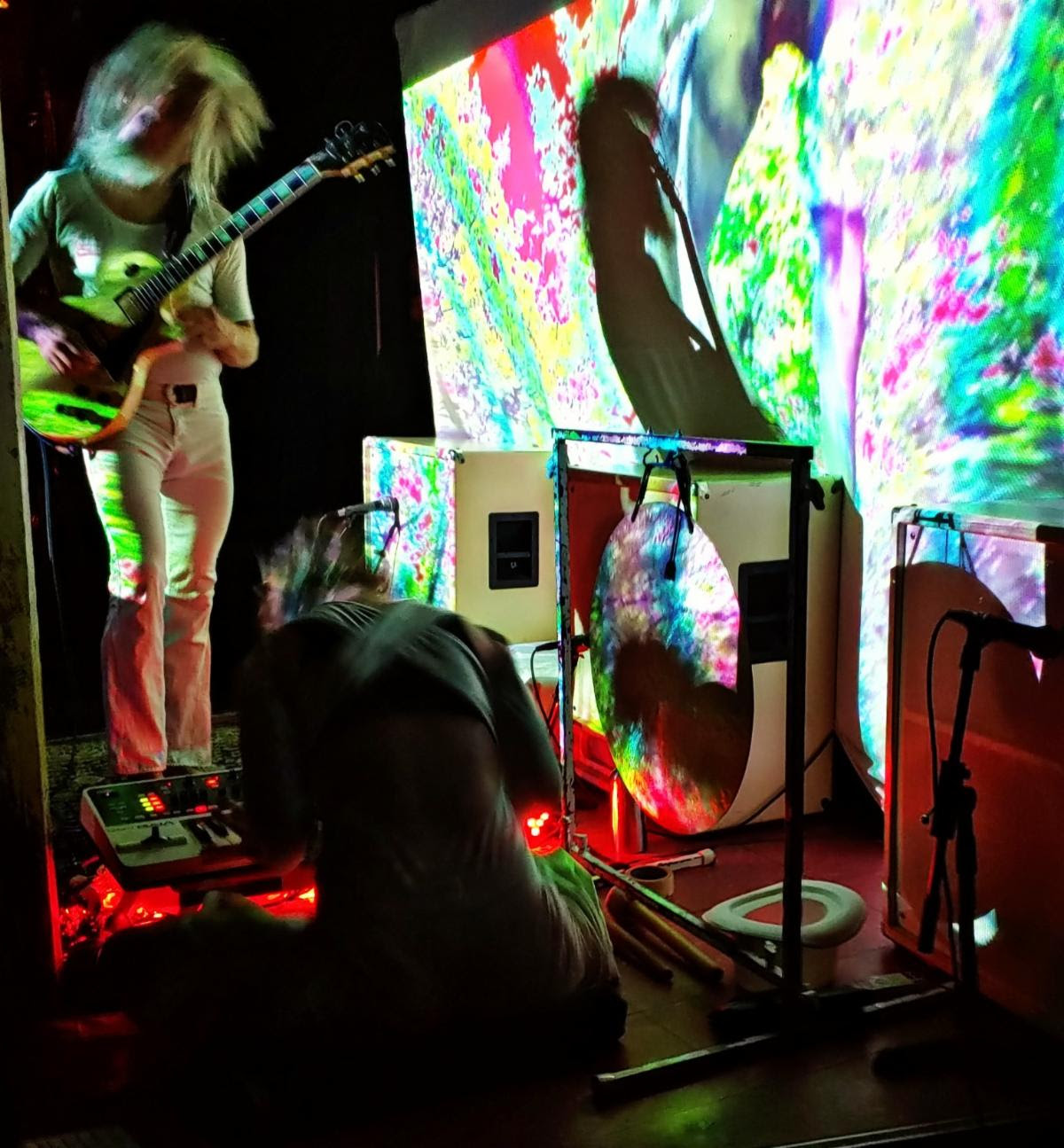 Band Announces The Great Social Distancing Tour Of 2020
Baltimore-based audiovisual progressive/psychedelic duo DARSOMBRA has joined the countless artists who have been forced to cancel major touring plans for the year in response to the Coronavirus COVID-19 pandemic. However, the band has other plans in place of their self-booked six-week European tour – including dates with Conny Ochs, Kristian Harting, and their maiden performance at Roadburn Festival – this week announcing The Great Social Distancing Tour Of 2020.
Already well-known for their sporadic pop-up roadside shows — where the duo spontaneously sets up and performs live in the wilderness, by national monuments, along a deserted road, and so on, while broadcasting live on their social networks – DARSOMBRA will take this to the next level throughout the coming months. They'll perform live from non-predetermined and undisclosed locations around their native Maryland, performing material from their sprawling fifth LP, Transmission.
Engulf yourself in DARSOMBRA's film for Transmission at
THIS LOCATION
.
Transmission
is out now on LP, CD, cassette, and digital download directly through
DARSOMBRA
. Find a wide array of options at the band's webshop
HERE
and Bandcamp where the entire album is streaming
HERE
.
Read on for a personal statement from the band here:
"Greetings, DARSOMBRA fans and friends!
As many of you know, we are scheduled to begin a six-week tour of Europe and the UK starting in April. But as the Coronavirus COVID-19 has dramatically shifted the human experience greatly at this time, we are social distancing and self-quarantining in our home in an effort to not spread the plague. Our European shows have been cancelled, if not by the venues, then by us.
But, we are not cancelling our tour… just changing the location! So, for the month of April and the first half of May, feel free to come out online and see us on The Great Social Distancing Tour Of 2020! We will be touring throughout the rooms of our home (a.k.a. The Darsombra Mothership) and undisclosed locations around Maryland and broadcasting it to you via our social media and digital networks. Keep an eye on our Facebook, Instagram, and YouTube pages, as well as
www.darsombra.com
for more information as April approaches.
It breaks our hearts (and our wallets) to not come out and play shows for you in Europe, but we take this current reality very seriously and want to do what we can to keep ourselves and others safe. Unfortunately, that does mean that our income is decimated, as we are a complete DIY cottage-industry project; each tour represents several months of planning, scheduling, booking, negotiating, promoting, preparing merchandise, doing graphic design work, and practicing, all handled by us. Financially speaking, all of this work is typically rewarded at the end of this process, when we play shows to our audiences-these shows support us to continue bringing
DARSOMBRA
to you (as well as to feed ourselves and care for our basic human needs). We feel awkward putting this out there, but now is a fantastic time to support us through mail order of our merchandise or donation, all of which can be arranged at our web store at
darsombra.com
. You can also support us through our Bandcamp page as well at
darsombra.bandcamp.com
So here we are! In Baltimore, ready to rock for you! We are thrilled to present to you our new work Transmission, as well as older pieces and improvisational soundscapes… so we look forward to seeing you in cyberspace, on The Great Social Distancing Tour Of 2020!
In the meantime, if you find yourselves with extra time on your hands, feel free to check out our latest film, Transmission https://youtu.be/1MIRrIpVmWo. This is what we're projecting behind us when we perform our new album, Transmission. Five years in the making, from filming to editing to release and realization in performance, it's a large, winding tale of life and death (and death, and death), and everything in between. Composed exclusively to Transmission, and shot all over the world, the film is a lush, dreamlike, chilling, and poignant portrayal of the human experience. And there's karaoke!
Much love, much gratitude, and keep those hands clean!
Brian and Ann, DARSOMBRA"
For review copies of
Transmission
as well as live coverage and interviews with
DARSOMBRA
worldwide contact
dave@earsplitcompound.com
.