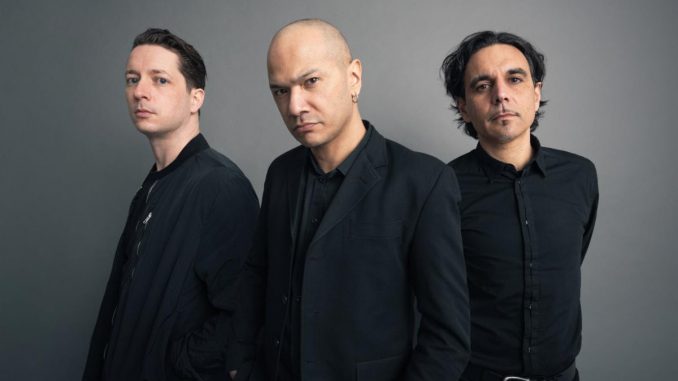 ALBUM LIVESTREAM SHOWS TOMORROW, AUGUST 28TH AT 8PM CET & 8PM ET / 5PM PT. TICKETS AVAILABLE

HERE!

TICKETS FOR DECEMBER TOUR DATES ON SALE NOW!
"With, Power Trio, our 10th studio album, we're not celebrating our 25 years as a band by releasing a greatest hits "look back", but rather, releasing a new slab of hot rock. Hotter than you'll hear all year. It is the album that took 25 years for us to make and it was time well spent," says Danko Jones.
With such a simple, self-evident title, Power Trio, speaks to the special triangular alchemy Danko shares with his trusty bass-slinging accomplice JC and drummer Rich Knox, while also staking out the band's place on a storied lineage of three-piece titans that includes the Jimi Hendrix Experience, ZZ Top, Rush, Motörhead, Venom, Dinosaur Jr., and the Jon Spencer Blues Explosion, to name a few. When you choose to start a power trio, you're not simply forming a band, you're entering a blood pact—a tacit acknowledgement that all three members need to carry their equal share of the weight lest the whole enterprise collapse. There's nowhere to hide in a power trio—no second guitarist to cover your mistakes, no keyboard player to smooth things over, no horn section to distract the crowd. If you fuck up, the whole band fucks up. Everybody needs to be on their A-game at all times, and on Power Trio, Danko Jones are in peak physical condition, delivering each engine-revving riff, soul-shaking stomp, and shout-it-loud hook with a sniper's precision.
TOUR DATES w/ The Anti Queens:
12.08.21 @ Warehouse St. Catharines, ON
12.10.21 @ Maxwell's Waterloo, ON
12.11.21 @ Phoenix Concert Theatre Toronto, ON
12.14.21 @ London Music Hall London, ON
12.17.21 @ Bronson Centre Ottawa, ON
12.18.21 @ Biltmore Theatre, Oshawa, ON
TRACKLIST:
2. Good Lookin'
3. Saturday
4. Ship Of Lies
5. Raise Some Hell
6. Blue Jean Denim Jumpsuit
7. Get To You
8. Dangerous Kiss
9. Let's Rock Together
11. Start The Show
Band Photo By Dustin Rabin
DANKO JONES ONLINE:
SONIC UNYON RECORDS ONLINE: