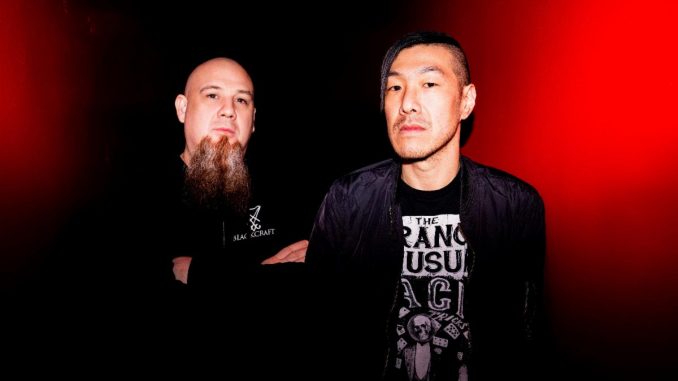 North American Tour w/ Magic Sword This Spring
California-based Electronic music duo DANCE WITH THE DEAD have released their sixth studio album, 'Driven To Madness', today on all major streaming/digital platforms! The new record features ten tracks of dynamic, riff-forward thrills that provide the ultimate soundtrack for fans of the group's John Carpenter-inspired sound, along with a guest feature from the aforementioned Carpenter and his son Cody on the opening track "March of the Dead". 'Driven To Madness' was first announced in late 2021, and features the lead-off single "Sledge".
Speaking about their newest studio offering, DWTD comments, "This record has all the elements that define this band but with more intensity and energy. Big drums, big synths, and big and heavy guitar riffs. From start to finish, it goes in fifth gear. We're really excited for everyone to finally hear it!"
STREAM/BUY 'Driven To Madness'
DANCE WITH THE DEAD
'Driven To Madness' (Tracklist)
"March of the Dead"*
"Firebird"
"Hex"
"Sledge"
"Kiss of the Creature"
"Wyrm of Doom"
"Start the Thaw"
"I'm Your Passenger"
"Nebula"
"A New Fear"
*- feat. John & Cody Carpenter
The generous offerings from Dance With The Dead don't end there. Fans who remember the lost "Bring Out The Dead" 2020 tour will be pleased to learn that DWTD and Magic Sword are joining forces once again to embark on a US co-headlining run this Spring! See below for a complete list of dates.
DANCE WITH THE DEAD
North American 2022 Tour w/ MAGIC SWORD
March 23 – Denver, CO @ The Oriental Theater
March 24 – Salt Lake City, UT @ Urban Lounge
March 25 – Boise, ID @ The Knitting Factory (Treefort Festival)
March 27 – Missoula, MT @ The Show Room at the ZACC
March 29 – Calgary, AB @ Dickens
March 30 – Edmonton, AB @ The Starlite Room
April 2 – Winnipeg, MB @ The Park Theatre
April 4 – St. Paul, MN @ Turf Club
April 5 – Madison, WI @ High Noon Saloon
April 6 – Chicago, IL @ Bottom Lounge
April 7 – St. Louis, MO @ Red Flag
April 8 – Columbus, OH @ Skully's
April 9 – Pittsburgh, PA @ Thunderbird Music Hall
April 10 – Cleveland, OH @ Mahall's
April 12 – Detroit, MI @ The Loving Touch
April 13 – Toronto, ON @ The Axis Club
April 14 – Ottawa, ON @ Brass Monkey
April 15 – Montreal. QC @ Les Foufounes Electrique
April 16 – Quebec City, QC @ Imperial Bell
April 18 – Boston, MA @ The Sinclair
April 19 – Philadelphia, PA @ Underground Arts
April 20 – New York, NY @ Le Poisson Rouge
April 22 – Baltimore, MD @ Ottobar
April 23 – Durham, NC @ Motorco Music Hall
April 24 – Atlanta, GA @ The Masquerade
April 26 – Orlando, FL @ The Abbey
April 27 – Tampa. FL @ Crowbar
April 29 – Houston, TX @ The Secret Group
April 30 – Austin, TX @ Empire Garage
May 1 – Dallas, TX @ Amplified Live
May 4 – Phoenix, AZ @ The Rebel Lounge
May 5 – Los Angeles, CA @ Echoplex
May 6 – San Diego, CA @ Brick By Brick
May 7 – Berkeley, CA @ Cornerstone
May 8 – Sacramento, CA @ Goldfield Trading Post
May 11 – Vancouver, BC @ Hollywood Theatre
May 13 – Portland, OR @ Wonder Ballroom
May 14 – Spokane, WA @ Lucky You Lounge
May 15 – Seattle, WA @ The Crocodile
DANCE WITH THE DEAD – "Sledge" (Official Video)
About DANCE WITH THE DEAD
DANCE WITH THE DEAD is an electronic-based music duo by Justin Pointer and Tony Kim. Inspired by retrospective movies and music from the '60s, '70s, and '80s, their sound reflects heavily on analog synthesizer sounds and early heavy metal guitars. They released their debut record "Out of Body" on October 31st, 2013 to great reviews in the synth, metal, and EDM communities alike. As of late 2019, the duo has toured alongside acts such as Devin Townsend, Avatar, and Dragonforce as well as headlined shows in the USA, Canada, France, Belgium, Germany, Iceland, Russia, Belarus, Riga, Talin, Scotland, United Kingdom, Ireland, Netherlands, Czech Republic, and Ukraine. DANCE WITH THE DEAD's sixth full-length album, 'Driven to Madness', will see a January 10th, 2022 release, and features a special guest appearance from John Carpenter and his son Cody Carpenter.
DANCE WITH THE DEAD Online: