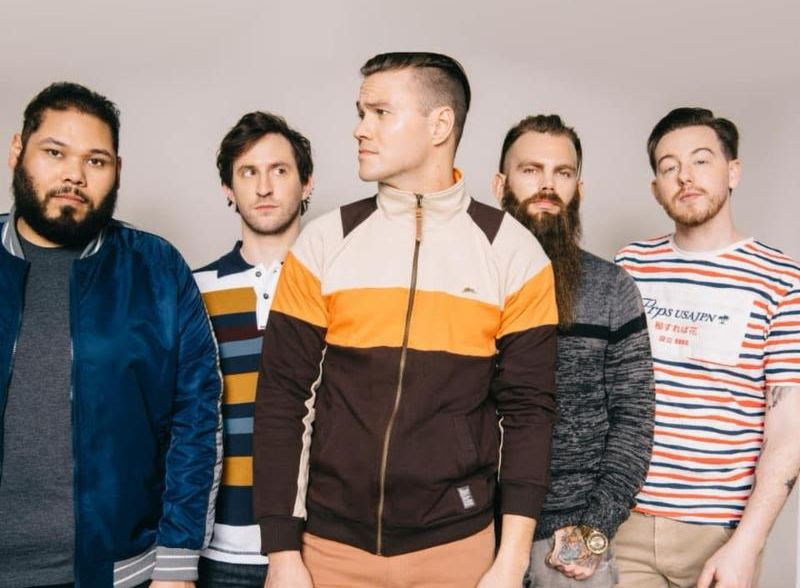 Watch The Accompanying Wild West Inspired Video
Here
Inaugural Swanfest Headlined and Curated by Dance Gavin Dance To Take Place Next Weekend At City National Grove Of Anaheim
Friday March 22nd, Los Angeles (CA) – Post-Hardcore legends, Dance Gavin Dance, have dropped a brand new track 'Head Hunter' (Rise Records) with a highly entertaining, spaghetti western inspired video that perfectly exhibit's the band's dry sense of humor-
watch it here
.
'Head Hunter' is yet another exhibition of the band's innate ability to provide a musical palette that is simultaneously light and dark, rough and smooth whilst pushing the limits of experimentation. Jon's ferocious screams combine with Tilian's gloriously melodic choruses and Will's jaw-dropping guitar lines soar over Tim and Matt's complex and thunderous rhythm section.
The brand new track comes a week out from the band's first ever Swanfest, a one-day festival curated and headlined by Dance Gavin Dance and taking place at City National Grove Of Anaheim on March 30th. Last remaining tickets available
here
Since their inception in 2005, Dance Gavin Dance has steadily built a phenomenally loyal, cult following. Blending complex instrumentation and time signatures with huge poppy choruses and raw, aggressive screams, Dance Gavin Dance have fathered an entire genre of their own 'Swancore' characterized by their signature combination of elements of math-rock, progressive-rock, and 
post-rock
and aptly named after the band's phenomenal guitarist, Will Swan and his record label Blue Swan Records.
This has been the inspiration for the first ever Swanfest which will be the first date on the band's upcoming 'Artificial Selection'US headline tour with special guests Periphery, Don Broco, Hail The Sun, Covet and Thousand Below. The tour comes in support of the band's critically acclaimed 2018 album of the same name which has already clocked up 48 million streams on Spotify and was critically lauded by the press.
Dance Gavin Dance have played live to over 100,000 fans over the past year and that number is set to grow exponentially with several of their upcoming tour dates having sold out months in advance. Remaining tickets and VIP packages for the 'Artificial Selection' Tour are available from
dancegavindanceband.com
What the press said about Artificial Selection
"..drastic fusions of alarmingly hostile centers with invitingly emotive choruses and soaring instrumentation."
(Pop Matters)
"..they ravage their way across a fourteen track brutal yet highly melodic album that you cannot step away from! It is a little beauty that just keeps giving track after track."
(RocknLoad)
"Dance Gavin Dance have never been a band to settle for the predictable or mundane and this effort shows their continuous efforts to push the boundaries of experimentation."
(Distorted Sound)
"Eight albums into a career and to still be producing sounds anew is quite the marvel. It's a marvel which the talismanic Will Swan seems to do with an effortless swagger, his guitar wizardry as natural as blinking eyelids. And when you insert such a prolific songwriter amongst a crowd of other talented misfits, you get the band we don't deserve: Dance Gavin Dance."
(The 730 Review)
"Every single member of this band has grown exponentially, no matter how long their tenure. With each album, Tim, Will, Tilian, Matt and Jon find their footing and take off running into a vast dimension of their undeniable talent and ear for delicious melodies."
(Substream Magazine)
"Dance Gavin Dance's new album Artificial Selection left us absolutely speechless" (
Varsity Media Group)