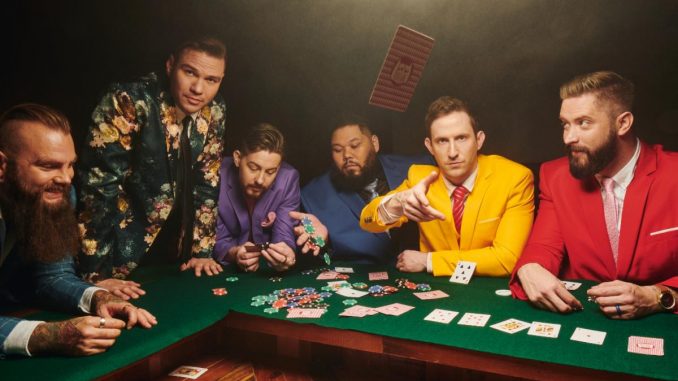 Chart topping post-hardcore outfit, Dance Gavin Dance, have today dropped the official music video for "Die Another Day", the third new single from their upcoming new album, 'Jackpot Juicer' (out July 29th via Rise Records). The brand new video completes the triumvirate of videos that make up "The Rat King Triology', along with previously released videos for "Synergy" fest Rob Damiani of Don Broco and "Pop Off". Watch the video HERE or by clicking the image below. Find the track on streaming platforms HERE .
Dance Gavin Dance announced the release of their brand new album, 'Jackpot Juicer', back in April. The two previous singles, "Synergy" feat. Rob Damiani of Don Broco and "Pop Off", have clocked up 9.8 million streams and 3 million YouTube views since release. 'Jackpot Juicer' follows Dance Gavin Dance's enormously successful 2020 release, 'Afterburner,' which topped charts and debuted at #14 on the Billboard Top 200 with a digital only release. 'Jackpot Juicer' will be released on July 29th via Rise Records. Pre-Order bundles were launched the same day and saw a sell-out of 7 different vinyl variants already. Remaining pre-orders are available now HERE.

Dance Gavin Dance will be heading out on the road later this month for the 'Evening With Friends Tour'. The special outing will also provide fans with a unique Dance Gavin Dance line-up. Guitarist Andrew Wells will be taking center stage to take over clean singing duties, Marc Okubo of Veil of Maya will be stepping in to cover Andrew's guitar duties and the band will be joined by former Dance Gavin Dance frontman and frontman of Royal Coda, Kurt Travis, for select songs. The 21- date trek starts on July 26th with a very special, intimate show at infamous Sunset Strip venue, The Whisky A Go-Go in Los Angeles which was previously announced and sold out in less than 3 minutes (a portion of the proceeds from this show will go towards Musicares) and will wrap on August 24th in San Francisco at The Fillmore.