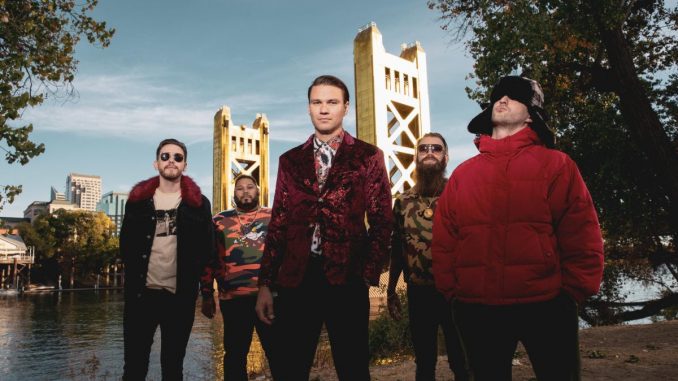 Photo Credit: Steve Thrasher
Share Live Clip Of
"Man Of The Year"
From 'Tree City Sessions 2' Streaming Event In Hometown Of Sacramento
One Of 2020's Best Selling Rock PPV Streams
'TREE CITY SESSIONS 2'
Now Available To Pre-Order On Vinyl and CD
Live Album Featuring A Fully Fan-Voted Set List From Band's Hometown Streaming Event
Available Now via Rise Records
Thursday, March 4th, 2021 – Sacramento chart topping, genre defying quintet, Dance Gavin Dance have announced the physical release of their live album, 'Tree City Sessions 2', recorded at their hugely successful global streaming event of the same name that aired on December 19th of last year and was one of the top selling streams of 2020 in the rock category. The "Tree City Sessions 2" album was released digitally on December 25th last year as a holiday surprise for fans. In the 3 months since its digital release, the album has clocked up a whopping 8.5 million global streams and is now available to pre-order on both vinyl and CD via Rise Records by clicking
here
.
In celebration of the physical pre-order release of 'Tree City Sessions 2', Dance Gavin Dance have also released the first live clip from the fan voted setlist at their epic, hometown streaming event for track "Man Of The Year". Watch the clip
here
or by clicking the image below.
The "Tree City Sessions 2" streaming event was produced in association with Danny Wimmer Presents and saw the band end an enormously successful year with a bang. Performing a fan-voted setlist featuring deep cuts that had never been played live before, the band and their team shut down iconic home town landmark, the Sacramento Tower Bridge for a mind-blowing, in the round performance, featuring an incredible light show, multi-cam and drone footage all backdropped by the beautiful Sacramento skyline.
Dance Gavin Dance

'Tree City Sessions 2' Live Album

Track Listing

All Tracks recorded at Tree City Sessions 2 Streaming Event

The Backwards Pumpkin Song
Uneasy Hearts Weigh The Most
NASA
Blue Dream
Strawberry Swisher, Pt. 3
Jesus H. Macy
Stroke God, Millionaire
Awkward
Summertime Gladness
Inspire The Liars
Man Of The Year
Son Of Robot
Evaporate
Strawberry's Wake
Nothing Shameful
About Dance Gavin Dance
Rejecting tired formulas at every step, Dance Gavin Dance merge progressive rock and post-hardcore with thick groove, brilliantly combining experimental music with hooks and a warped sense of humor. The group has amassed over 1.1 billion global streams, and 1 million album equivalent units sold across their catalog in the US alone. With hundreds of thousands of rabid fans engaged with Dance Gavin Dance on socials and their very own festival event, Swanfest, which sold out its inaugural edition in 2019 and is slated to return, once it is safe to do so, in 2021, it all amounts to a full force band facing a mainstream that has overlooked them for too long.
Dance Gavin Dance released their ninth studio album, Afterburner, earlier this year which has already clocked up 91 million streams since release and topped a multitude of charts on two separate occasions, once with it's digital release hitting #1 across the Current Albums, Alternative, Billboard Top Albums, Digital, Current Digital Albums, Rock, Heavy Rock and Current Independent Albums charts and #14 on the Billboard Top 200 and again when the physical version was released several months later due to the pandemic, when it hit #1 across Vinyl, Internet, Alternative, Rock, Hard Music, Independent Current Albums, #3 Top Current and Billboard Top Albums and #47 on the Billboard 200 charts.
In the heady tradition of Frank Zappa and Nirvana – people who made serious art without ever seeming self-serious – Dance Gavin Dance is a band that does what they want, how they want, confident that the audience will keep up. "Tree City Sessions 2" is another in a long line of wildly creative, boundary pushing endeavors by one of modern music's most brilliant and unique musical forces.
Dance Gavin Dance are:
Tilian Pearson: Vocals
Jon Mess – Vocals
Will Swan – Guitar/Vocals
Tim Feerick – Bass
Matt Mingus – Drums
About Danny Wimmer Presents: Since 1993, music industry veteran Danny Wimmer has been producing concerts and festivals, both large and small. In 2011, he formed Danny Wimmer Presents, which now produces several of the largest rock and alternative festivals in the U.S. By combining A-list talent with local cuisine and culture, DWP has become recognized within the industry for delivering the highest-quality entertainment experiences to fans, artists, sponsors, partners and host cities. DWP creates memorable and all-encompassing festival experiences, leaving both consumers and partners with lasting and meaningful impressions. DWP will continue to add new music festivals to its already stellar portfolio, which currently includes Aftershock, Bourbon & Beyond, Epicenter, Hometown Rising, Louder Than Life, Sonic Temple Art + Music Festival, and Welcome To Rockville. Previous DWP festivals include Rock On The Range, Carolina Rebellion, Northern Invasion and more. In 2020, DWP launched the popular digital series Offstage with DWP and ventured into the digital content curation space, promoting pay-per-view live streams.