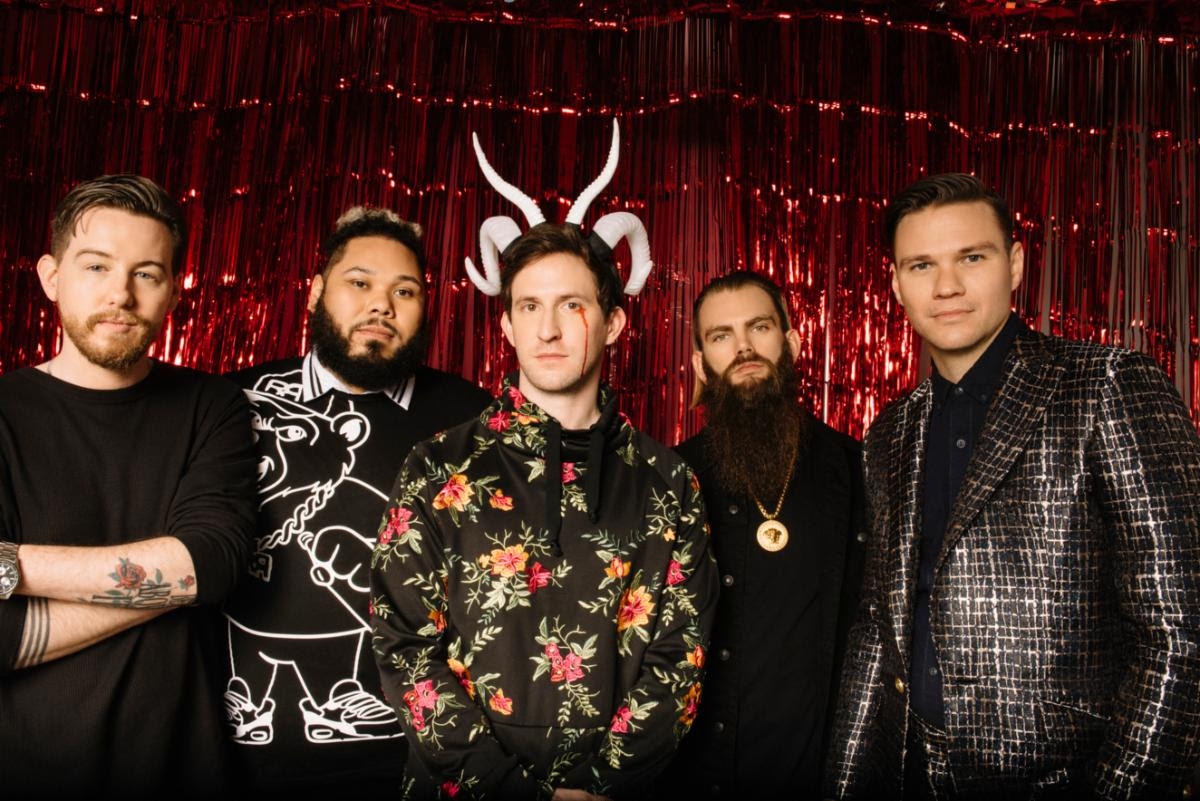 ANNOUNCE
VIRTUAL MEET & GREET WITH AMA
SATURDAY MAY 2ND 8:30PM EDT/5:30PM PDT
Ninth Full-Length Album
'AFTERBURNER'
Out Now Via Rise Records Listen/Order
HERE
Friday, May 1st, 2020 – To celebrate the release of their phenomenal ninth studio album,
Afterburner
, last week, Dance Gavin Dance have announced that they will be live streaming a virtual Meet & Greet and AMA tomorrow, Saturday, May 2nd at 8:30pm EDT/5:30pm PDT
Soundrink.Live
The event is free and all fans are invited to join. The livestream can be viewed on all devices, but laptop/desktop is recommended.
Dance Gavin Dance's ninth studio album, Afterburner was produced by the group's frequent collaborator, Kris Crummett, (Issues, Sleeping With Sirens, Mayday Parade) and Drew Fulk a.k.a. WZRD BLD (Lil Wayne, Motionless in White, Bad Wolves). The album is a landmark mission statement that encompasses DGD energy past, present, and future. It is a killer and dynamic demonstration of what the quintet does best, and is equal parts aggressive, melodic, and unrestrained, and has been met with high critical acclaim. What the press are saying about Afterburner
"In refusing to be tied down to a single approach or vision, they have found an approach that works amazingly well for them, and the result is their most complex, expansive, and energetic release yet." – Metro Weekly
"For the past 15 years, Dance Gavin Dance have been constantly raising the bar for experimentation within the post-hardcore scene."
-Alternative Press
"Those married to traditional song structures need not apply, but if you fancy feeling like your brain is in a pinball machine, [DGD] will take you out of this world."
–Kerrang!
"There's no other band on earth like Dance Gavin Dance, and their latest idiosyncratic opus is as colourful and inventive as you could want" – Rock Sound
"Bouncing effortlessly through metal, punk, rock, and groove-thirsty hip-wiggling pop like they own the joint, Dance Gavin Dance are an acquired taste that it's pretty easy to acquire with a little time." – Hysteria Magazine
"Dance Gavin Dance is a band that just consistently gets better and better each release at it again with their ninth album titled Afterburner; they continue to impress" – Stitched Sound
"Where it isn't a departure from the band's trademark, it's perhaps the strongest collection of songs they've released in a long time, with barely a skippable moment to be found throughout the hour-long adventure." – New Transcendence
"There is no one quite like Dance Gavin Dance" Upset
"Afterburner', is a powerful, punchy album that is filled with just as much passion, integrity and uniqueness as the first DGD release, ultimately adding to the list of astonishing art established by this group" – The One
"It's the kind of musical chaos and experimentation that would border on cacophony if it were attempted by anyone less skilled or in sync than the members of the group. Track to track, beat to beat, Dance Gavin Dance work to find new ways to catch fans off guard while simultaneously giving them exactly what they expect. It's a magic trick of sorts, handled by musical magicians making seriously unserious music with the precision of fine craftsman." – Haulix Recommends
"Thrusting thirteen tracks of solid gold straight down your ears – a prize that your brain will be more than happy to cash". – Punktastic
"Unrestrained, without boundaries, and inspired to pursue a sound that is wholly their own, Dance Gavin Dance proves time and time again that their confidence as a band is merely a reflection of their brilliant competency." – Cryptic Rock
"Dance Gavin Dance is succeeding at one elusive thing that most bands find nearly impossible. They are constantly expanding their musical range with fresh experimentation, while still somehow sounding and feeling like the Dance Gavin Dance we've come to fall in love with over the years." – Girls At The Rock Show
The band, who celebrate a massive 1 million album sales worldwide from their catalogue and over 800 million streams, recently released their 4th video from Afterburner for '
Three Wishes
'. They asked fans to submit videos of their interpretation of 'clean' – cleaning their houses, brushing their teeth, washing their dogs, anything they wanted to do in this realm. The result was over 1,500 submissions, both funny & creative. A video for the fans, made by the fans. The Three Wishes video was preceded by videos for
'
Prisoner'
, '
Strawberry's Wake
' and '
Lyrics Lie
'.
Dance Gavin Dance recently launched their massive North American headline tour, set to play their biggest venues to date when the Covid-19 pandemic broke out. These dates have been rescheduled for August & September 2020. This follows the band's entirely sold out North American headliner in 2019, where they sold over 90k tickets in one year alone. The remaining tickets for the current headline tour can be purchased
HERE
. For a full list, see below.
On 12th September, Dance Gavin Dance will return home to Sacramento for Swanfest, the one-day festival headlined and curated by the band at Papa Murphy's Park. Labelmates Crown The Empire and Issues, along with Animals As Leaders, Knocked Loose, Movements, Fall Of Troy, I See Stars, Veil Of Maya, Hail The Sun, Covet, Tillie, Royal Coda, Eidola, and Wolf & Bear will join DGD on this year's lineup. The first ever Swanfest took place last year at the City National Grove of Anaheim, CA, which proved to be a phenomenal sell-out success, a rare feat for a festival in its first year. Speaking on this year's Swanfest, Will Swan says
Tickets and VIP packages for Swanfest 2020 are on sale now
HERE
.
DANCE GAVIN DANCE US HEADLINER

08/04 Seattle, WA – Showbox SODO

08/05 Portland, OR – McMenamins Crystal Ballroom

08/07 Los Angeles, CA – Hollywood Palladium

08/08 Las Vegas, NV – Brooklyn Bowl

08/09 Tempe, AZ – The Marquee

08/11 Denver, CO – Mission Ballroom

08/13 Oklahoma City, OK – The Criterion

08/14 Dallas, TX – Bomb Factory

08/15 San Antonio, TX – Vibes Event Center

08/16 Houston, TX – Warehouse Live

08/18 Nashville, TN – Marathon Music Works

08/19 Atlanta, GA – Masquerade

08/20 Atlanta, GA – Masquerade

08/21 Lake Buena Vista, FL – House Of Blues

08/22 St. Petersburg, FL – Jannus Live

08/24 Norfolk, VA – The NorVa

08/26 Philadelphia, PA – Franklin Music Hall

08/27 Philadelphia, PA – Franklin Music Hall

08/28 Silver Spring, MD – The Fillmore

08/29 New York, NY – Hammerstein Ballroom

08/30 Boston, MA – House of Blues

09/01 Toronto, ON – Rebel

09/03 Pittsburgh, PA – Stage AE

09/04 Detroit, MI – Masonic Temple Theatre

09/05 Chicago, IL – Aragon Ballroom

09/07 Indianapolis, IN – Egyptian Room

09/08 St. Louis, MO – The Pageant

09/09 Minneapolis, MN – The Fillmore

09/12 Sacramento, CA – SWANFEST – Papa Murphy's Park At Cal Expo
About Dance Gavin Dance:
Rejecting tired formulas at every step, Dance Gavin Dance merge progressive rock and post-hardcore with thick groove, brilliantly combining experimental music with hooks and a warped sense of humor. 2018's Artificial Selection crashed into the Billboard 200 Chart at No.13, on the strength of the love for fan-favorite predecessors like Acceptance Speech (2013), Instant Gratification (2015), and Mothership (2016), and just as importantly, the band's mesmerizing and unforgettable live performances. Artificial Selection went on to sell over 112k copies and counting. In the U.S. alone, the group has amassed over 800 million streams, with 1 million album equivalent units sold across their catalog. With hundreds of thousands of rabid fans engaged with DGD on socials, it all amounts to a full force band facing a mainstream that has overlooked them for too long.
In the heady tradition of Frank Zappa and Nirvana – people who made serious art without ever seeming self-serious – DGD is a band that does what they want, how they want, confident that the audience will keep up.
Dance Gavin Dance are:
Tilian Pearson: Vocals
Jon Mess – Vocals
Will Swan – Guitar/Vocals
Tim Feerick – Bass
Matt Mingus – Drums