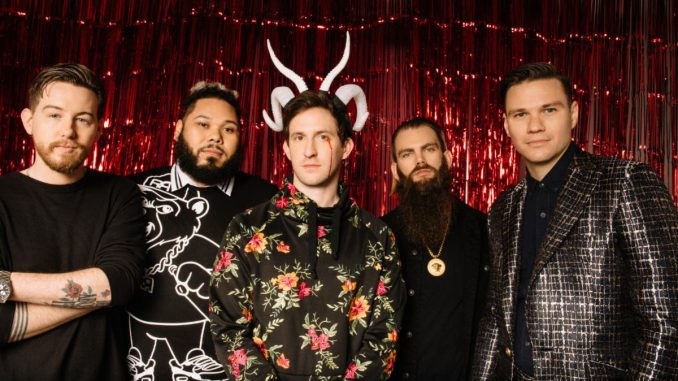 Including Animals As Leaders, Knocked Loose, Veil Of Maya Movements, Moon Tooth, Eidola, SeeYouSpaceCowboy, Volumes,
And More
At Heart Health Park, Sacramento, CA
Friday, February 11th, 2022 – SWANFEST, the one-day festival headlined and curated by Dance Gavin Dance, has announced the new lineup for the rescheduled event taking place at Heart Health Park, in the band's hometown of Sacramento, CA on Saturday, April 23rd.
Joining headliners Dance Gavin Dance for SWANFEST 2022 will be Animals As Leaders, Knocked Loose, Movements, Anthony Green, A Skylit Drive, Covet, Eidola, Fall Of Troy, Fire From The Gods, Hail The Sun, Kublai Khan TX, Moon Tooth, Royal Coda, SeeYouSpaceCowboy, Tillie, Veil Of Maya and Volumes.
Since their inception in 2005, Dance Gavin Dance has steadily built a huge cult following. Blending complex instrumentation with huge poppy choruses and raw, aggressive screams, they have fathered an entire genre of their own characterized by their signature combination of elements of post-hardcore, math-rock, progressive-rock, and
post-rock
. This has become aptly named 'Swancore' after the band's virtuoso guitarist, Will Swan and his record label Blue Swan Records.
This was the inspiration for the first-ever Swanfest which took place in 2019 at City National Grove of Anaheim. Headlined and curated by Dance Gavin Dance, the event was a phenomenal sell-out success, seeing over 7000 fans in attendance – a rare feat for a festival in its first year.
SWANFEST was due to return for a second year in 2020, bigger and better and this time in Dance Gavin Dance's hometown of Sacramento, CA. Sadly, the pandemic meant the event had to be called off. Now, after a long 2-year wait, Dance Gavin Dance and SWANFEST will finally land at Heart Health Park, Sacramento, CA on Saturday, April 25th, 2022 with a stacked line-up and a big party vibe. Don't miss the celebration, get your tickets now.
Speaking on today's announcement, Jon Mess of Dance Gavin Dance shares:
"This is the best Swanfest we've had since Swanfest 1."
Watch: Wrap Up Video From Inaugural Swanfest At City National Grove of Anaheim In April 2019
SWANFEST will kick off Dance Gavin Dance's previously announced Spring 2022 tour that will see the band – joined by Memphis May Fire, Volumes and Moon Tooth – hit a further 18 cities to end in Birmingham, AL on May 20th. Tickets and VIP packages are available now from

dancegavindance.vip

Full Dates below.

4/23 SWANFEST —Heart Health Park, Sacramento, CA

4/26 Spokane, WA Knitting Factory

4/27 Boise, ID Revolution

4/29 Wichita, KS Cotillion

4/30 Omaha, NE The Admiral

5/1 Des Moines, IA Val Air

5/3 Ft Wayne, IN Pierre's

5/4 Cleveland, OH Agora

5/6 Grand Rapids, MI Intersection

5/7 Milwaukee, WI Eagles Ballroom @ The Rave

5/9 Rochester, NY Main Street Armory

5/10 Albany, NY Empire Live

5/11 Hartford, CT Webster Theater

5/13 Richmond, VA The National

5/14 Raleigh, NC The Ritz

5/15 Columbia, SC The Senate

5/17 Ponte Vedra, FL Concert Hall

5/19 Knoxville, TN Knoxville Auditorium

5/20 Birmingham, AL Sloss Furnaces
Dance Gavin Dance released their ninth studio album, Afterburner, in April of 2020. Since its release, the album has clocked up 124 million streams and topped a multitude of charts on two separate occasions, once with it's digital release hitting #14 on the Billboard Top 200 and #1 across the Current Albums, Alternative, Billboard Top Albums, Digital, Current Digital Albums, Rock, Heavy Rock and Current Independent Albums charts and again when the physical version was released several months later due to the pandemic, when it hit #1 across Vinyl, Internet, Alternative, Rock, Hard Music, Independent Current Albums, #3 Top Current and Billboard Top Albums and #47 on the Billboard 200 charts. This past Christmas, the band surprised fans with a special holiday gift by dropping 'Afterburner (Instrumental)' on streaming platforms. It was previously only available via a Target exclusive double disc CD.
As the undeniable statistics keep mounting up, the fact becomes more and more clear that Dance Gavin Dance are becoming one of this generation's most popular and enduring forces from the world of heavy music. As Pollstar put it in their recent feature on the huge success of the tour – "Sacramento, Calif.-based Dance Gavin Dance is not just any band."
About Dance Gavin Dance:
Rejecting tired formulas at every step, Dance Gavin Dance merge progressive rock and post-hardcore with thick groove, brilliantly combining experimental music with hooks and a warped sense of humor. The group has amassed over 1.35 billion global streams, and 1.2 million album equivalent units sold across their catalog in the US alone. With hundreds of thousands of rabid fans engaged with Dance Gavin Dance on socials and their very own festival event, Swanfest, which sold out its inaugural edition in 2019 and is slated to see a triumphant return in 2022 in the band's hometown of Sacramento this April, it all amounts to a full force band facing a mainstream that has overlooked them for too long.
Dance Gavin Dance are:
Tilian Pearson: Vocals
Jon Mess – Vocals
Will Swan – Guitar/Vocals
Tim Feerick – Bass
Matt Mingus – Drums