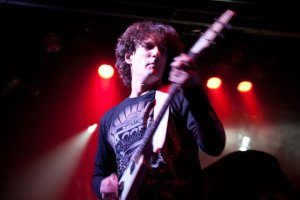 Brutal Planet Magazine:
Hi Dan, with Edge of Eternity and Stepping Stone, your two current singles, you show a variety of
different influences, ranging from metal to alternative rock and I feel a bit of 60s psychedelia in there as well.  What did your record collection look like growing up?  And which of those records might have influenced you the most?

DAN SINDEL:
Hello Brutal Planet, honored to be part of your magazine, very cool, you guys are badass! \m/

What did my record collection look like growing up as a kid? 
Aw man that is a good question, well. I don't want to date myself, but it looks like I'm going to have to and I imagine a lot of your readers are pretty young, so I'm going to unfortunately look like some old dinosaur around here. Lol I was born in the early 1960s, listening to music back then was definitely AM radio/pop music. My first record that I can remember getting as a little kid was "SOMETHING NEW" THE BEATLES, I played that thing until it disintegrated. The Beach Boys were a big part of growing up as I was raised in Los Angeles and the local beaches were a huge part of my existence back then and everyone used to listen to "93 KHJ" on transistor radios, music was everything to me. I didn't really start collecting my own records until the early/mid 70's when I got to Jr. High school, BOSTON and AEROSMITH'S debut studio albums were the center of my universe along with HENDRIX – Are you Experienced and ELTON JOHN – Goodbye Yellow Brick Road. Then I discovered the magic of LED ZEP when they put out "The Song Remains the Same" in '76, I must have watched that film 100 times over trying to figure out how to play Dazed and Confused. That is when I decided to trade in playing trumpet and band instruments for electric guitar, Jimmy Page was my very 1 st guitar hero and still pretty much is even though I
could list 700 guys that have influenced my guitar playing along the way. As the years went by I had a pretty awesome record collection, at least 300-400 LP's of everything you could think of from the 60's, 70's & 80's. But my most favorite genre is English hard rock/progressive i.e. LED ZEP,
ELP, YES, DEEP PURPLE, THE WHO, STONES, GENESIS, JETHRO TULL, PINK FLOYD, BLACK
SABBATH, JUDAS PRIEST etc… must have been something in the water over there in the U.K.? lol

What led you to becoming a musician?
When I was 9 years old in 4th grade, one day the teacher handed out band instruments and I was given a trumpet which made perfect sense for a wild, "out of control" kid who liked to make a lot of noise, lol guess I am still that way and a guitar is a hell of lot "louder" than any band instrument. But as I was saying during the last question, LED ZEP was the reason why I became ultra-serious about music.
Tell me about the upcoming album, UNPOPULAR MUSIC FOR POPULAR PEOPLE VOL.1.  Does it
have the variety that the two singles suggest or is it more hard rock or alternative focus?
"UNPOPULAR MUSIC FOR POPULAR PEOPLE VOL.1" is a collection of sounds from almost every genre
and era concerning the birth of Rock n' Roll from the 50's/60's to current vibes. Every track is way different than the next, I would not dare to say "this is a commercial enterprise in any form or fashion" in that it is not a pre-packaged collection of songs that sound sort of the same like you normally gets from a "real band". I'm doing this as a solo project, just having fun creating as many different moods and colors as I possibly can without necessarily sticking to any one format. Might not be a lot of guy's "cup o' tea" as the saying goes but I am creating music for the fun of it this time around and if anyone chooses to listen and actually appreciates it that is all I could hope for. BURNING BRIDGES is the next track that gets mixed soon; it's really freaking cool, lots of textures to it.
I have a hard time categorizing music these days as there are 1,200 different subcategories these days for hard rock/metal which is pretty dumb depending on what hair style you have or how whiny the singer is or how long you can stare down at your shoes…whatever, I don't get it??? But what can you do? Lol that is just how it is. And yes indeed, the first 2 releases are out now on all the usual platforms with companion videos:

Will you be doing any shows or touring for the album or for the singles?
It is my hope to get a good group of backing players to go out and do some awesome live dates playing with international acts but nothing planned as of now, just focusing on getting the music mixed and mastered one song at a time as well as some promotion to get the buzz going, the process is painfully slow.

You're hopeful to get a 7″ single out by the end of the year?
Yes I am, when I get enough material completed and up to industry standards then I will print vinyl, always been a dream of mine.

Besides the obvious, what are some of the complications with being a one man operation?   
Biggest obstacle is money or lack thereof as well as getting the time allocated to mix the material. The person who has been helping me complete the productions is Steve Sykes, he is a "Multi-Platinum" magician when it comes to mixing and he is in so much demand it is hard to get my productions in his studio in-between all the work he gets from major label acts but I trust no one like him to take my pro tool rough mixes to the finish line.
So yeah that is the biggest bottleneck.
All the drum tracks and most of my vocals were recorded at RADD SOUND Studios by my pal John Prpich who is a great engineer and he tours as a live sound engineer with a lot of cool bands.

What are your favorite newer bands?
I hate to say it but "I don't listen to very much new music", I truly cannot say I know of any good new acts, not that they aren't out there but to keep my mind more of a blank slate for creating my own sounds it is easier for me not to fill my head with the work of other musician's.
For nostalgic purposes I will pull up some ol' Led Zep, Jeff Beck, Deep Purple or whatever but shame on me for saying I do not know many good new bands but if anyone is willing to let me know of who is kicking ass out there and worth listening to I am definitely open-minded to check it out.

What keeps you motivated musically?
Truth be told, what motivates musically is teaching guitar to beginning students. I've been teaching a very long time and for the past dozen years or so I have been educating at the local Jr. College teaching an INTRO TO ROCK CUITAR course that I developed and that is so gratifying being able to help brand new players, give them their "training wheels" so to speak by helping them play and understand the instrument and get a sense of basic music theory. In most cases I am their very first guitar teacher and that is an honor I do not take lightly.

You were a part of the legendary LA metal scene of the 80's and early 90's.  How long were you involved in that and how far did you get in the grand scheme of things?
Lol the whole thing barley bought me a cup of coffee after all has been said and done lol, but the experiences and stories I get to tell are "out of this world", The LA metal scene of the 80's was like no other time in the history of music, just off the charts! It was already dead in the early 90's, "game over"… GLAM killed the metal scene as did the Seattle scene but hip hop/rap wiped everything off the map, fun while it lasted, it was amazing. All the bands, the competition, the camaraderie, I sure miss it. Before I was actively playing the clubs I got to see Randy Rhoads in QUIET RIOT a bunch of times and that was magical.
For the record before I get out of here, it'd be fun to talk about my old death/thrash metal band called BRUTAL PEACE since we have a "BRUTAL" MAGAZINE metaphor happening here.
Around '95 I formed a hardcore 3 piece band that was super intense prog death metal. We did a 3 song demo that can be found on YouTube, check it out if you dig SLAYER – PANTERA – MEGADETH – SEPULTURA
etc…
https://www.youtube.com/user/BrutalPeaceMetal
Thank you very much and see you guys around, stay metal \m/