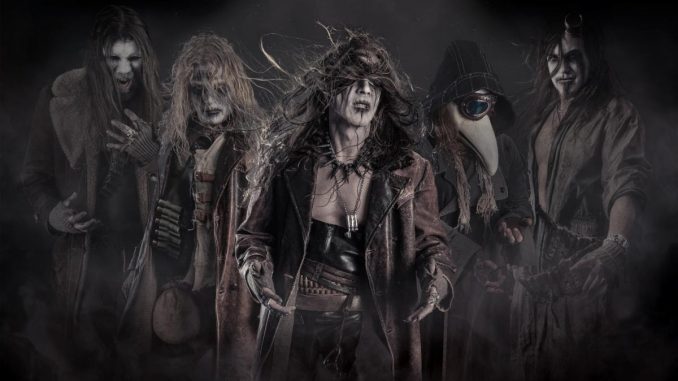 The wait is finally over! The debút album from DAMPF, 'The Arrival', is here.  

Following the release of DAMPF's singles "The Other Side" and "Who Am I?", which both received overwhelming response across the globe, DAMPF's amazing debut album The Arrival continues and reveals the whole first chapter of the DAMPF saga with massive choruses, epic guitar riffs and tales from the other side.  

A super-natural group of heavy metal royalties, led by almighty A-Tron, whom you may know from his career as Martin "E-Type" Erikson, are ready to take over the world. In the DAMPF clan, there's a lot of heavy metal royalty: Tommy Johansson (Sabaton), Pontus Norgren (Hammerfall), Johan Hegg (Amon Amarth), Frederick Melander (Bathory), and also Shellback.  

Album producer BEAK talks about the album-making process:  
"We set out to make an album that would stand out in the metal scene today, it doesn't really sound like anything else in its entirety. It's an album packed with music that both makes you want to dance and/or sacrifice goats. It was an incredible experience to work with Martin's aka A-tron's songwriting and pick his brain for insane ideas. Not even the sky was a limit. Hope you will enjoy it!" 

A-tron is more than excited, and invites all to celebrate The Arrival of DAMPF:  

"The Arrival of my metal dream debut album. Throughout my career, I've always flirted with hard rock, but only recently have I understood that you don't have to write pop and metal separately. Like all other living evolving art forms, the time is ripe to mix things you love. I'm so fortunate to have made exactly the record I want to do with exactly the people I want to work with, the excellent producer Jona T, inspiring Eye, all the fantastic guest musicians, and my unique DAMPF family. You will stand statues of lava rock in my heart forever and cool mead will always be near you." 

'The Arrival' is out now and available on all streaming services. The album will also be released on CD, vinyl, and special limited edition RED vinyl.
'The Arrival' Tracklist:
1.     Winterland
2.     The Other Side
3.     Goeie Mie
4.     Who Am I?
5.     Borne On The Wind
6.     Twilight Eyes
7.     Spread Your Wings O´er Me
8.     Steinhaufen
9.     Jerusalem
10.   From The E-ternity
11.   Sea Me
DAMPF are set to play a series of festival shows in 2022, with more shows to be announced 
7th July 2022 – Rock In The City – Oulu, FINLAND
8th July 2022 – Sauna Open Air – Tampere, FINLAND
14th July 2022 – Gefle Metal Festival, Gävle, SWEDEN
29th July 2022 – Rock In The City, Kerava, FINLAND