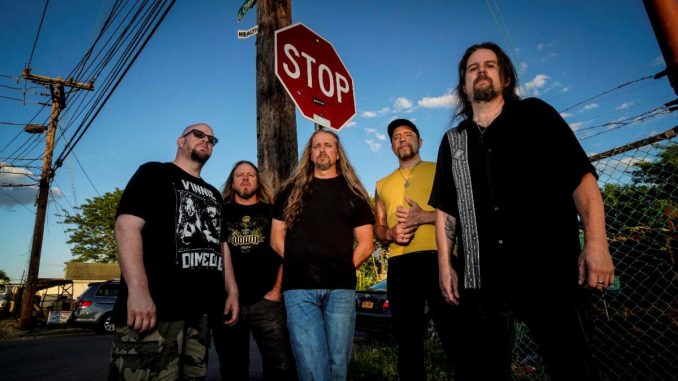 New York metal stalwarts DAMN YOUR EYES are slowing down the tempo and diving face first into bone-crushing heaviness on their latest track, "Weaponized."
As with most songs from the DAMN YOUR EYES repertoire, "Weaponized" was inspired by real-life experiences. "It's based on a traumatic event involving betrayal, infidelity and emotional abuse," says guitarist Artie Alexander. "After experiencing abuse, it's so common to fall into anger, depression and negative self talk. Taking power back through a fantasy of revenge, 'Weaponized' is about listening to that negative talk and following through with what the conversation in your head is telling you."
Formed in 2015 by Artie Alexander and former drummer James Baldassano, DAMN YOUR EYES immediately hit the ground running. As respected musicians in their local scene with extensive recording experience, the band quickly recorded an EP, released it to local acclaim, and rapidly returned to the studio to record their international full-length debut,
Kill The Outside
, in 2019. But as the band was building a following, it seemed to its members that there were some missing pieces to the DAMN YOUR EYES puzzle. Enter former guitarist Gabriel "Gabby" Abularach, drummer Darren Markoff, 24-year veteran of Long Island metal band Korotory, to complete the puzzle.
Over the past 14 months, DAMN YOUR EYES has released a series of new tracks featuring the revamped lineup, each with its own flavor but the commonality of straight up heaviness. Just take a listen to "
Lock and Load
," an old-school thrasher that takes a non-partisan look at America's divided political climate, and the pulverizing "
Heavy is the Head
" for proof.
Keep your eyes peeled for more music from DAMN YOUR EYES in the coming months!
DAMN YOUR EYES is:
Kenny Vincent Jr. – Lead Vocals
Artie Alexander – Guitar and Vocals
Gabriel "Gabby" Abularach – Guitar
Oddie McLaughlin – Bass
Darren Markoff – Drums
DAMN YOUR EYES online: