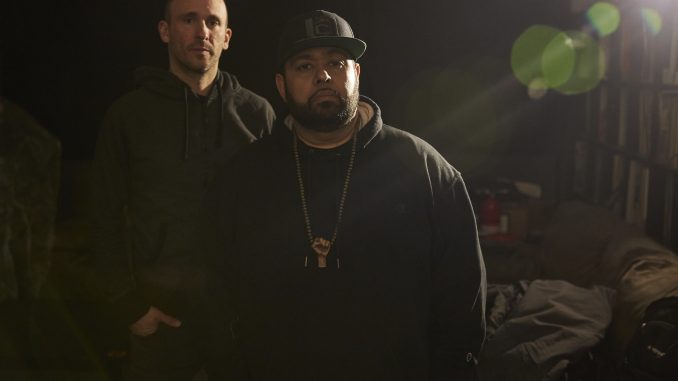 VIA IPECAC RECORDINGS

WATCH "DECIMATION (DIS NATION)" VIDEO NOW

ALBUM PRE-ORDERS, INCLUDING LIMITED-EDITION VINYL, AVAILABLE HERE

TOOL'S ADAM JONES GUESTS ON "A HERETIC'S INHERITANCE"
Feb. 9, 2022, Union City, N.J. – Dälek, "the subversive indie hip-hop outfit" (Pitchfork) that came from the East Coast underground scene of the late '90s, release their eighth album, Precipice, on April 29 via Ipecac Recordings.

News of the album arrives with the release of the song, and accompanying video for the brickyard boom-bap track "Decimation (Dis Nation)" (https://youtu.be/a80PM1sphrQ), which was directed by founder Will Brooks, aka MC Dälek.

"Precipice was a completely different record pre-pandemic," Brooks explains. "We had been working on the sketch of what the album was going to be at the end of 2019. I think me and (Mike) Manteca had narrowed it down to 17 joints out of the 46 or so that we had started with. Me and Joshua Booth had taken the 17 and really fleshed out the joints. The idea was to bounce them back to Mike and then arrange write lyrics. 2020 obviously had different plans for everybody. We basically put everything on hold. I ended up doing the MEDITATIONS series that year on my own. I think the catharsis of that projects, its rawness, the pandemic, all the death, the social upheaval, everything that went down… when I went back and listened to what we had down… it just wasn't right anymore, it wasn't strong enough, it wasn't heavy enough, it wasn't angry enough. It just didn't say what I needed it to say."

Predominantly the work of Brooks and Manteca (aka Mike Mare), Precipice was recorded and mixed by the two band members at their Deadverse Studios in Dälek's hometown of Union City, N.J. Tool's Adam Jones guests (guitar/synth) on "A Heretic's Inheritance." The album's cover was created by Paul Romano (Mastodon, Withered) with interior packaging featuring the art of afrofuturist painter, Mikel Elam.
Precipice album cover by Paul Romano
Precipice tracklist:

Lest We Forget
Boycott
Good
Holistic
The Harbingers
Devotion (when I cry the wind disappears)
A Heretic's Inheritance
Precipice
Incite
Photo credit: Michael Patras
About Dälek

Forged in the fires of the East Coast underground music scene of the late '90s, experimental hip-hop pioneers, Dälek have spent the past two decades carving out a unique niche fusing hardcore hip-hop, noise and a radical approach to sound. Their brutal sonic temperament pushes rap music's capacity for noise and protest to exhilarating conclusion. Following in the footsteps of Public Enemy, while drawing influences from My Bloody Valentine and Faust, Dälek have succeeded in adding completely new textural and structural dimensions to rap music. Since forming in 1997, Union City, N.J., the two-piece outfit have released seven studio albums and a collection of rarities/singles. Rolling Stone dubbed their music "ground-breaking," Pitchfork said the pair have "fulfilled hip-hop's potential to exist in an alt/underground/experimental universe while staying true to its roots," Decibel called their work "immediate and visceral," and Magnet noted how they "continue to blur genre lines."

# # #