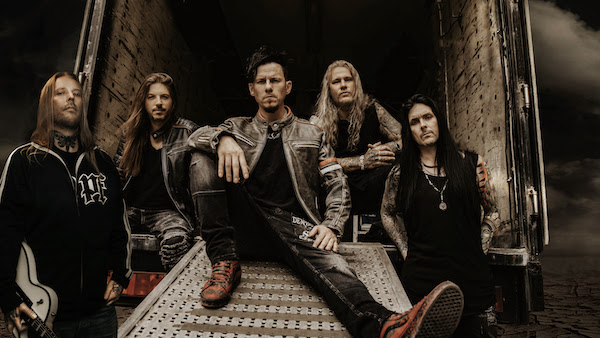 New Music Video For "Ashlight" Out Now!
Four years after their last studio album No Halos in Hell, CYHRA proudly present their new album "The Vertigo Trigger." The Swedes' third full-length has been released today, and it reflects exactly what the melodic metal band stands for: ear-splitting riffs, catchy choruses and plenty of melodies that make the band truly stand out.
The band based around singer Jake E (ex-AMARANTHE) and guitarists Jesper Strömblad (THE HALO EFFECT/ex-IN FLAMES) Euge Valovirta (ex-SHINING), drummer Alex Landenburg (KAMELOT), and guitarist Marcus Sunesson (ex-THE CROWN / ex-ENGLE) demonstrate that they haven't slowed down. With "The Vertigo Trigger," CYHRA has not only further developed their distinctive sound, but also proven how diverse they are. The best example for this is the latest single "Ashlight," which combines hard-hitting elements with a gentle attitude. And if that wasn't enough, the Swedes also deliver a new music video for the latest single to celebrate the album release.
Watch the music video for "Ashlight" here: https://youtu.be/kGE9n2nHMrg
Vocalist Jake E comments:
"It feels amazing to FINALLY have new music to release again! We put a lot of effort into finding out what the future of Cyhra's music was to be and I must say I am overwhelmed with the result. Both with the album and also the songwriting!. I think that we have made a fantastic follow-up to both of our first two albums, but also at the same time we've managed to modernized the songwriting. I can assure you that no Cyhra fan will be disappointed!"
Drummer Alex Landenburg adds:
"To me, this is a perfect successor to our first two records. It has all the Cyhra trademarks, but it's a bit more Rock'n'Roll, more raw, in the way we recorded it. And on top of that, Euge's great mix and Jacob Hansen's mastering are a wicked combination!"
Guitarist Euge Valovirta about the new song:
"This is the first album we produced by ourselves and it turned out to be just like I heard it in my head before we even started to record it. We still wanted to have (long time producer) Jacob Hansen's input on it so he did the mastering and I did the mixing. I'm very proud of it. And us. Something old, something new, something borrowed and something blue."
Marcus Sunesson adds:
"It's the first of the three Cyhra albums that I played guitar on and also contributed to the songwriting. It was a fun and very creative process, but also challenging since we wanted to break new ground in order to make the best Cyhra album possible. I am so happy and proud of this beast of an album! This time we took a deep breath and dove down to explore a slightly darker, more progressive and modern side of ourselves. Yet still sounding like the Cyhra you all know and love. This album will definitely turn some heads. You will love it!"
Jesper Strömblad comments as well:
"It's so great to have a new album around the corner. We have kept the essential Cyhra sound, but at the same time upgraded and updated it a bit. I love what Euge has done to the mix and I know you are not gonna be disappointed!"
Stream or purchase "The Vertigo Trigger" here: https://cyhra.bfan.link/tvtglp
Recorded in the summer/autumn of 2022, "The Vertigo Trigger" is the band's darkest album to date. The album was entirely self-produced and mixed by guitarist Euge Valovirta, whilst the mastering was handled by long-term producer Jacob Hansen. This new album offers fans the classic CYHRA sound, full of the band's trademarks, but fresh and refined. The Swedes have modernised their song writing meaning that no CYHRA fan will be disappointed, making The Vertigo Trigger a more than worthy successor to their first two albums.
And although guitarist Jesper Strömblad isn't a part of CYHRA's live shows currently, he was deeply involved in the writing and recording process of the album. Therefore, the band can hardly wait for his return as soon as he is ready again.
"The Vertigo Trigger" tracklisting
01. Ready To Rumble
02. Let's Have My Story Told
03. Live A Little
04. 1.000.000 Fahrenheit
05. Buried Alive
06. The Voice You Need To Hear
07. Life Is A Hurricane
08. IF I
09. Fear Of Missing Out
10. Ashlight
11. Too Old For Fairy Tales
"The Vertigo Trigger" formats
"The Vertigo Trigger" CD (Jewelcase)

"The Vertigo Trigger"
LP (Transparent Orange Vinyl)
"The Vertigo Trigger": out now!
CYHRA is:
Jake E – lead vocals
Euge Valovirta – lead guitar (and bass)
Alex Landenburg – drums
Marcus Sunesson – guitars
Jesper Strömblad – guitars (and bass)