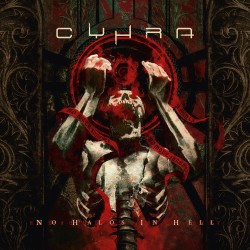 Cyhra will release it's sophomore release No Halos in Hell on November 15, 2019 via Nuclear Blast Records. They are a so-called supergroup, but at this point it is pretty obvious they are more. Supergroups tend to fade and move on after an album or so. Cyhra's first album, 2017 Letters to Myself may fit into that category, but 2019's No Halos in Hell leaves no doubt that they are here to stay.

The first single released was "Out of my Life." It is the perfect introduction to the new album and is the first on the album. It has a fast beat and sounds similar to, "Here to Save You" from Letters to Myself. Jake's voice makes a statement in this song that it is strong and here to stay. He belts out the chorus with ease and it sets the tone for the rest of the album.
"No Halos in Hell" is next and provides a killer opening guitar riff with a slower beat.
Up next is a song that resonated deep into my soul. "Battle from Within" is a song that brings to the surface a struggle that all of us can relate to and may be one of the reasons why most of us are so passionate about metal. The lyric video for "Battle from Within" visualizes that struggle. "The World Health Organization (WHO) estimates that each year approximately one million people die from suicide, which represents a global mortality rate of 16 people per 100,000 or one death every 40 seconds." This statistic opens the video that presents people holding signs with lyrics on it. The video combined with the lyrics of the song makes it a powerful and realistic message that should elicit the compassion that most metalheads feel.
Most importantly if you or someone you know is in need of help, please know that there is help for you out there and you are not alone. https://suicidepreventionlifeline.org
tel:1-800-273-8255
"I Am the One" is next and a fast-paced song that has a great vibe and lyrics to it. "Bye Bye Forever" continues No Halos in Hell followed by the frantic beats of "Dreams Gone Wrong." "Lost in Time" provides a break in the action with an intense but beautiful ballad.
Up next is one of my favorite tracks on the album. "Kings Tonight" has some of the heaviest guitar riffs and pounding drums paired with some keyboards and give this track a top slot on the album. Things continue to get better as the album progresses. "I Had Your Back" and "Blood Brothers" two more tracks that should be given proper airtime. "Hit Me" is a song that has a strong and powerful beat that is paired with some amazing vocals provided by Jake E. The Last song on No Halos in Hell provides probably one of the heavier tracks. "Man Of Eternal Rain" has deep meaning associated with it along with the best guitar solo on the album.
When Letters to Myself was released, comparisons to previous projects were valid and, in some cases, warranted. Now Jake E and the boys have forged their own unique sound, comparisons of their sound will be made in reference to upcoming bands. Just in case you are on the fence about No Halos in Hell, it will be on my top 10 for 2019. It is that good.
https://suicidepreventionlifeline.org
tel:1-800-273-8255
In case you are hearing of Cyhra for the first time they are:
Jake E | lead vocals (ex-Amaranthe)
Euge Valovirta | lead guitar (ex-Shining)
Jesper Strömblad | rhythm guitar (ex-In Flames
Alex Landenburg | drums (Kamelot)
www.cyhra.com
www.facebook.com/cyhraofficial
www.nuclearblast.de/cyhra