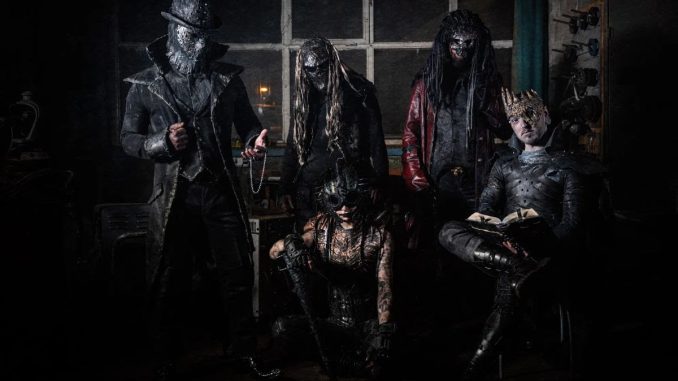 Video; Self-Titled Debut To See Release May 12th On Atomic Fire Records + Preorders Available
Photo by George Grigoriadis
Swedish modern sci-fi metal visionaries CURSE OF CAIN — founded in 2000 by bassist Jonas Asplind (ex-Follow The Cipher, ex-Ad Infinitum) a.k.a The Pirate — have unveiled another digital single, "Embrace Your Darkness." The theatrical and dramatic song serves as the manifesto of the band's self-titled debut album, set for release on May 12th via Atomic Fire Records.
Comments the band, "This is the song that set the foundation for our sound, and it was also the first song we mixed for the album! It has that movie metal feeling we are after: heavy, dark and melodic."
Curse Of Cain ranges from modern metal stompers to bitingly aggressive melodic death grandezza, from traditional heavy metal hook magic to menacing soundscapes from a future in ruins. This is an epic sci-fi blockbuster turned addictive metal record and a new chapter in terms of heavy metal storytelling.
CURSE OF CAIN's inaugural studio offering is in a world of its own. More theater play than metal record, the work record acts as a dystopian narrative set in a lost world where each band member becomes a bizarre character, fulfilling a role that goes far beyond mere making music with some pals. Elaborating on the ecclesiastical and bloodthirsty story of Cain, son to Adam and Eve and thought by some to be the father of all vampires, the album follows this cursed character through his immortality in a ruinous and crumbling world.
Recorded between 2017 and 2020 in their own studio with Alexander Backlund handling producing and mixing duties, Curse Of Cain is the overture to an epic poem the world of heavy metal has not yet seen. The Pirate's former bandmate Ken Kängström (Follow The Cipher) contributes some songwriting and Tommy Johansson (Sabaton, Majestica) tracked a guitar solo for opening track "The Mark."
Curse Of Cain Track Listing:
1. The Mark
2. Alive
3. Embrace Your Darkness
4. Blame
5. Hurt
6. Never See The Light Again
7. The Ground
8. Dead And Buried
9. Blood The End
CURSE OF CAIN:
The Soulkeeper – vocals
The Timekeeper – guitars
The Pirate – bass, vocals
Rainbow – vocals, percussion
The Mechanic – drums
Cover art by Georgios Grigoriadis and Jonas Asplind