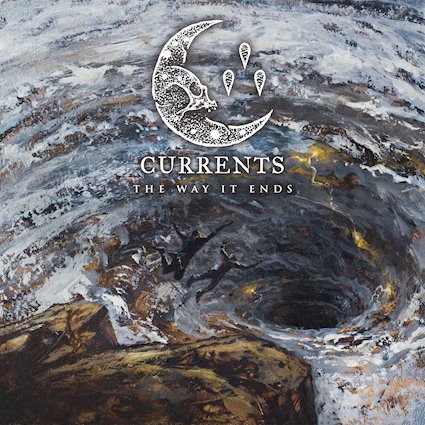 BY: Stephanie Stevens
The line between brutally aggressive and melodically emotional is what makes Connecticut based CURRENTS standout. The band's second full-length release The Way it Ends hits streets on June 5, 2020. They have grown in leaps and bounds with abrasive moments of killer blast beats. A dynamic onslaught of riffs punishes your ears with "Poverty of Self." "Monsters" and "Second Skin" come in hard like a punch to the face. Moments of intensely aggressive music continue the one-two punch, but CURRENTS also infuse a quaint more melodic vocal tone. The change-up gives the songs a journey of what is to come next as you voyage through each track.
Within the destruction, CURRENTS have blended the raw and emotional in "How I Fall Apart," a masterpiece that includes delicate, but yet gripping guitar and heavy blasts that the band is known for. "Better Days" bleeds of tortured lyrics, jarring soundscapes paired with haunting and heavy moments. Vocalist Brian Wille has an unforgettable and alluring singing voice, which lends itself well to the band's style. "Split" showcases his incredible vocal pattern and is just a huge highlight of the track.
The addition of keys creates depth and a new layer in the band's already massive arsenal of musical vibes and tones. For instance, the standout track "Kill The Ache" is where keys intertwine with the melody-driven vocals and hard-hitting haunting sounds of musical strength. "Origin" is where electro surges and is intensified with high energy brutality.
"A Flag to Wave," is the band's first single, and the video is the perfect introduction to what The Way it Ends is all about. It intertwines what fans of this band have come to love, but it is just the tip of the iceberg. The Way it Ends truly cements the growth and strength of the band and showcases CURRENTS as a band to watch out for in 2020.