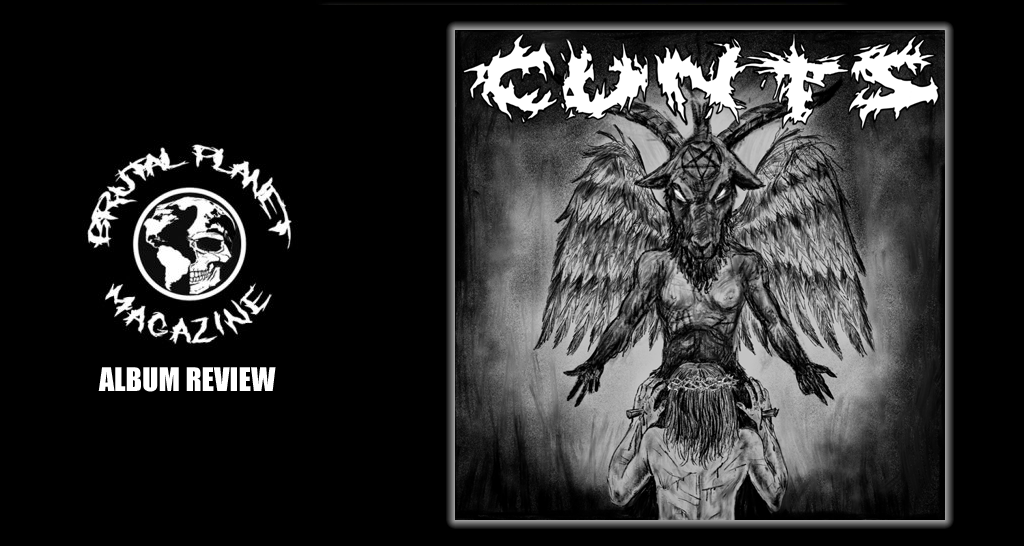 Not for the faint of heart is the new album from hardcore / punk / metal outfit Cunts. The cover on its own is enough to make any wholesome Christian's head explode. With this band though the shock aesthetic is real and the music is not lacking.
Cunts have the level of eccentricity you would expect of a band on Mike Patton's infamous Ipecac label.
Today we're going to be reviewing the new album by the band CUNTS – not to be confused with the 1970's Chicago based punk band THE cunts.
This is an Ipecac release (Mike Patton's label) so you know it's going to have some degree of eccentricity. What's the story of Cunts you might ask? Well I've got the story of Cunts for you!
According to their press kit:
"Cunts is an iteration of disgust, a statement of contempt. In an age when degrees of absurdity are the only accurate unit of measure, Cunts stand defiantly in the face of a declining civilization and thumb their collective nose. They have no use for lofty ideology or half-cocked idealism. They do not seek your approval any more than they need your permission; that is to say, not at all.
Comprised of Los Angeles scene vets Michael Crain (Festival Of Dead Deer/Retox/Dead Cross), Sterling Riley (Hepa.Titus/Orphan Goggles), Keith Hendrikson (Virginia Reed/Kill The Capulets), Kevin Avery (Retox/Planet B) and Matt Cronk (Qui), Cunts is a band that requires no explanation. Since appearing on the LA underground scene in early 2018, Cunts have earned a reputation for their blistering and intense (and often violent) live shows. Equal parts catharsis and blood-letting, Cunts as a live entity is an unapologetic display of rage and sex, of belligerence and contempt, of body and soul.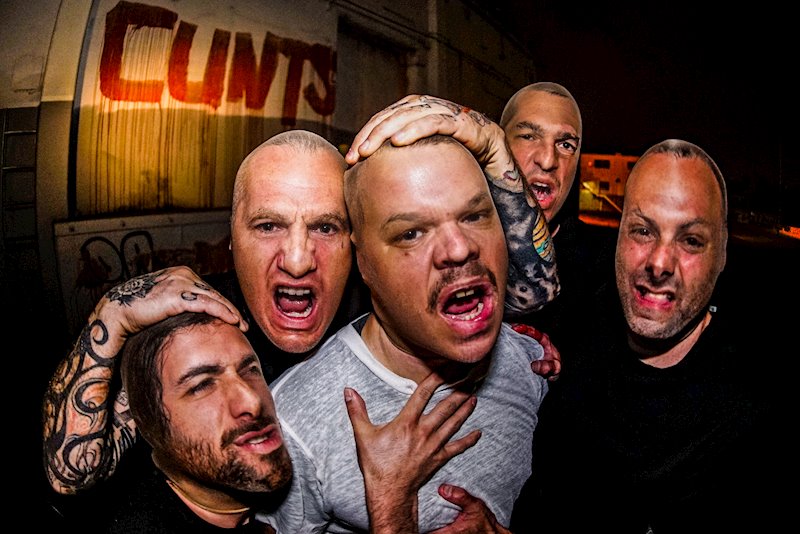 "I think I can speak for all of us when I say we are thrilled to release our debut on Ipecac," said singer Cronk. "Between Mike, Kevin and myself, we have a history with the label and consider it an honor to get to contribute a new record form a new band to what is arguably the most prestigious roster in underground music. I am, personally, over the moon.
"Everyone in the band has known each other for a long time, we are all friends. The band actually started as a joke on a group thread," explains guitar player Crain. "We were reminiscing about early Cows, Jesus Lizard and Die Kreuzen performances and how organically dangerous and uncontrolled they were. That was our hugest source of inspiration for starting this band, to try and recreate that magic. A few of us have been in bands with each other before, so we already knew we had chemistry but as soon as we all got together to jam for the first time, we knew that this was going to be a fun project."
Cunts 13 tracks of face-ripping violence; no slogans, no manifestos, no appeals to the heart. The album stands as both score and tribute to society's imminent, self-inflicted collapse. Cunts are not here to uplift you, save you, or hold your hand. Cunts are not beholden to the group-think mentality of anyone or anything. Cunts do not care what you think.
Here's a song by song break down of the album.
Ass to Grind: "Baby's got an ass to grind" is the refrain sung at the end. The hard bass groove at the end of this song is heavy in all the right ways. Less than 3 minutes in and Cunts have already won me over.
Dying to Hit: Did you ever hear the band Snapcase? This song reminds me a lot of their cadence. The feedback noise they are getting between power chords almost sounds like violins. Then it breaks into this really cool driving punk riff.
A Hero's Welcome: The riff on this one is more metal than anything they've done so far on this album. The opening of this track is very reminiscent of Slayer. One thing that is noticable about this band is how they are able to cram a decent amount of riff variety into short 3 minute songs. 'A Hero's Welcome,' is an indictment of zealotry, nationalism and the violation of human rights in the name of a common cause against a supposed enemy."
Cholos on Acid: Well right off the bat you have to love the title. You also have to love how hard this song goes. It's ultra thrash right out the gate.
Seagulls: The guitar solo in this song actually sounds like Seagulls.
Cholos on PCP: Again – that title is gold. This one is really just delayed noises and chants.
Goin' Out West: This has the bluesy "western" style riff that sounds like a punk rock saloon. Also the beach boys style surf drumming.
He's A Lady: This one starts out sounding almost like a 1980's new wave song. Nice 80's punk vibe throughout the song.
Supervised Visits: Really cool riff progression around 0:50 in. The way their guitar feedback sounds reminds me a lot of converge – vocalist reminds me a lot of Slayer.
You Should See My Dad's: here we are with the fantastic song titles again!
Fail at Failure: Did I mention these guys are good at song titles?
Fuck You for Your Service: The verses on this have a cool jazzy feel to them reminiscent of old spy movies.
The Greater Good: "We do it for the greater good" – of course you do Cunts… of course you do.
BUY CNTS ON CD: https://revolvemerchandise.shop/ipecac-music/cunts-cunts-cd
STREAM CNTS: https://music.apple.com/us/album/c-s/1478625126