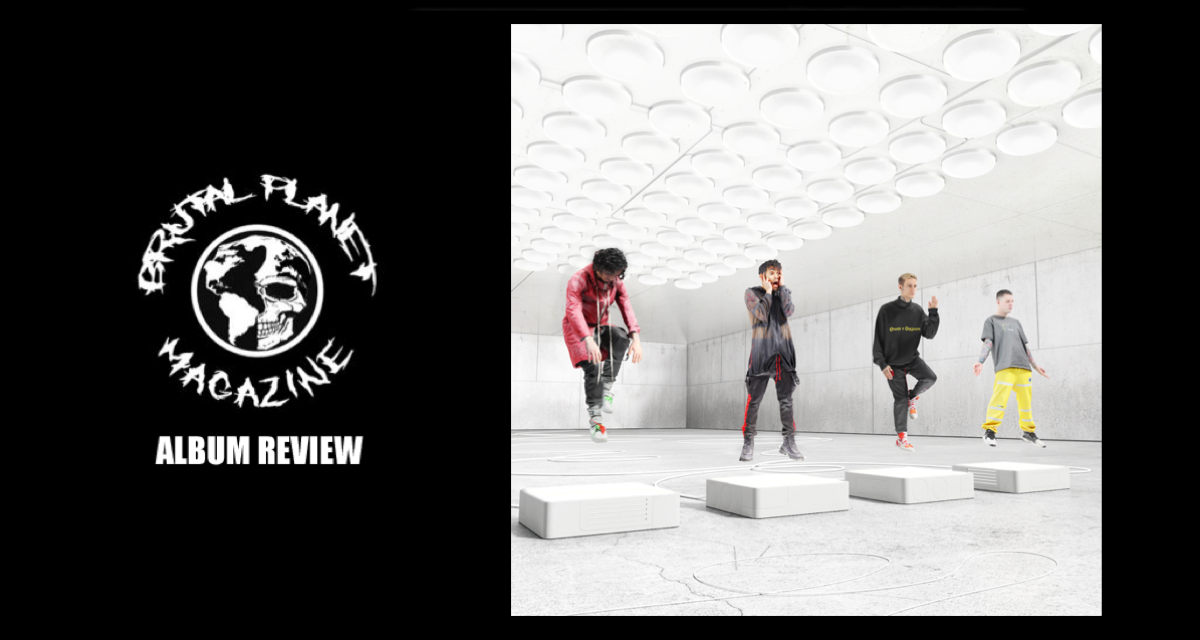 Crown the Empire are a band on the move. After a primetime slot on "Swanfest" earlier this year with acts like Dance Gavin Dance, Periphery and Veil of Maya they are about to hit the road on a headlining tour of their own
This is of course to promote their new album "Sudden Sky" – out on Rise Records July 19th. The band had this to say about their latest release:
"Our new album Sudden Sky is a digital representation of who we are at this moment in time, it captures our innermost fears and anxieties while questioning humanity and the chaos of the world we live in today. This urgent search for meaning taught us that the only way to truly be human is to be vulnerable. 'Sudden chance and destruction will lead to your liberation…'"
The album opener simply titled "X" is a spoken word intro over some electronic beats and effects. Lead vocalist Andy Leo shares his inner dialogue with us – including lines like: "Why do I ignore fires burning in the corners of my life until flames are about to engulf me?"
This gives way to the first full song – "20/20." As a point of reference the beginning of this song reminded me a lot of "30 Seconds to Mars" – The heavy pop aesthetic is what CTE seems to be aiming for and they are hitting the mark. A lot of the tracks on this album have that hard radio rock feel. I hear traces of bands like Muse, Linkin Park and 30 Seconds to Mars.
"What I Am" should have been the first single on the album. It's got that big hook… the chorus that sticks in your head. The rest of the track is solid riff heavy rock. A well constructed song that on a 2nd or 3rd listen really stands out to me.
The song "Blurry (out of place)" is another contender for a hit single. Really straight forward hard rock with a sing song chorus that won't soon be forgotten.
The track "Red Pills" is where the heavy really kicks into high gear. At right around 2:10 the heaviest groove on the album so far drops. A brutal scream and all out bone crushing riffing ensues.
"MZRY" (likely a clever way of spelling misery…) is the first single off the album. You can watch the video for this track here:
"MZRY" is another track that drew serious comparisons to "30 Seconds to Mars" from me. The chorus even uses the lyric: "bury me, bury me now…" and sounds vaguely similar to the chorus of the track "The Kill" by 30STM – this could be unintentional or a subtle homage to one of CTE's influences. The 2 songs are far from identical… but the comparison is apt.
"Under the Skin" begins with an electronic groove and naturally wanders into a huge melodic chorus with string arrangements, call backs and everything you'd expect in a solid hook.
The track "SEQU3NCE" has what in my opinion is one of the most interesting guitar riffs on the album. Sliding in and out of different notes and time signatures. The chorus is more driven by heavy screaming than any kind of melodic hook. Don't get me wrong there is melody too but this one has that hard edge chorus the metal kids are gonna love.
"Everybody's dying while we're fighting the crusade" is the refrain from the electronic driven "March of the Ignorant" the 2nd to last track on the album that leads into the final / title track.
Sudden Sky starts off with some stripped down percussion and vocal melodies before it explodes into a gigantic heavy groove and Andy belts out: "ARE YOU READY!?!?" this is a great crown jewel to top off the album. (forgive my terrible pun).
This album is very short and too the point. CTE have trimmed a lot of the fat out and brought you all meat for this one. It's 10 straight up melodic, hard rock tracks with no frills. Just good solid rock n roll songwriting that warrants repeated listening.
Fans of Crown the Empire should love every second of this release and Sudden Sky is almost sure to convert a lot of the non-believers into faithful followers.
PS – the band actually put together a track by track breakdown of their own – you can view it on Rise Records YouTube channel here: