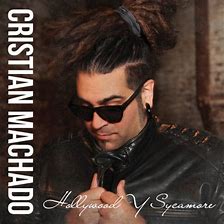 2020 has been a year of reflection and introspect for most people. With the release of Hollywood y Sycamore, this is obvious for former Ill Nino frontman Cristian Machado. Even with much of the album being in Spanish, the emotions are so evident they will hit everyone no matter what language they speak.
Now, if you are picking up this album, thinking it will be anything like what you are used to from Cristian and Ill Nino, you may be disappointed. Hollywood y Sycamore is a very different musical approach from Cristian than fans are used to.
This mostly acoustic album combines guitar, pianos, violins, and Cristian's gorgeous vocals to convey feelings that are not always understood verbally.
"Say Hello" starts the album out with the piano and a beautiful mix of English and Spanish and truly shows the listener that they are in for an exceptional experience. "Die Alone" (my favorite song of the album) is one I think will connect with everyone. It talks about the struggles we all face in life, pain, loss, love, and the fact that if we chose to move past those hardships, we can rise above and be happy. "Weeds" ups the drama with the piano once again.
Next up is the first of two entirely Spanish songs, "Pase Lo Que Pase." Up next is a completely revamped and slowed down version of Ill Nino's 2003 classic "How Can I Live?" As an Ill Nino fan, I was a bit apprehensive when I saw this on the list, but I have to say it is beautiful, and I am super into it. Cristian added a cover of Pink Floyd's "Welcome to the Machine," and as a PF fan, I'll admit I have some mixed feelings, but all in all, it is a great song.
"Corazon en un Cajon" is the second all Spanish song, and I have to say no matter what language you speak, the tenderness evoked in this song is absolutely understood. The album is closed out with another Ill Nino classic revamp, "Numb," that fans will be over the moon for I can guarantee.

This album shows a whole new side to Cristian and lets the songwriter SHINE. Even though you may think it may not be your thing, you should definitely give it a listen. The album is out now via Coconut Bay/Chesky Records.