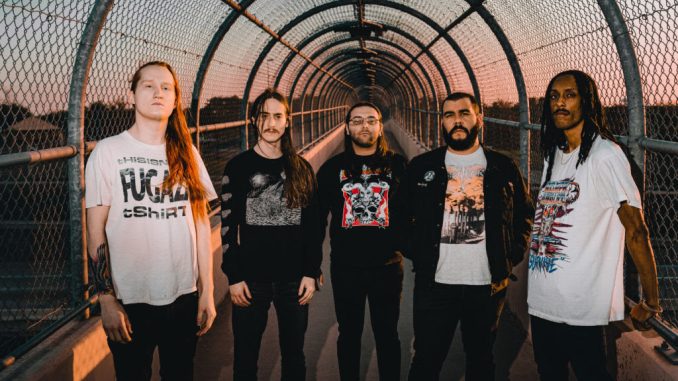 Texas death bringers CREEPING DEATH will support extreme metal legends Carcass on their upcoming North American Spring tour. The journey kicks off on March 31st in Santa Ana, California and winds its way through two dozen cities, closing on April 30th in Los Angeles, California. Additional support will be provided by Municipal Waste and Sacred Reich. Tickets are on sale now! See all confirmed dates below.
CREEPING DEATH w/ Carcass, Municipal Waste, Sacred Reich:
3/31/2023 The Observatory – Santa Ana, CA
4/01/2023 The Nile – Mesa, AZ
4/03/2023 The Mohawk – Austin, TX
4/04/2023 Grenada Theater – Dallas, TX
4/05/2023 White Oak Music Hall – Houston, TX
4/07/2023 The Masquerade – Atlanta, GA
4/08/2023 The Orpheum – Tampa, FL
4/11/2023 The Ritz – Raleigh, NC
4/12/2023 Baltimore Sound Stage – Baltimore, MD
4/13/2023 Irving Plaza – New York, NY
4/14/2023 The Palladium – Worcester, MA
4/15/2023 Corona – Montreal, QC
4/16/2023 Phoenix – Toronto, ON
4/18/2023 Metro – Chicago, IL
4/19/2023 First Avenue – Minneapolis, MN
4/20/2023 The Granada – Lawrence, KS
4/21/2023 The Gothic – Denver, CO
4/22/2023 The Depot – Salt Lake City, UT
4/24/2023 The Crocodile – Seattle, WA
4/25/2023 Commodore Ballroom – Vancouver, BC
4/26/2023 Hawthorne Theatre – Portland, OR
4/28/2023 The UC Theatre – Berkeley, CA
4/29/2023 The Observatory – San Diego, CA
4/30/2023 The Belasco – Los Angeles, CA
CREEPING DEATH continues to tour in support of their most recent release The Edge Of Existence EP, out now on MNRK Heavy. With a nod to crossover masters Iron Age, a bit of the tech-death of Cryptopsy, a foundation of forebearers Death, CREEPING DEATH summons a vibrant sound somehow both familiar and fresh. The Edge Of Existence EP further demonstrates the power, fury, and outright revelry at the heart of the band's identity.
Captured at Homewrecker Recording Studio in Tucson, Arizona and produced and mixed by Ryan Bram (Gatecreeper, Bitter Rivals, Sex Prisoner), the six-song EP introduces three new certified hellraisers — "Relics From The Past," "Humanity Transcends," and the title track — alongside remade and revitalized versions of the three songs from the band's 2016 debut EP — "Sacrament Of Death," "Doused In Flames," and "Skinned Alive."
"CREEPING DEATH play with a vigor that puts them above most of their contemporaries." — Spin
"The butt-ugly vocals, gurgling guitar tones and straightforward, almost instinctual thrust provides a legible map for the moshers, but there's enough happening on top to please OSDM addicts." — Revolver
"'Guttural' does not begin to describe the vocals. 'Heavy' cannot capture the guitars. There are no words for drums this fast and assaulting. CREEPING DEATH serves up cold, sonic violence…" — Metal Injection