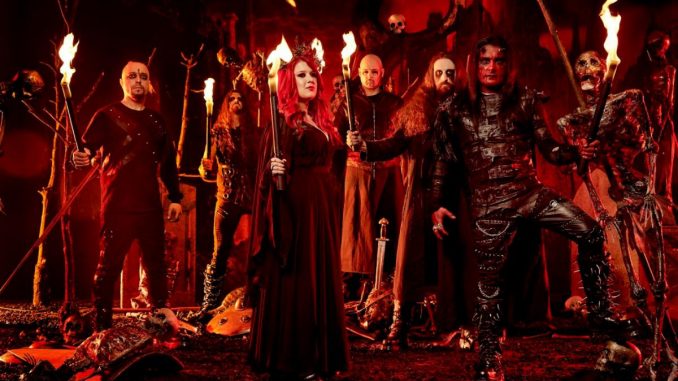 All hope has disappeared into the void. The flames that flickered on the horizon for so long have reached our backyard, leaving endless fields of black ashes and smoke rising from the ruins of our lands. Yet, why shall we not enjoy a last ferocious soundtrack to our inevitable end? "Existence Is Futile" has hit stores today and shows extreme metal legends CRADLE OF FILTH in the best shape of their lives and ready to watch this world burn.
Proclaimed to be the "angriest and saddest album Cradle have ever made" by Metal Hammer (UK) and "one – without the shadow of a doubt – of the best albums of the year" (A&P Reacts, CAN), the band's 13th chef d'oeuvre sees Suffolk's finest taking a more modern approach to their songs and facing current issues such as overpopulation and environmental pollution, while still keeping their unprecedented poetic view, supported by epic orchestral soundscapes, razor-sharp guitars and Dani Filth's unique screams.
"'Existence Is Futile' is the apocalyptic conclusion of three years of Cradle Of Filth's world touring and is definitely our most severe album to date, reveling in existential dread, the fear of the unknown, the uncertainty of fate in a yawning cosmos and the meaninglessness of life also being the search for life's meaning", Dani Filth comments "Heavy stuff indeed and as a wise man was allegedly recently heard to say 'The inevitable heat-death of the universe and subsequent closure of time and space itself, could have no better soundtrack than this album'."
In case you missed the band's latest music videos, check them out here:
Existence Is Futile consists of 12 new tracks with a total playing time of 54 minutes:
The Fate Of The World On Our Shoulders
Existential Terror
Necromantic Fantasies
Crawling King Chaos
Here Comes A Candle… (Infernal Lullaby)
Black Smoke Curling From The Lips Of War
Discourse Between A Man And His Soul
The Dying Of The Embers
Ashen Mortality
How Many Tears To Nurture A Rose?
Suffer Our Dominion
Us, Dark, Invincible
Sisters Of The Mist (Bonus track)
Unleash The Hellion (Bonus track)
CRADLE OF FILTH, 2021 A.D., are:
Dani Filth | Vocals
Richard Shaw | Guitar
Ashok | Guitar
Daniel Firth | Bass
Martin 'Marthus' Skaroupka | Drums
Anabelle | Female vocals, keyboards
Follow or subscribe for further FILTHy propaganda: