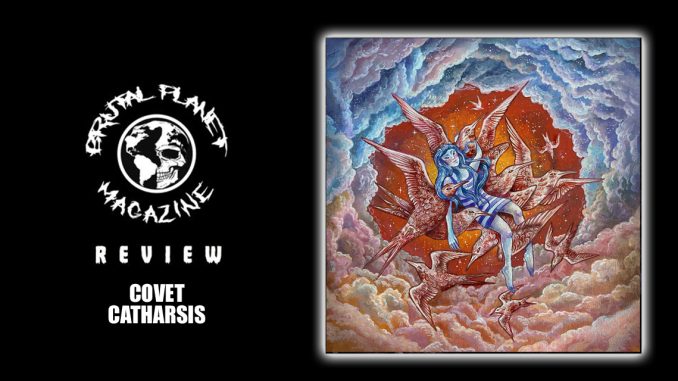 Covet is not a metal band in any sense of the word but the technical prowess and energy of the band put them on my radar a few years ago when I caught them at Swanfest. The San Francisco, CA trio—Yvette Young [guitar, vocals], Brandon Dove [bass], and Jessica Burdeaux [drums]—invoke an immersive living and breathing sonic world pieced together by inventive guitar wizardry, nuanced arrangements, unpredictable rhythms, and dynamic vocals.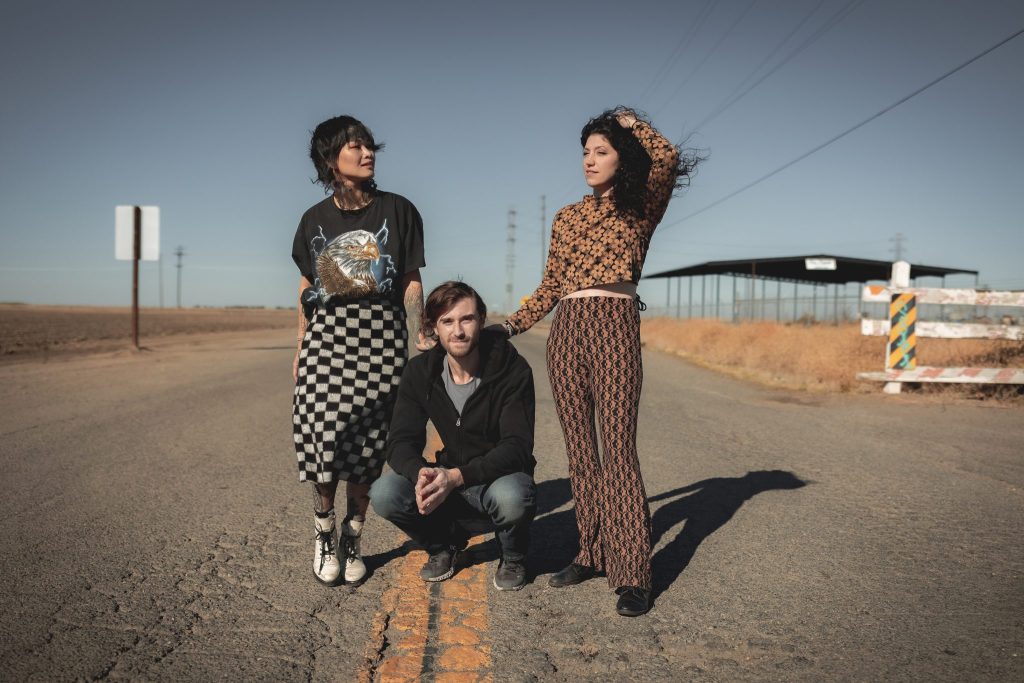 The project is largely the vision of Yvette Young and she is credited with art, songwriting, lyrics and vocals and guitar. She also plays piano, keys, synth and any auxiliary instruments. "We did a lot of risk-taking on this album," says Young. "I try to follow what excites me without heeding anybody's expectations. I'm leaning into melodies, tones, and textures and trying to use them to transport listeners. The whole concept is escaping into a fantasy realm where the songs depict different characters and their own worlds. Each song is like their theme song. It's mostly instrumental, but when you close your eyes, I hope people will be transported into the character's story. Music has always been escapism for me and a great source of therapy. My hope for this music is that it will take people somewhere and stir their imaginations, or at the very least, make them feel something."
The first track Coronal is something rare in the band's catalog. It has lead vocals. Covet tends to be a mostly instrumental band but this song stands out on the album. Yvette's vocoder-drenched vocals echo over a trudging groove before she sustains the shaky notes of a soaring solo.
Covet introduced catharsis with the 2nd track and first single "firebird." Yvette's eloquent fretboard phrasing instantly transfixes through movements of chorus and delay as an unexpectedly danceable groove dissolves into an arresting guitar solo.
"It's about embracing joy," she beams. "When my mom first emigrated to America, she balled out and got a red Pontiac Firebird. I hope it sounds like cruising down the highway with the wind blowing in your hair. It's a stark contrast to the heavy, serious vibes of the first song the record. I really wanted to lean into the catchiness of a melody and see how I could push some rock-n-roll tropes until something almost becomes cheesy—but not quite yet. Hopefully, the lighthearted and silly nature of the video reflects that."
Bronco is probably my favorite track on the album. There are some really cool guitar effects throughout and one part of the song actually sounds like a bronco reeling back and kicking it's front legs. I really dig the dynamics of the song and the almost glitch like effects that Yvette uses in parts. The drumming on this track is also incredibly intricate and energetic.
Vanquish picks up where Bronco left off so well that the songs seem to blend together. It crescendo's in this really cool series of wave likes riff that just sound so oceanic to me.
Interlude is the obvious "break" in the album, a piano piece that also has a lead vocal melody but not lyrics. Yvette plays busy piano runs and the track is layered with multiple vocal harmonies. The next song smolder has some very cool violin sounding leads and the music feels much like it's title – a smoldering fire, while Merlin has the similar melodic violin leads over a shimmering and intricate guitar pattern.
Lovespell the final song on the album, juxtaposes Yvette's inter-dimensional fretwork with saxophone courtesy of Alex Rose [Minus The Bear]. "'Lovespell' is the feeling I get when I write," she reveals. "It's the closest sensation to falling in love. Since this is a good vibe tune, we thought it would be fun to have saxophone too. We didn't want to leave everyone on a negative note. I hope by the end of this song your heart feels like it is exploding with love."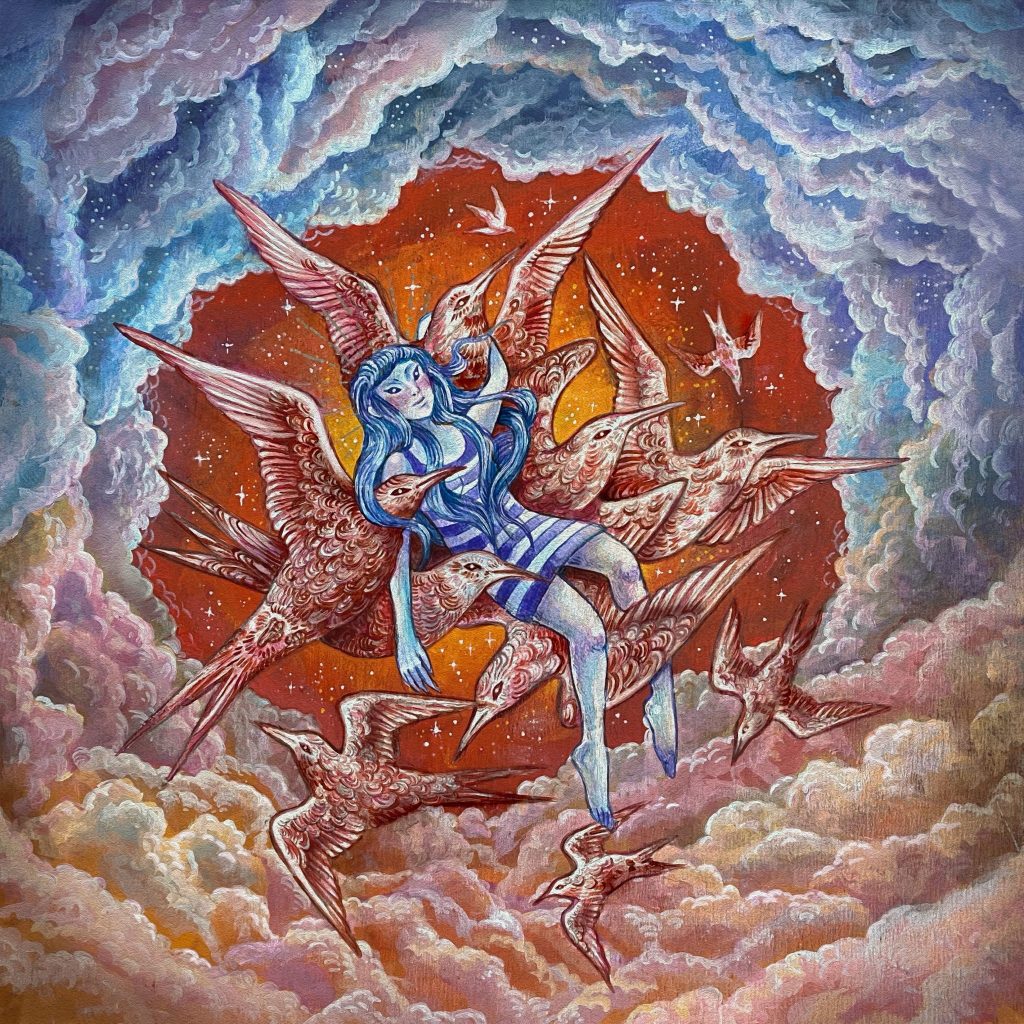 "I want this to be a journey for you," is Yvette's core message. "When you listen to this record, I just hope you feel something and maybe the music gets stuck in your head. Despite my obstacles in making this record happen, I'm glad I didn't give up—even if things got really difficult. This music is a catharsis for me. It's always going to remind me of a chapter in my life, and I'm proud of it but also really looking forward to this next one"
Catharsis is available everywhere today (Friday, April 7th 2023) go listen to it now and catch the band out on tour starting tonight in Portland, OR!!
April 7 Portland, OR Wonder Ballroom
April 8 Vancouver, BC Biltmore Cabaret
April 9 Seattle, WA Neumos
April 11 Salt Lake City, UT Soundwell
April 13 Denver, CO Meow Wolf
April 14 Lawrence, KS The Bottleneck
April 15 St. Louis, MO Delmar Hall
April 17 St. Paul, MN Amsterdam Music Hall
April 18 Madison, WI High Noon Saloon
April 20 Chicago, IL Bottom Lounge
April 21 Ann Arbor, MI Blind Pig
April 22 Toronto, ON Lee's Palace
April 23 Montreal, QC Café Campus
April 25 Pittsburgh, PA Thunderbird Music Hall
April 26 Brooklyn, NY Brooklyn Bowl
April 27 Boston, MA Royale
April 28 Philadelphia, PA Brooklyn Bowl
April 29 Vienna, VA Jammin' Java
May 1 Asheville, NC The Grey Eagle
May 2 Nashville, TN Brooklyn Bowl
May 3 Atlanta, GA The Masquerade (Hell)
May 5 Dallas, TX Studio at The Factory
May 6 Austin, TX Scoot Inn
May 8 Albuquerque, NM Launchpad
May 10 Phoenix, AZ Crescent Ballroom
May 11 Solana Beach, CA Belly Up
May 12 Los Angeles, CA The Roxy