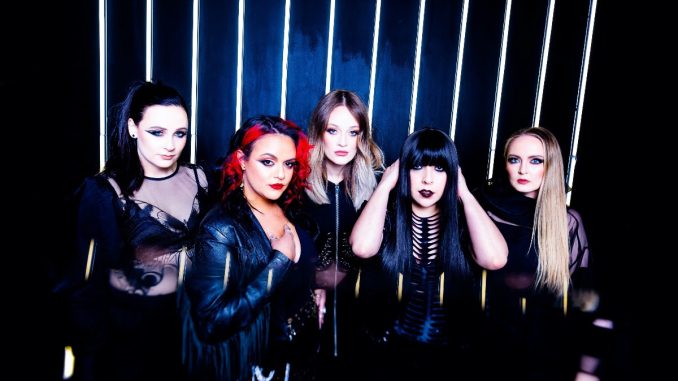 NEW ALBUM SLOW BURN OUT SEPTEMBER 8 VIA MASCOT RECORDS
CONQUER DIVIDE — the international five-piece band hailing from the U.S., U.K., and Canada who have generated accolades from Octane, Revolver, Alternative Press, Modern Drummer, Loudwire, and more — recently announced their new album. Slow Burn will arrive September 8 via Mascot Records. Pre-order it here.
The band — vocalist Kiarely Taylor, bassist/vocalist Janel Duarte, guitarist Isabel Johnson, drummer Samantha Landa, and guitarist Kristen Sturgis — has today shared the new single "the INVISIBLE." Listen here."'the INVISIBLE' has many lived-in, emotional layers that paint a picture that takes you right back to your youth, especially if you are part of an alt scene and made to feel like an outcast," the band explains, offering insight into the song. "It confronts the dynamic between your true self and your desire to be accepted by the 'cool kids.' One day, you realize that you don't need to seek validation from those in a sad state of affairs. They project their insecurities onto others because they lack emotional maturity and self-esteem."
SLOW BURN TRACK LISTING:
"Atonement"
"N E W H E A V E N"
"Paralyzed"
"welcome2paradise"
"PRESSURE"
"system_failure"
"playing w/ fire"
"Over It."
"Afterthought.wav"
"the INVISIBLE"
"wide awake"
"OnlyGirl"
"gAtEkEePer"
Landing on the Billboard charts, the band's 2015 self-titled debut racked up more than 30 million streams, driven by powerful tracks like the Kerrang! Awards Best Song nominee "At War." After a hiatus, CONQUER DIVIDE reemerged on the scene with the heavy and anthemic "Chemicals" in 2020, which Alternative Press called a "contender for best hard rock/metalcore crossover of the year."

The following year, "Messy" became the No. 1 Most Added on Billboard's Hard Rock Indicator Chart. Described by Rock Sound as a "monster" track "designed for arenas," "Paralyzed" offered the first taste of CONQUER DIVIDE's long-awaited sophomore album. Inspired by guitarist Kristen Sturgis' "harrowing experiences as a nurse amid the pandemic" (Revolver Magazine), the emotional and vulnerable "Paralyzed" was nominated by Metal Hammer for Best Metal Song of 2022. "FCKBOI," a collaboration with Electric Callboy, has been streamed over 13 million times on Spotify alone. They've had multiple singles on SXM Octane and were featured in the Next Wave Concert Series.
Slow Burn ushers in a new era for CONQUER DIVIDE, one defined by breathtaking sonic refinement, intensely personal lyrical storytelling, and a seamless balance between hard-hitting modern metal and irresistible melody. Slow Burn is stacked with confessional expressions of vulnerability, frustration, and, ultimately, hope. Each song on Slow Burn summons forth brand new levels of catharsis.
The band's upcoming tour dates are below.