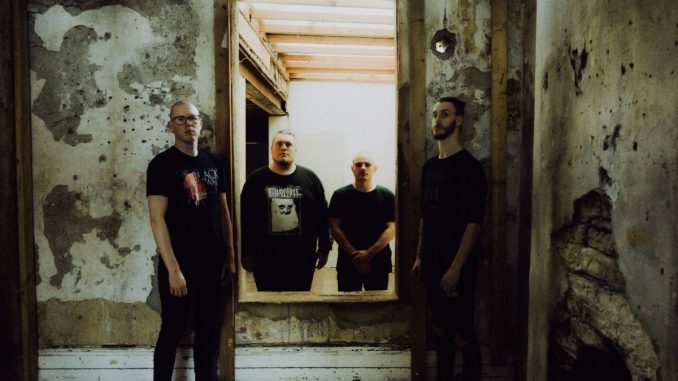 The future of British metal lies in safe hands with
CONJURER
, who will release their long-awaited new album
Páthos
on
1st July 2022
via
Nuclear Blast Records.
A triumphant return from CONJURER following their world-renowned 2018 debut Mire, Páthos is a band flexing their creative muscles, deepening their approach and thought, and expanding their sound.
Today, CONJURER deliver their breath-taking 3rd single "Cracks In The Pyre".
CONJURER comment:
"Cracks is probably the biggest departure from our previously established sound – the working title was 'Ballad'. For me this is the most affecting track on Páthos, I connect more with it on every listen, and I think it opens up a new element to the band's identity that will be important moving forwards. The video reflects the themes of the track and was captured on the Scottish coast: the breathtaking landscapes evoke the atmosphere the song is trying to capture, and we're blown away by the finished piece."
PRE-ORDER OR PRE-SAVE Páthos & STREAM 'Cracks In The Pyre' HERE: https://conjurer.bfan.link/cracks-in-the-pyre.ema
WATCH THE VIDEO FOR 'Cracks In The Pyre' HERE: https://youtu.be/ZPl3qgZuCv8
Páthos is not an album for the half-hearted or faint-hearted. Elements of Sumac, Gojira, old MASTODON, and OATHBREAKER, the new record is a multi-layered beast – sludge, death, doom, black metal, and hardcore influences clash and collide throughout, all masterfully finished by Will Putney's exquisite mix and master.

The fifty-minute runtime of Páthos is not without its moments of the sublime, with post-metal nods to CONJURER and PIJN's acclaimed Curse These Metal Hands project throughout. That a band can be at once so triumphantly beautiful and gut-punchingly heavy is testament to CONJURER's quality, and a surefire sign of their future longevity at the top of Britain's heavy music scene.
CONJURER – PÁTHOS
RELEASE DATE: 1st July 2022
1. It Dwells
2. Rot
3. All You Will Remember
4. Basilisk
5. Those Years, Condemned
6. Suffer Alone
7. In Your Wake
8. Cracks In The Pyre
PÁTHOS is available in the following formats:
Digital Album
CD Digisleeve
Gatefold 2LP

White
Crystal Vintage Rose (Conjurer Exclusive)
Transparent w/ Pink & Black Splatter (NB Mailorder Exclusive)
Burgundy (Selected Retailers)
Transparent Silver (USA Exclusive)
PRE-ORDER YOUR COPY HERE: https://conjurer.bfan.link/it-dwells.ema

CONJURER / LIVE 2022
21.10.2022 NL – Nijmegen – Soulcrusher Fest
22.10.2022 DE – Mainz – Kulturclub Schon Schön
23.10.2022 DE – Bochum – Die Trompete
24.10.2022 DE – Leipzig – Bandhaus
26.10.2022 SU – Switzerland – Lucerne
27.10.2022 FR – Lyon – Le Farmer
28.10.2022 FR – Lille – Brat Cave
29.10.2022 BE – Hasselt – Samhain Fest
31.10.2022 UK – Bristol – The Exchange
01.11.2022 UK – Manchester – Rebellion
02.11.2022 UK – Glasgow – Cathouse
03.11.2022 UK – Leeds – Key Club
04.11.2022 UK – London – The Dome