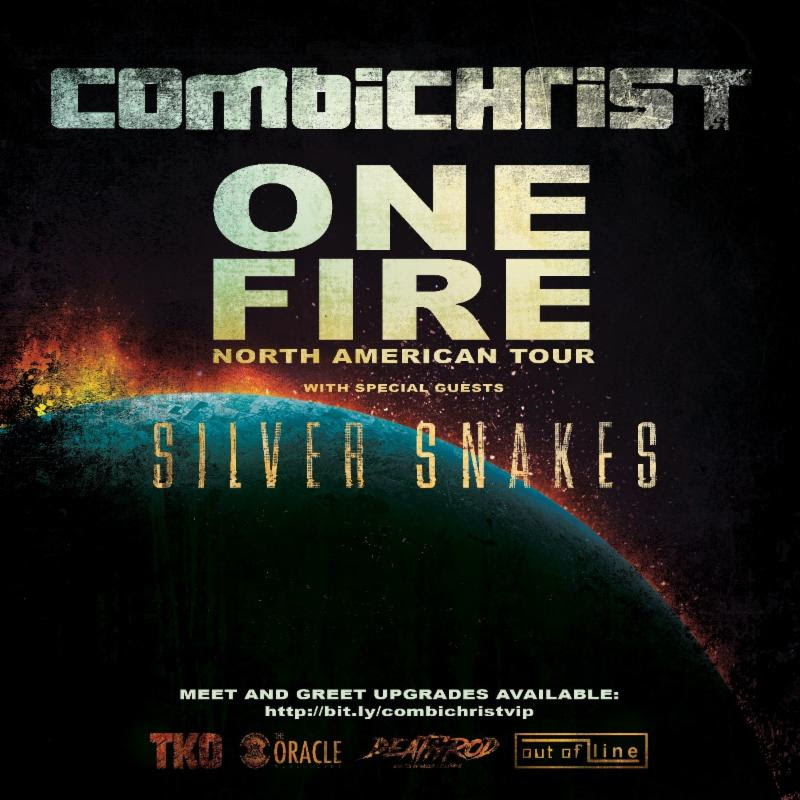 COMBICHRIST Announces "One Fire" North American Tour with Support from Silver Snakes
New Full-Length COMBICHRIST Album, One Fire, Coming Soon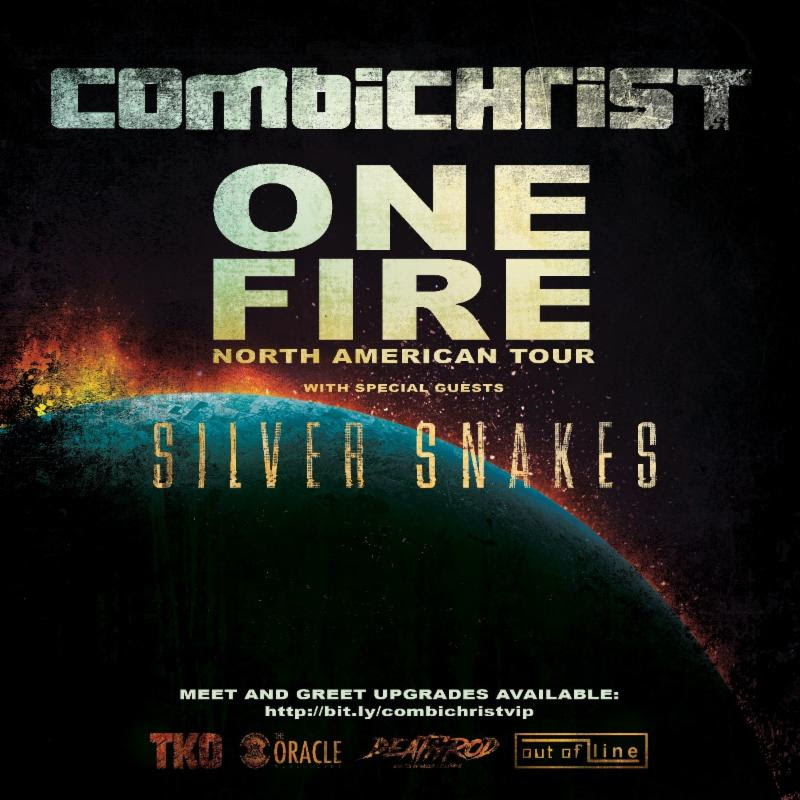 Electro-industrial frontrunners COMBICHRIST have officially announced their upcoming North American headline tour, kicking off on April 8, 2019 in San Diego, CA! Tour support will come from electro-alt-rockers Silver Snakes. See below for all currently confirmed tour dates and stay tuned for updates.
In addition to this new tour, the band is thrilled to announce that they will release a new full-length album, One Fire, this year. COMBICHRIST mastermind Andy LaPlegua says: "Welcome to the birth, growth, death, and rebirth of a band. COMBICHRIST has become a purely visceral creature, driven by instinct and emotion; stripped of all pretension. It's raw and uncompromising – it's fueled by expressions of lust, anger, pain and hate. The never-ending evolution of a sound has finally come full circle. It's time to feed our demons. It's been way too long since we visited the roots of this band, and we are injecting it with the future!"
LaPlegua adds: "I can't even express how stoked I am to get on the road right now. This new lineup and these new tracks have ignited a fire in me that I forgot I had."
Alex Estrada of Silver Snakes adds, "We are very excited to be hitting the road in the spring. This tour with COMBICHRIST is something we've been hoping for and we are incredibly thankful to them for having us out. We couldn't have asked for a better tour to showcase our new album, coming soon."
COMBICHRIST "One Fire" Tour Dates w/ Silver Snakes:
4/8 – San Diego, CA @ Brick By Brick
4/9 – Tempe, AZ @ Club Red
4/12 – Oklahoma City, OK @ 89th Street Collective
4/13 – Dallas, TX @ GMBG
4/14 – Austin, TX @ Come And Take It Live
4/15 – Houston, TX @ Scott Bar
4/16 – New Orleans, LA @ The Goat
4/19 – Tampa, FL @ Brass Mug
4/20 – Atlanta, GA @ Masquerade
4/21 – Charleston, SC @ Music Farm
4/22 – Baltimore, MD @ Baltimore Soundstage
4/23 – Teaneck, NJ @ Debonair Music Hall
4/24 – New York, NY @ Gramercy
4/26 – Philadelphia, PA @ Voltage Lounge
4/27 – Hampton Beach, NH @ Wally's
4/28 – Providence, RI @ Fete Ballroom
4/30 – Lancaster, PA @ Chameleon Club
5/1 – Easton, PA @ One Centre Square
5/2 – Pittsburgh, PA @ Crafthouse
5/3 – Lakewood, OH @ The Winchester
5/5 – Chicago, IL @ Bottom Lounge
5/7 – Denver, CO @ Marquis Theater
5/9 – Las Vegas, NV @ Backstage Bar
5/10 – Los Angeles, CA @ The Regent
5/11 – San Francisco, CA @ Slim's
5/12 – Sacramento, CA @ Holy Diver
5/14 – Portland, OR @ Hawthorne Theater
5/15 – Seattle, WA @ El Corazon
5/16 – Vancouver, BC @ The Rickshaw Theater
5/17 – Edmonton, AB @ Starlite
5/19 – Regina, SK @ The Exchange
5/20 – Winnipeg, MB @ Pyramids
5/23 – London, ON @ Rum Runners
5/24 – Toronto, ON @ Lee's Palace
5/25 – Montreal, QC @ Café Campus
5/26 – Quebec City, QC @ L'Anti Bar & Spectacles
5/28 – Ottawa, ON @ The Brass Monkey
5/29 – Buffalo, NY @ Ironworks
5/31 – Flint, MI @ Machine Shop
6/1 – Grand Rapids, MI @ The Stache at The Intersection
6/2 – Indianapolis, IN @ The Citadel
About COMBICHRIST:
Formed in 2003, COMBICHRIST took founder Andy LaPlegua's hardcore past and electronica present and merged them into a singular, mechanical music monster. Since releasing the first COMBICHRIST album The Joy of Gunz, LaPlegua and COMBICHRISThave unleashed six subsequent full-lengths, including 2014's We Love You, and numerous EPs while also cracking Billboard's Top 10 Dance Singles chart. Their latest studio effort, This is Where Death Begins, was produced by LaPlegua and Oumi Kapila (Filter), and mastered by the legendary Vlado Meller (Red Hot Chili Peppers, Slipknot). An apocalyptic behemoth of guitars, electronica, infernal drums and dark elemental force, it is easily COMBICHRIST's most accomplished effort to date and landed the band a top 30 chart position in Germany.
2019 has a lot in store for LaPlegua. With a new band line up and a new team behind him, COMBICHRIST is ready to dominate with massive touring and an upcoming new album chock full of crushing industrial hits.
COMBICHRIST is:
Andy LaPlegua (Vocals)
Eric 13 (Guitar)
Nick Rossi (Drums)
Will Spod (Drums)
COMBICHRIST online:
Twitter: @combichristarmy
Instagram: combichrist
About Silver Snakes:
Formed in 2011, after frontman Alex Estrada's hardcore/crust band Cathedrals went defunct, Silver Snakes started an evolution that has blended his many influences, from Latin singer Lola Beltrán to bands like Godflesh and Ministry. So, not surprisingly, the band's 2016 release, Saboteur, finds the songwriter experimenting with samples, synths and beats for the first time. Inspired by two alternative masterpieces: Nine Inch Nails' The Downward Spiraland Sleep's cult classic Dopesmoker, the storyline interwoven with the music of Saboteur takes the listener through a pyrrhic victory of someone who, because of their own passions and goals, sabotages and manipulates for their own benefit and soon has to come face to face with the consequences of their actions.
Silver Snakes plan to release a new full-length album in 2019, with more details to come.
Silver Snakes is:
Alex Estrada (Vocals, Keys, Guitar, Samples)
Michael Trujillo (Bass, Keys, Vocals)
Mike Woods (Guitar, Vocals)
Silver Snakes online: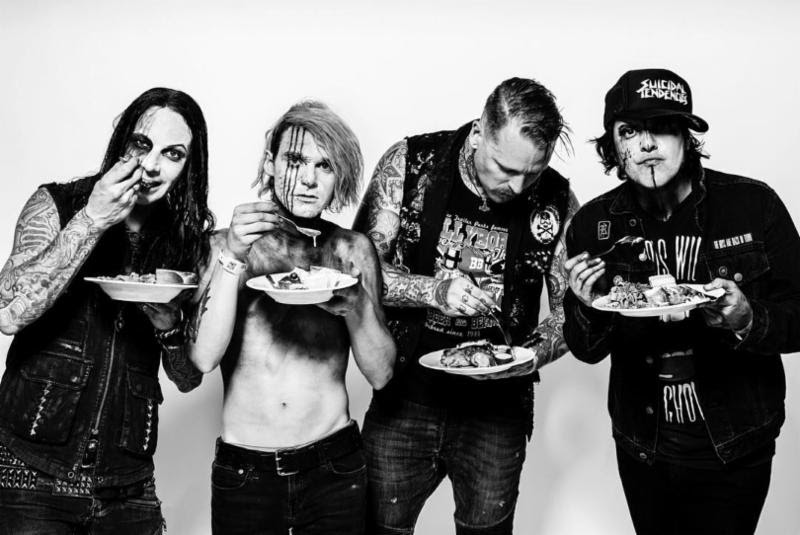 COMBICHRIST Press Photo – Tobias Sutter Photography