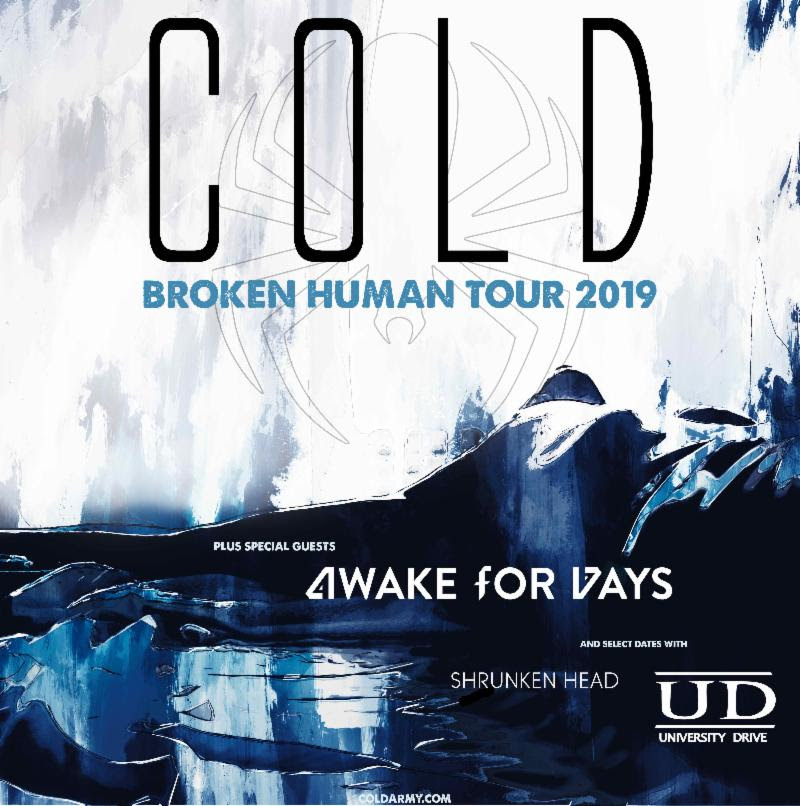 In support of their forthcoming Napalm Records Debut "The Things We Can't Stop" alternative rockers Cold will hit the road late this summer and into early fall. The outing dubbed the Broken Human Tour, the band's first in over 8 years, kicks off August 29
th
in Teaneck, NJ and runs through October 20
th
in Lexington, KY. A complete list of dates can be found below and more dates will be added soon. Tickets & VIP Packages go on sale this Friday July 19
th
at
ColdArmy.com
.
"Cold would like to thank everyone that helped with setting up our first tour in over 8 years. We look forward to seeing all of you at the shows. You all mean so much to me and I look forward to our Cold family reunion! Love to you all," says frontman SW.
Cold have announced a September 13th release date for their sixth studio album andNapalm Records debut "The Things We Can't Stop."
This Friday July 19th will see the release of the album's first official single, "Without You." The song will be available for streaming and download across digital retailers in addition to being serviced to national radio stations.
The first track from the album, an anti-bullying anthem entitled "Shine" can be seen as a lyric video
HERE
.
Cold have always documented memories and moments in song, etching them forever in diaristic lyrics, cinematic production, and airy guitars. Since their 1997 self-titled debut, the group fronted by singer, songwriter, and multi-instrumentalist SW, has consistently converted pain into poetry consumed by a legion of diehard fans affectionately dubbed, "Cold Army."
2017 saw Ward turn his attention to Cold through once again surveying the events of an ever-changing journey and relying on the same internal compass responsible for his catalog thus far.
In order to overcome the drought, he returned to his "alternative roots," spinning favorite records from The National, Interpol, and Placebo in addition to reading musician biographies. Discovering Nick Cave's "One More Time With Feeling" documentary proved eye-opening. Not only did he watch the film over twenty times and develop a deeper appreciation for the artist, but Ward credits "him for breaking my block."
In the end, "The Things We Can't Stop" shines a light on life's tragedy only to color it with beauty as Cold have always done.
Broken Human Tour (w/ Awake For Days / University Drive)
Aug. 29 – Teaneck, NJ (Debonair Music Hall)
Aug. 30 – Stafford Springs, CT (Palace Theater)
Aug. 31 – New Bedford, MA (The Vault at Greasy Luck)
Sept. 1 – Scranton, PA (Levels)
Sept. 4 – Buffalo, NY (Iron Works)
Sept. 6 – Warrendale, PA (Jergels)
Sept. 7 – Lancaster, PA (Chameleon Club)
Sept. 8 – Concord, VA (DeVault Vineyards – Blue Ridge Rock Festival) *
Sept. 10 – Greensboro, NC (Blind Tiger)
Sept. 11 – Atlanta, Georgia (The Masquerade (Hell)
Sept. 13 – Greenville, SC (The Firmament)
Sept. 14 – Winchester, VA (Blue Fox Billiards)
Sept. 15 – Poughkeepsie, NY (The Chance)
Sept. 17 – Brooklyn, NY (Brooklyn Bazaar)
Sept. 19 – Baltimore, MD (Baltimore Sound Stage)
Sept. 20 – Lakewood, OH (Winchester Music Tavern)
Sept. 21 – Flint, MI (The Machine Shop)
Sept. 22 – Cincinnati, OH (Riverfront Live)
Sept. 27 – Houston, TX (Scout Bar)
Sept. 28 – San Antonio, TX (The Rock Box)
Sept. 29 – Dallas, TX (Trees)
Oct. 1 – Austin, TX (Come And Take It Live)
Oct. 4 – Denver, CO (Herman's Hideaway)
Oct. 5 – Grand Junction, CO (Mesa Theater)
Oct. 6 – Colorado Springs, CO (Sunshine Studios Live)
Oct. 8 – Lincoln, NE (Bourbon Theatre)
Oct 10 – Angola, IN (The Eclectic Room)
Oct. 11 – Ringle, WI (Q and Z Expo Center)
Oct. 12 – Kansasville, WI (1175)
Oct. 13 – Chicago, IL (Bottom Lounge)
Oct. 16 – Belvidere, IL (The Apollo Theater)
Oct. 18 – Indianapolis, IN (The Vogue)
Oct. 19 – Champaign, IL (The City Center)
Oct. 20 – Lexington, KY (Manchester Music Hall)
*No Awake For Days / University Drive
More Info About Cold:
At the turn of the century, the band unveiled the seminal "13 Ways To Bleed On Stage," which went gold and yielded hits such as "Just Got Wicked," "No One," and "End of the World." The 2003 follow-up, "Year of the Spider," marked their highest chart position, bowing at #3 on the Billboard Top 200, receiving a gold certification, and spawning the smash "Stupid Girl" accompanied by Rivers Cuomo of Weezer. 2005's "A Different Kind of Pain" illuminated melodic strides to the tune of 37,000-plus copies sold first-week and a Top 30 debut. Meanwhile, 2011's "Superfiction" continued this streak, crashing the Top 10 of the Top Rock Albums Chart upon arrival and extending a growing legacy.
For More Info Visit: