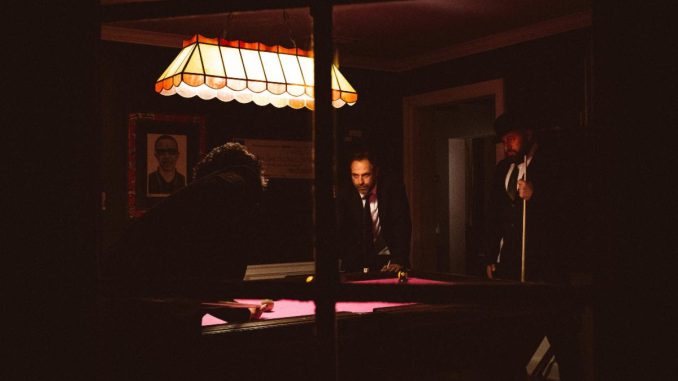 CODEFENDANTS
Release Episode 3 of Music Video Pentalogy
"BAD BUSINESS"
Feat N8NOFACE
*Warning: Contains scenes of graphic violence.
Photo Credit – Nik Hampshire | Download HERE
Friday, January 20, 2023 – Los Angeles CA – Fat Mike, Sam King and Ceschi Ramos aka the Codefendants, have released the third installment of their cinematic pentalogy today in the shape of the official music video for standalone single "Bad Business" featuring N8NOFACE. The NSFW video directed by Indecline comes with a viewer discretion advisory as the video features some scenes of graphic violence. It might be too real for you. Check out the video HERE and find the track on streaming platforms HERE.

Speaking on the latest release and the storyline developing across the three music videos to date, Fat Mike comments

"It's like American Me meets The Three Amigos."

Guest star of both the track and the music video, rising Los Angeles star, N8NOFACE adds

"When Fat Mike reached out for me to collaborate with his new band, Codefendants, it was a no brainer. Really had a blast making this"
WATCH: Official Music Video for "Bad Business"
"Bad Business" Artwork | Download HERE
Today's release of "Bad Business" comes in the aftermath of the earlier release of the group's first two tracks, "Abscessed" and "Suicide By Pigs". Watch both videos and get the backstory for "Bad Business" by clicking HERE or clicking on the image below and you'll be waiting to see what happens next. Since their official release in November 2022, the two videos have clocked up 131,000 YouTube Views and 75,000 Spotify streams. The band has also announced their first tour date in Austin, TX as part of the NOFX Final Tour on April 22 at Carson Creek Ranch.
ABOUT CODEFENDANTS

Sam King from Get Dead's graffiti crew were giving tattoos and making flash art to raise money to help rapper Ceschi Ramos when he was in prison. Months later they met at the Gilman Street Project in Berkeley, California. They bonded, talking about their love of hip-hop and punk rock, over a bottle of Jameson. They didn't know it yet, but they had just started Codefendants.

They began recording songs two years later in Los Angeles with Fat Mike from NOFX as producer. Soon after Fatty joined the band, they decided to make an album that sounded like nothing else – a completely genre-fluid album – a cross between hip hop, new-wave, flamenco, and the Beatles. And thus a whole new genre – Crime Wave was born. That album will be released via Fat Wreck imprint, Bottles To The Ground, this year (more news on that to come soon).

The group filmed a five- song video series that will probably not be seen on YouTube due to the subject matter, but will be available at thisiscrimewave.com. The short movie, written by Fat Mike and made up of the five music videos, features the legendary rapper DOC, N8NOFACE, 2Mex, and Stacey Dee from Bad Cop / Bad Cop.

All that Fat Mike has to say about the new Codefendants album is,

"Get ready for the best aural sex of your life."
Follow Codefendants Online