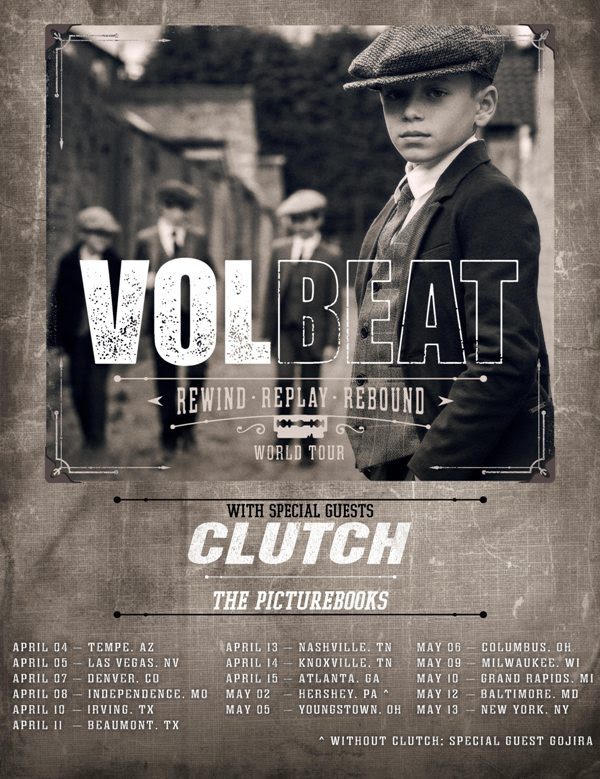 April 4th to the 15th and May 5th to the 13th 2020
January 17th, 2020 – Clutch announce April and May 2020 US tour dates as Special Guest of Volbeat's Rewind Replay Rebound World Tour. The first leg of the tour starts on April 4th in Tempe, AZ at 98KUPDUFest and finishes April 15th in Atlanta, GA. The second leg of the tour starts May 5th in Youngstown, OH and ends in New York, NY on May 13th. The Picturebooks open each show.
Clutch has some interesting history with Volbeat. Back in 2011 Clutch successfully supported Volbeat on their mainland European dates. Most recently Neil Fallon was invited by Michael Poulson to share vocal duties on Volbeat's recording of the track "Die To Live" and to join the band at the video shoot for the song in Boston, MA.
"It's a catchy straight-ahead rocker of a song and I am flattered to have been asked to participate" says Neil Fallon. Tim Sult very favorably remembers the 2011 tour with the band. "We had such a great time touring Europe with both Volbeat and The Picturebooks, it was only natural that we do it in the US."
April 04 | Tempe, AZ | 98KUPD UFest
April 05 | Las Vegas, NV | The Pearl
April 07 | Denver, CO | Mission Ballroom
April 08 | Independence, MO | Silverstein Eye Centers Arena
April 10 | Irving, TX | Toyota Music Factory
April 11 | Beaumont, TX | Ford Arena
April 13 | Nashville, TN | Municipal Auditorium
April 14 | Knoxville, TN | Civic Coliseum
April 15 | Atlanta, GA | Coca-Cola Roxy
May 02 | Hershey, PA | Giant Center ^
May 05 | Youngstown, OH | Covelli Center
May 06 | Columbus, OH | Schottenstein Center
May 09 | Milwaukee, WI | Eagles Ballroom
May 10 | Grand Rapids, MI | Deltaplex
May 12 | Baltimore, MD | UMBC Event Center
May 13 | New York, NY | Pier 17

^ Special guests Gojira & The Picturebooks; Clutch will not be supporting on this date
CLUTCH:
Neil Fallon – Vocals/Guitar
Tim Sult – Guitar
Dan Maines – Bass
Jean-Paul Gaster – Drums/Percussion
For more information, check out the band's website: