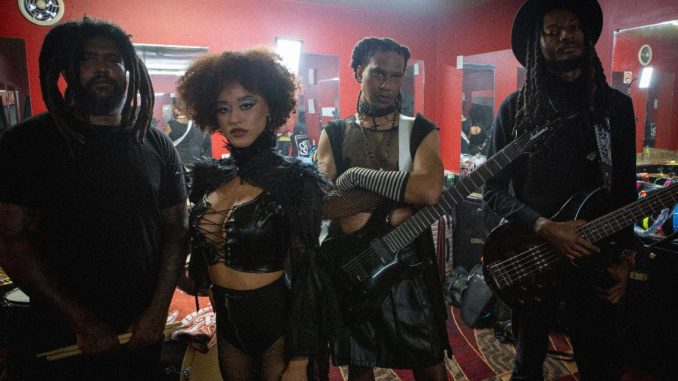 Premiering Exclusively on Dread Central – WATCH
One of the most outspoken and controversial newcomers in heavy music, CINNAMON BABE isn't backing down from detractors with their latest single, "Loose". The LA-based nu-metal band helmed by model/actress Stormi Maya has partnered with Dread Central to premiere the horror-inspired music video for the track. The "Loose" video was directed by Alison-Eve Hammersley; a 2019 Lena Waithe AT&T Hello Lab mentee, with directing credits for short films like Fragile.com and You'll Only Have Each Other.

Watch the "Loose" video premiere on Dread Central at the link here.

Speaking on the topics of misogyny and sex work, and how they influenced "Loose", Stormi comments:

"Sex work is what I turned to for survival when I was a teenager leaving foster care and dealing with homelessness. I was going back and forth from minimum wage jobs, but it was never enough to pay bills, especially in New York City. I first got into stripping at 18, and I stuck with it for a couple years. I also was a dominatrix, sugar baby, and nude model. In those years, I dealt with a lot of mistreatment, harassment, and abuse from the same men that wanted me for my sexuality. Within the strip club, a lot of the same men that were there paying for my service were the same men that were looking down on me.

Maya adds, "It's hard to accept that the men I make feel good with my images and company are the same men that turn on me and call me out by name when they don't get their way. I stand with sex workers no matter their gender. I hope they legalize sex work so it can be protected and girls can rely on law enforcement for protection instead of pimps. I wish we lived in a world where adults having consensual sex and being sexual wasn't so taboo. My biggest inspiration for the song was 'Whore' by In This Moment. That song empowered me so much. Because it's true – they love me for everything they hate me for."

"Loose" was engineered and produced by Esjay Jones & J.R. Bareis (Love & Death, Spoken), mixed by Joe Rickard, and mastered by Niels Nielsen (Ghost, Starset, In Flames).
Press Reactions to "Rock 'N' Roll Is Black"…
"Cinnamon Babe is letting everyone know where she stands at the crossroads of rock and race." – Loudwire
"On the incendiary single Rock And Roll Is Black — Influenced by Rage Against The Machine's Take The Power Back, she rails against the gatekeeping of metal from its black originators." – Metal Hammer
"For Stormi, Cinnamon Babe is a labor of love, an expression of anguish and strength born out of a difficult upbringing and a devotion to alternative music." – Metal Sucks
"That anyone questions the black roots of rock in this day and age is frankly flabbergasting but, again, it probably shouldn't be. Hopefully, the likes of Maya can educate a few people." – Idobi Radio
Watch the video for "Rock 'N' Roll Is Black"
Watch the video for "Messiah"
Watch the video for "Pure O"