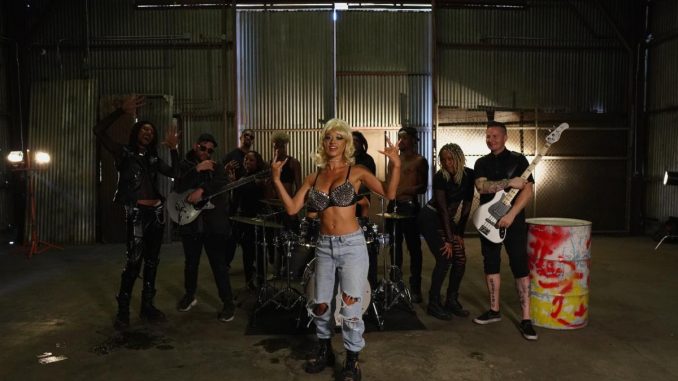 Viral Hit with 700k+ Views on TikTok This Week
CINNAMON BABE is back with the third single off their upcoming debut album. The nu-metal solo project of actress, model, and social media hustler Stormi Maya, Cinnamon Babe released "Rock 'N' Roll Is Black" on Friday – and now fans can check out the music video for the track at the link here.

Already addressing issues like mental health on the song "Pure O" and sexual power dynamics with "Messiah", "Rock 'N' Roll Is Black" touches on one of the most 'saying the quiet part out loud' topics in entertainment culture – the typecasting of where black people do and do not feel embraced. From the fetishizing of black culture to the concept of what activities do and don't fit with the black experience, the song points back to Rock n' Roll's roots to explain why no explanation should be needed.

Perhaps it shouldn't come as a surprise that both the topic and song are already being met with such an emphatic and contrasting range of opinions. A brief TikTok clip of the music video was posted on Monday by Maya and has already amassed over 700k views and more than nine thousand comments.
Cinnamon Babe – "Rock 'N' Roll Is Black" (Official Video)
Commenting on the story behind "Rock 'N' Roll Is Black", Maya shares:

"As POC/Black people in this space, I feel we have to constantly prove our position – we have to explain that we are not "whitewashed" nor traitors to our culture. Many times in our own community, we are seen as outcasts if we listen to anything outside of Hip-Hop and R&B. We are outcasts in our own communities if we dress punk, wear dark makeup and black nail polish, listen to metal or watch anime. Anything not stereotypically black makes us seem like "weirdos" or "outcasts".

As an ALT POC, not only do we face discrimination in our community, but the majority in those spaces (white people) also gatekeep us or test our validity. Alt POC feel like they belong nowhere sometimes. The funny thing is Black people are gatekept out of the very genre they created – ROCK.

I made the song "ROCK 'N' ROLL IS BLACK" in response to all the people who seem to have forgotten the founders of this genre of music – AFRICAN AMERICANS like Ike Turner, Bo Diddley, Sister Rosetta Tharpe, Little Richard, and Chuck Berry. And before you say, 'Ok black people may have made Rock N Roll, but metal is white blah blah – I credit the invention of metal to Jimi Hendrix and Blues.

The point I am making is that, as a black woman, rock music is my culture just as much as hip-hop is. Rock is for me, and I am tired of people telling me I do not belong in this space because of my skin color. This song isn't saying that only black folks can make rock; it's not saying anything hateful towards anyone. It's expressing that this is Black culture, we belong in this space too, and we are the true voices of the unheard and oppressed, so if anyone needs to express themselves the most, it's us.

I was an ALT black kid in middle school – listening to MCR and shopping at Hot Topic. I wore cat ears to school and loved Paramore, but by the time I hit high school, I started to hide my true interest in anime and heavy rock because I was bullied so badly. I was called a freak and no one liked me. I was in Black/Hispanic neighborhoods and it wasn't accepted or cool. I want to help open the door for POC alt kids to be themselves and know this is for them too."
CINNAMON BABE is an LA-based nu-metal outfit led by model, actress, and outright hustler Stormi Maya. The Bronx native, who grew up on bands like The Cranberries and would later find inspiration from the rebellious voice of acts like Rage Against The Machine and Linkin Park, has come a long way to make this dream a reality. As a black woman, an ally of BIPOC and the LGBTQ+ community, and most of all, a survivor, Cinnamon Babe is Maya's vehicle to tell her truth.
Stormi has dealt with struggles and stereotypes her entire life. As a young girl, she survived domestic abuse, homelessness, the foster system, and mental health issues. To the world that knows her as a successful model and upcoming actress, those stories remain a mystery. But Cinnamon Babe is an entirely different venture for the tireless worker who built a better life on the other side of her tumultuous past – it's an honest expression of the demons and inner strength that came from it.
Watch the video for the second single "Messiah"
Watch the video for the first single "Pure O"