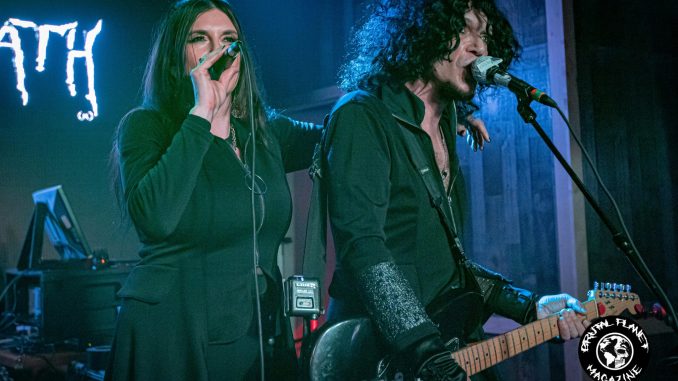 Christian Death brought old school goth metal back to Salt Lake City as they descended upon Liquid Joes on Tuesday May 10, 2022. The opener, "Bass Metal" up-starts Luna 13, look to further diversify metal's sound bringing something more experimental to the stage. The two bands had the cards stacked against them playing in a place like Salt Lake City on a Tuesday night but in the end, they converted some new fans and pleased the faithful, playing to a highly appreciative crowd.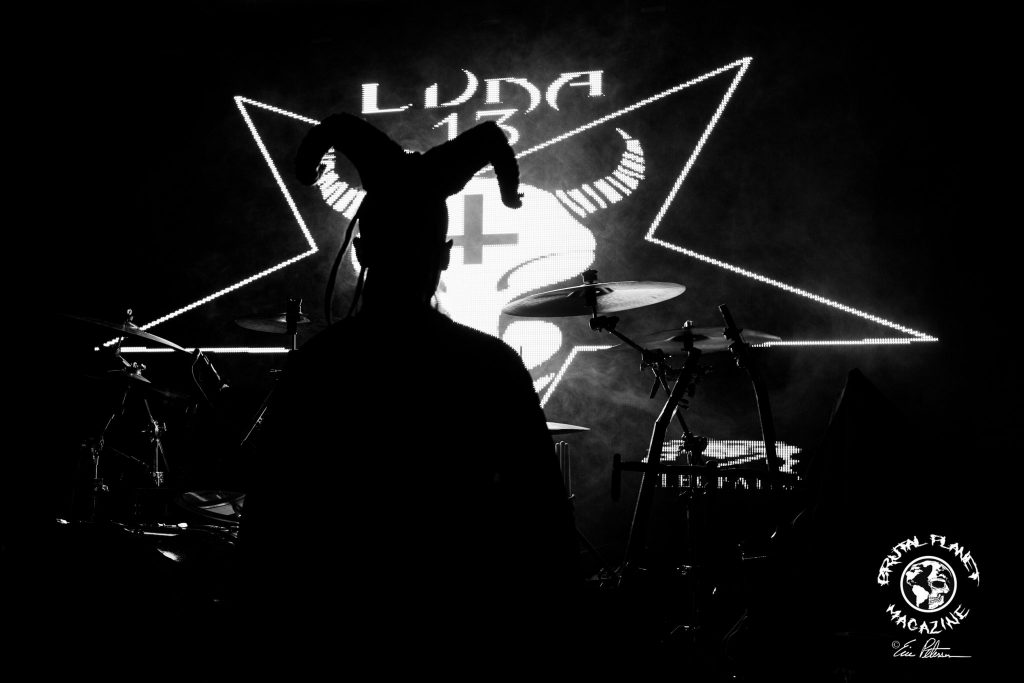 The evening started off with "Bass Metal up your ass" provided by Luna 13. This two piece is fronted by Lilith Bathory, who's petite stature was nothing but a formality as she hypnotized and then possessed the willing crowd. The man behind the beat box is none other than Doc Luna. A one man machine who pounds the bass to new unheard of levels in the metal world. Their set started with Lilith levitating around on stage, her cape following her every command as she growled out the lyrics to "Dig" from Luna 13's latest album Gorgo. The set continued with "Til There's Nothing Left" and Doc's beats grew progressively heavier while Lilith's vocals and on stage performance grew darker. "Leviathan" was the only deviation in the set from Gorgo, this track comes from 2019's Wicked Gods. The band continued the heavy degeneration into darkness and Lilith began to shed layers of her clothing. During "Unborn" she revealed an inanimate fetus and the first summon of blood. "Hear My Call" continued the heavy beats and played to the bands industrial origins. By the time the last two songs were being played Lilith was dressed only in a leather bikini type bottom with pasties covering her nipples. "Upside Down" and "Her Infernal Majesty" brought the crowd to their knees and Lilith splashed herself with blood from a skull, washing it all over her body. She dropped to her knees as the blood ran over her and Doc continued to pound out beats hypnotizing the crowd. Finally, the set came to an end, Lilith was covered in blood and the crowd was fascinated and mesmerized by what they had just witnessed.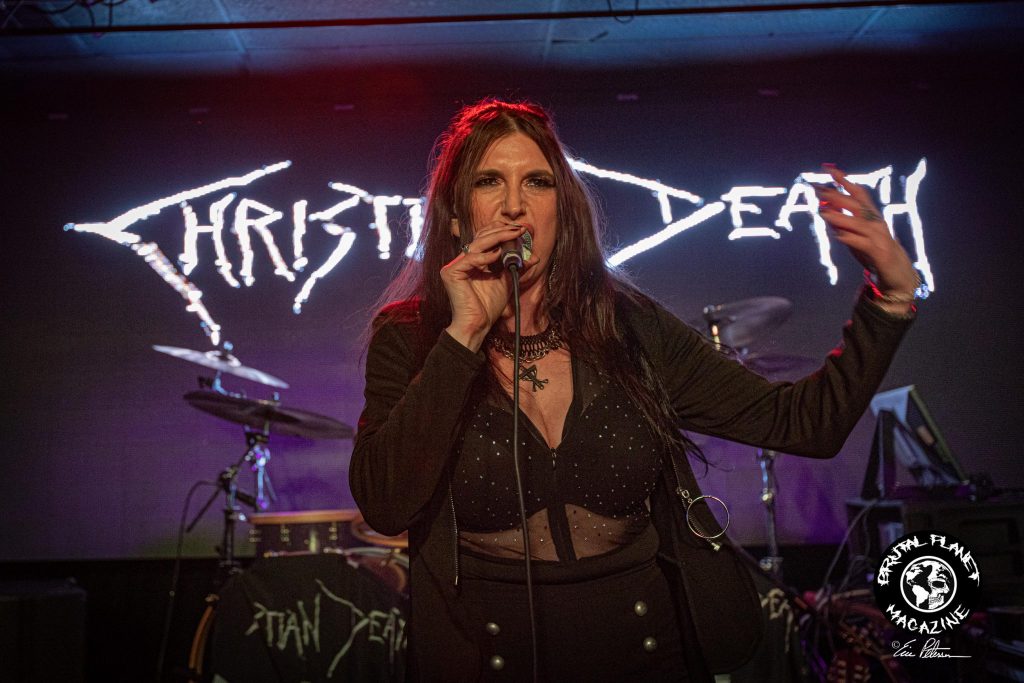 The short break allowed the crowd to regain composure and soon Christian Death came on stage.  When the band arrived it was under a light cloud of fog adding a certain ambience to their entrance.  First drummer Pao then bassist and singer Maitri. Finally Valor Kand made his appearance on stage and instantly commanded the utmost attention without ever saying a word. His suave stature and romantically evil voice was all it took to draw everyone's eyes to the stage. The set started with "The Alpha and The Omega" from their latest album Evil Becomes Rule. During the first half of their set they played the album in its entirety. Some of the highlights included but were not limited to "Blood Moon" and one of my favorites "Beautiful." Vocal duties were shared by Valor and Maitri. On songs that Maitri sang vocals, guitarist Chuck Lenihan would move to bass. This allowed Maitri, dressed in all black to sway and mesmerize the crowd with her beautiful vocals. When Valor sang, Chuck would seamlessly transition back to guitar duties. Midway through the setlist the band drifted back to the early days of Christian Death and played classic songs like "Angels and Drugs" from 2007's American Inquisition.  "She Never Woke Up" and "Sick of Love" were two songs that were a very gratifying treat to hear live.  The set finally ended with the one of the most iconic hits from the band – "Heresy" from 1988's Sex and Drugs and Jesus Christ.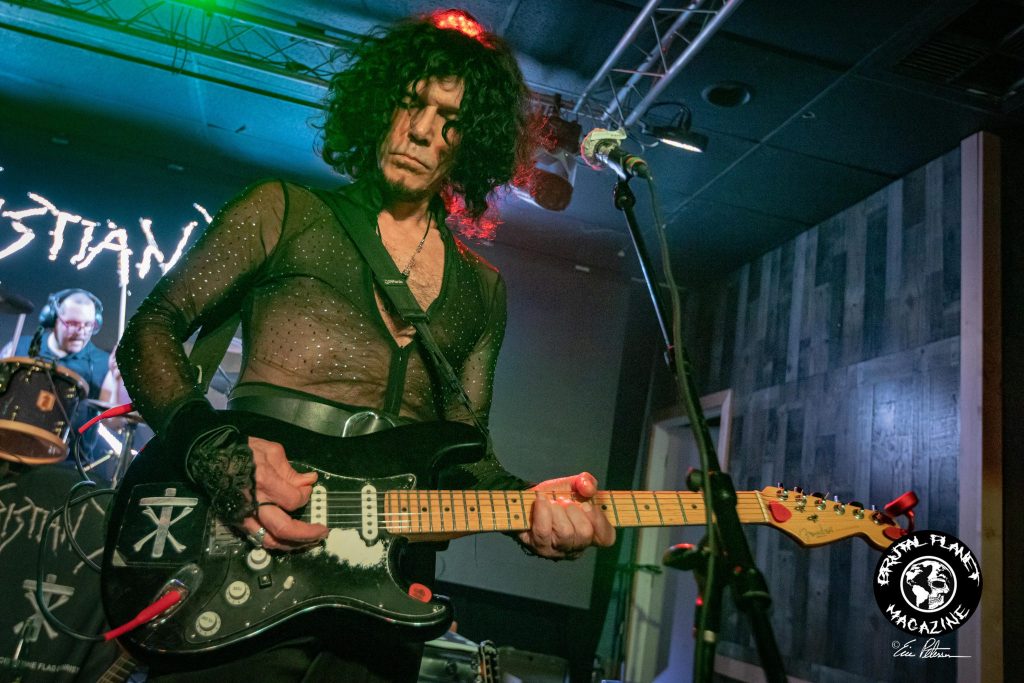 Christian Death is an incredibly influential band who's influences can be heard in music of all types and is not just limited to their goth roots. Seeing them live and hearing some of their current hits along with their timeless classics reinforced the legacy of the band's music that transcends incarnation.
Be sure to check out Christian Death and Luna 13 as they continue their tour. The show's combination of in your face brutality and sinister seduction will leave you craving more.