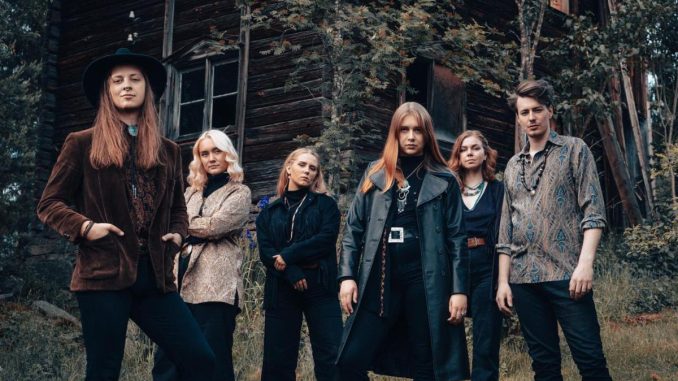 Sophomore Album, 'Roots', Out March 18th!
Sweden's Woodstock-rockers Children of the Sün have released a new single, titled "Leaves". A true manifestation of the six-member group's musical flair, "Leaves" moves from heavy sections characterized by 70s blues-rock riffs, through calmer parts oozing with psychedelia, and into immense choruses with strong, melodic vocals.
Children of the Sün on "Leaves":
"Leaves is about feeling stuck in unstable love that comes and goes as it pleases. It has come to the point where you have to let go to save yourself. The falling autumn leaves are a symbol for volatility."
"Leaves" is the third and final single leading up to Children of the Sün's sophomore studio album, 'Roots', which will be released on March 18th, 2022 via The Sign Records. in CD, LP, and digital formats.
Children of the Sün – "Leaves" (Official Audio)
Children of the Sün Bio:
Inspired by Janis Joplin, Rival Sons, and the free lovin' spirit of 1969's legendary Woodstock Festival, Children of the Sün embody both the carefree and reflective sides of classic rock music. Following their 2018 success in the Swedish music competition Livekarusellen, the band released a self-titled EP and later came under the wing of The Sign Records, joining acts such as Hällas, MaidaVale, Skraeckoedlan, and The Hawkins. In 2019 the band released their first full-length album Flowers which was received with great love from the audience and the vinyl sold out just a few months after the release.
The song "Her Game" from their debut album got chosen by the Swedish nationwide newspaper Aftonbladet on their list of best rock songs of 2019.
Since then the band has played on festivals and stages around Sweden including Arvika Hamnfest, Festival Of The Midnight Sun, Putte i Parken, The Sign fest and hosted their own show in a barn out in the woods together with drummer Björn Fryklund (Freak Kitchen) Earlier this year they supported Trummor & Orgel on their tour.
Children of the Sün look forward to releasing their next album, 'Roots', via The Sign Records on March 18th, 2022.
Children of the Sün is:
Josefina Berglund Ekholm – Lead Vocals
Ottilia Berglund Ekholm – Choir
Wilma Ås – Choir, Keys
Jacob Hellenrud – Guitar
Ida Wahl – Bass
Johan Lööf – Drums
Connect Children of the Sün: