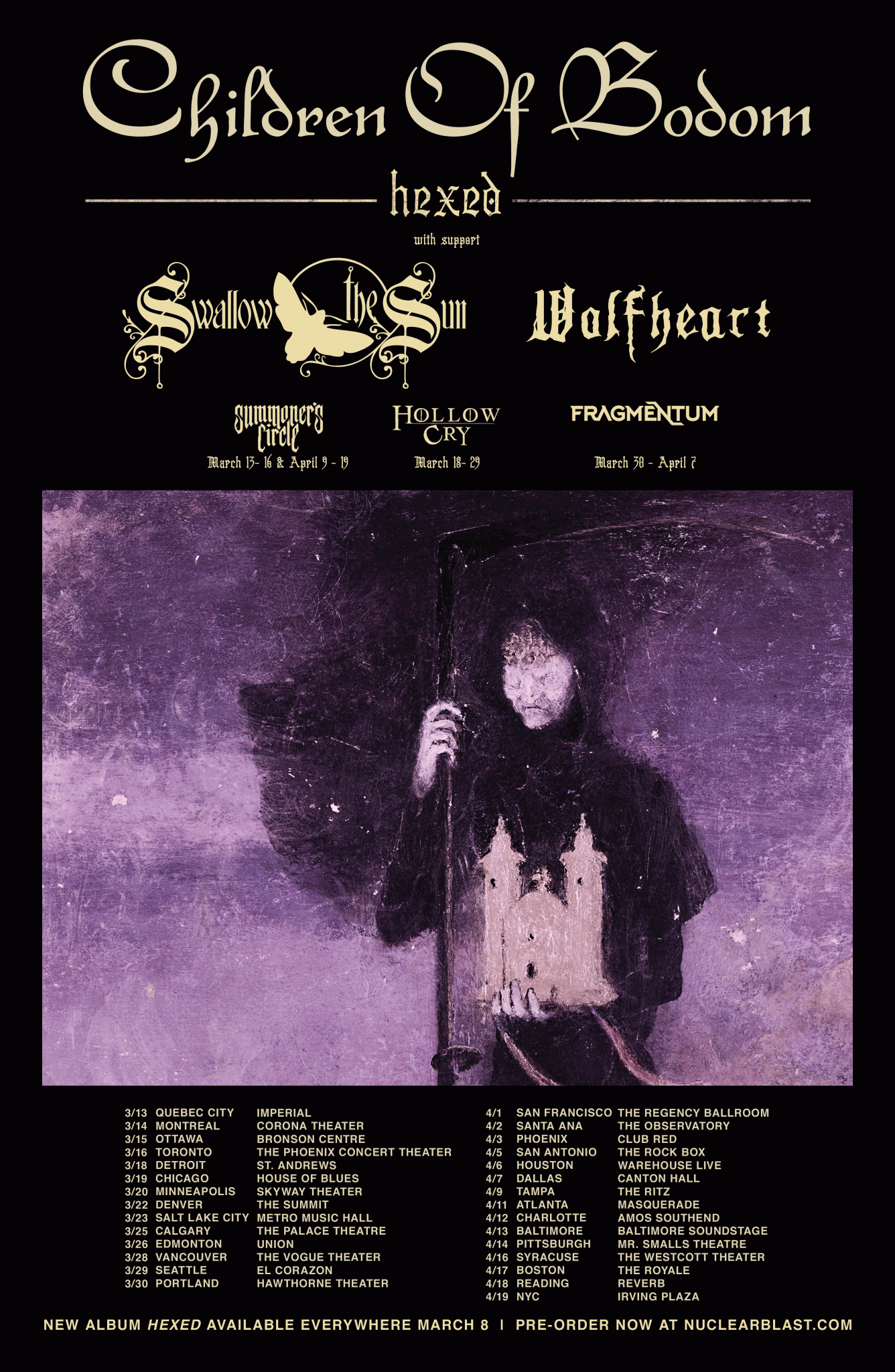 Finland's melodic death superstars CHILDREN OF BODOM

will release their tenth album,

Hexed,

on March 8, 2019 via

Nuclear Blast Records.

Today, Alexi discusses the recording and mixing of Hexed. Watch the fifth trailer here: https://youtu.be/B44iKDPs6N4

Recently the band released the second single, "This Road". Check out the lyric video here:  https://youtu.be/qIsbxH7k4Sc

COB frontman guitarist and mastermind Alexi Laiho comments ""'This Road' was actually the last song I wrote but it ended up being the opening track and salso one of the singles which makes me happy 'cause it's one of my faves. It's different from anything we've done since Follow the Reaper but it's still new. Check it out and you'll know what i mean.""

Watch the music video for the bands first single, "Under Grass And Clover", here: https://youtu.be/1gpfzCxiQ-A

Hexed is available for purchase in the following formats:
CD Digipak
Pink w/ Black splatter vinyl – Limited to 300
CD Digipak + T-Shirt + Poster
Pre-order your copy of Hexed here: http://nuclearblast.com/cob-hexed
In less than a month, the band will head out on  their H
exed 2019 North American Tou
r. The trek will kick off in Quebec City on March 13 and conclude in New York City on April 19th. Supporting the band are
Finnish death-doom melody-makers
SWALLOW THE SUN
and
Finnish epic melodic Death Metal quartet
WOLFHEART
as well as
SUMMONER'S CIRCLE
(March 13-16 & April 9-19),
HOLLOW CRY
(March 18-29) and
FRAGMENTUM
(March 30  April 7) who are opening select shows.

COB frontman, guitarist, and mastermind Alexi Laiho comments, "Hello North America! Just wanna say and e,mpathize the word "finally" … fuckin' finally we'll be back on the road – like old school style and over the pond too!! We'll be in your town just as you're getting your hands on the new record. Even if you do not have it, don't worry cause we're gonna rotate the setlist to include old tracks that will blow your mind back to hell so it's gonna be a good fuckin' party ladies and gentlemen. Hoping to see you there!!"

CHILDREN OF BODOM will be touring in support of their upcoming album, Hexed,which will be released on March 8th! For the record, the band returned to Finland's Danger Johnny Studios where they were reunited with Mikko Karmila (I Worship Chaos, Halo Of Blood, Hatebreeder, Follow the Reaper & Hate Crew Deathroll) who recorded everything except keyboards and also produced the album with the band. Janne Wirman recorded keyboards at Beyond Abilities Studios. The album was mixed and mastered at Finnvox Studios in Helsinki, Finland.

Ticket are now available for purchase.

The Hexed 2019 North American Tour offers fans the opportunity to purchase 2 unique VIP packages. Details for the 2 VIP packages can be seen below:

Gold Hexed VIP Package
1 General Admission Ticket
Group Photo with CHILDREN OF BODOM
Meet & Great with CHILDREN OF BODOM
Exclusive Silk Screen Poster
Exclusive Wall Flag
Exclusive COB Bonus Studio Footage USB Drive
Laminate with Lanyard
Platinum Hexed VIP Package
*Only 4 per market*
1 General Admission Ticket
Premium Viewing Area For CHILDREN OF BODOM

Personalized Video From A COB Band Member

Group Photo with CHILDREN OF BODOM
Meet & Greet with CHILDREN OF BODOM
Exclusive Silk Screen Poster
Exclusive Wall Flag
Exclusive COB Bonus Studio Footage USB Drive
Laminate with Lanyard
Early Entry
Purchase the VIP package of your choice starting at  http://COB.soundrink.com.
Confirmed dates for the Hexed 2019 North American tour with SWALLOW THE SUN, WOLFHEART, SUMMONER'S CIRCLE, HOLLOW CRY, and FRAGMENTUM are:
3/13/2019   Imperial – Quebec City, QC*
3/14/2019  Corona Theater – Montreal, QC*
3/15/2019  Bronson Centre – Ottawa, ON *
3/16/2019  The Phoenix Concert Theater – Toronto, ON*
3/18/2019  St. Andrews – Detroit, MI**
3/19/2019  House of Blues – Chicago, IL**
3/20//2019  Skyway Theater – Minneapolis, MN**
3/22//2019  The Summit – Denver, CO **
3/23//2019  Metro Music Hall – Salt Lake City, UT**
3/25//2019  The Palace Theatre – Calgary, AB**
3/26//2019  Union –  Edmonton, AB**
3/27//2019  The Vogue Theater – Vancouver, BC**
3/29//2019  El Corazon – Seattle, WA**
3/30//2019  Hawthorne Theater – Portland, OR ***
4/01//2019  The Regency Ballroom – San Francisco, CA***
4/02//2019  The Observatory – Santa Ana, CA ***
4/03//2019  Club Red – Phoenix, AZ***
4/05//2019  The Rock Box – San Antonio, TX ***
4/06//2019  Warehouse Live – Houston, TX ***
4/07//2019  Canton Hall – Dallas, TX ***
4/09//2019  The Ritz – Tampa, FL *
4/11//2019  Masquerade – Atlanta, GA *
4/12//2019  The Underground – Charlotte, NC *
4/13//2019  Baltimore Soundstage – Baltimore, MD*
4/14//2019  Mr Smalls Theatre – Pittsburgh, PA*
4/16//2019  Westcott Theater – Syracuse, NY*
4/17//2019  The Royale – Boston, MA*
4/18//2019  Reverb – Reading, PA  *
4/19//2019  Irving Plaza – New York, NY *

* SUMMONER'S CIRCLE, opening  (March 13-16 & April 9-19)
** HOLLOW CRY opening (March 18-29)
*** FRAGMENTUM opening (March 30  April 7)

For this album, the band enlisted Deins Forkas to create the album artwork. Bassist Henkka Blacksmith commented on the cover, "For some years already I have wanted to try a different approach with our cover art.  We are so used to digital art so that is really hard to do something else. Doing it all the way with computer is somewhat safe and convenient. This time we all agreed to try it old school.  We found this cool dude and gave him simple instructions.  The cover has to be purple and the reaper has to be central. Half a year later we got his work, and with little tweaking, we have the cover of Hexed.  It is very different from what we are used to, even the Reaper looks different, but at the same time very spooky. "

Below is the track listing for Hexed
1. This Road
2. Under Grass and Clover
3. Glass Houses
4. Hecate's Nightmare
5. Kick in the Spleen
6. Platitudes and Barren Words
7. Hexed
8. Relapse (The Nature of My Crime)
9. Say Never Look Back
10. Soon Departed
11. Knuckleduster
12. I Worship Chaos (live)
13. Morrigan (live)
14. Knuckleduster (remix)

Stay tuned for more information about the album as well as announcements about  their European trek in the summer!
ABOUT CHILDREN OF BODOM
Fully 20+ years into the tough, heroic grind that represents the lifeblood of extreme musicians – Finnish metal scientists CHILDREN OF BODOM have certainly won over crowds globally through a crafted alloy that is theirs alone. But the building of their esteemed career has also been aided and abetted by the simple maths of all that hard work and the intense touring. Their shows are widely acknowledged for being engaging, personable and energetic thrash parties – which inevitably end up indelibly stamped on the circuit boards of headbangers worldwide.

CHILDREN OF BODOM have incorporated many different musical styles into their celebrated sound, leading critics and fans to label them as melodic death metal, thrash metal, symphonic black metal, and neoclassical metal. Their enthralling mix of melodic hooks and instrumental acrobatics have solidified the band as one of the leading voices of music's new generation.
Visit CHILDREN OF BODOM at