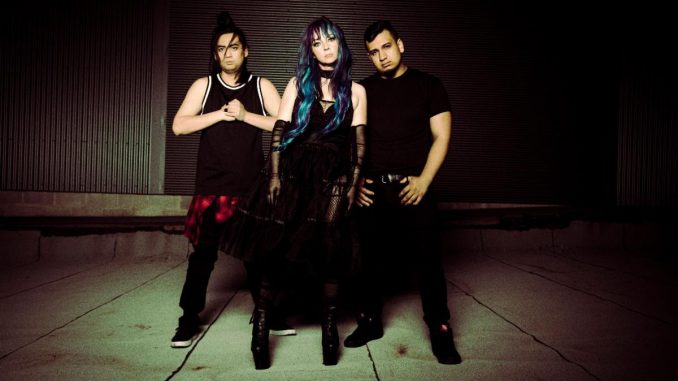 Scheduled for Release January 21st
Pre-Orders Start Today
Photo: Joseph Davis Castleberry
"We will not be silent and we will not back down. We are the remnant."
"The definition of remnant is a small remaining quantity of something, especially after a tragedy. 'Remnant' is about us being blessed beyond measure despite our failures and weaknesses and despite going through tragedy and hardships. It's about perseverance and saying to the world even when we are brokenhearted and suffering we won't give up and we will keep going," vocalist Jennifer Benson says. "We will come up stronger despite adversity. It's an encouragement to others to do the same and to not lose hope and to not give in to fear. I hope this song makes people feel inspired and to rock out!"
"As a band we want to be honest that we struggle with anxiety and depression at times and want to encourage others that they are not alone. It's been a hard couple years for everyone. The bass player, Ian, worked with Covid patients at the hospital and seeing that was hard and seeing what my family went through was hard but we want people to know that that they are not alone and that they are loved."
The full EP, Ascension, drops March 4th and will be celebrated with a live performance at The Forge in Joliet, IL with Otep on the same date. The EP will include a new song, "Anymore", mixed and edited by Nick Radovanovic, who has worked with Skillet.
Female fronted and from Chicago, Illinois, IGNESCENT is a Billboard-charting rock band founded by Jennifer Benson. Since 2008, the band has been primarily touring throughout the Midwest and Nashville area. IGNESCENT headlined the Budweiser Boneyard Stage last year at Rock Fest in Cadott, Wisconsin. IGNESCENT have opened for Stryper, Flyleaf, Eve 6, Megadeth, Saliva, Lacey Sturm, Otep, Another Lost Year, Art of Dying, Letters From The Fire, Like a Storm and has played at fests with Switchfoot, Colton Dixon, Memphis May Fire, The Devil Wears Prada, Veridia, Building 429, Chris Tomlin, and TobyMac. The band has co-written songs with Jeremy Valentyne of New Years Day, including their last release "Exodus," which he also produced and performed on.
IGNESCENT's music is a great mixture of rock and pop with a great message. Their music has a rock/alternative edge that sounds right at home with most Top 40 formats. IGNESCENT combines their musical backgrounds to form a harmony that is both addictively musical and inspiring.
IGNESCENT is more than just a rock band, they are real people with a combination of great stories, combined with moving guitars riffs and a driving beat create a sound fans connect to. Their influences include Flyleaf, Evanescence, and Jinjer. "We're authentic people that just want to encourage others with our message", shares Jennifer Benson.
IGNESCENT's first CD, Electrified, was produced by four-time Dove Award winning & Grammy nominated producer Travis Wyrick (10 Years, P.O.D.) and recorded at Lakeside Studios in Knoxville, Tennessee. The first song on the CD, "Calling Out to You", was co-written with former lead guitarist of Skillet, Ben Kasica, and hit the top 30 on Billboard's "Hot Christian Songs Charts". IGNESCENT's second CD was produced by Eric LaBrosse of Cherry Pit Studios. IGNESCENT also recently co-wrote a song with Sameer Bhattacharya of Flyleaf. IGNESCENT has already been booked at Rock Fest in Cadott, WI summer of 2022 and will be appearing with special guest Sameer Bhattacharya.
IGNESCENT is:
Jennifer Benson on lead vocals
Ian Sebastian on bass guitar
Joshua Garcia on guitar
Tyree Newell on drums