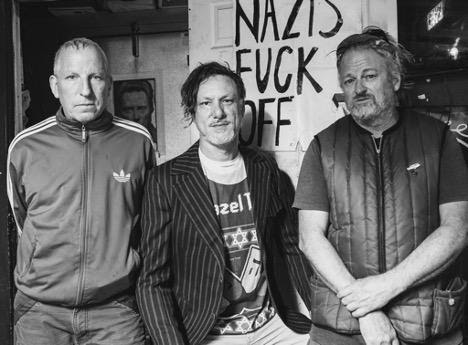 'Icing' (30th Anniversary +1 Edition)
+ Catalog Reissues 'Heroin Man' + '2 Ynfynty'
Out August 4th via Brutal Panda
Pre-Order CD/LP/CS/Digital HERE
Listen to "Sugary" (Remixed + Remastered) HERE
Summer Tour Dates Start July 14th in Austin!
"The noisiest pop music on the planet" – Pitchfork
Austin, TX's cult noise rock legends CHERUBS announce a series of catalog reissues coming this August via Brutal Panda Records.
The band's comeback opus '2 Ynfynty' (2014) will see its first reissue since its release almost a decade ago while the all-time noise rock classic, 'Heroin Man' (1994) will be reissued in its original format, after seeing a super limited, deluxe reissue via the legendary Amphetamine Reptile in 2017. The focal point is a fully remastered and remixed edition of CHERUBS debut album, 'Icing' (1992), complete with shiny new artwork by vocalist Kevin Whitley and available for the first time in over 30 years.
Hear a remastered & remixed version of "Sugary", the lead song on 'Icing', HERE
All three albums will be reissued on CD/LP/CS/Digital on August 18th via Brutal Panda. PRE-ORDERS AVAILABLE HERE
Additionally, CHERUBS return to the road this July with Whores followed by a series of East Coast headlining dates. A complete listing is available below.
'Icing' (30th Anniversary Edition) Track List:
1. Sugary
2. All Chickened Out
3. Half a Rat
4. Come
5. Ginger Upper
6. Fed
7. Shoofly
8. Pink Party Dessert
9. Vicki's Retreat
10. Kick Me
About 'Icing':
Initially released via Butthole Surfers drummer, King Coffey's, label Trance Syndicate, 'Icing' captures the band at their most primitive form while hinting at the melodic intricacies they would develop over the years. The album was originally recorded and produced by Mr. Colson (L7, Dwarves, Linkin Park) and has been completely remastered and remixed from the original source tapes by Eric Wofford (Explosions in the Sky, Young Widows, The Black Angels).
While still very much a "noise rock" album, 'Icing' brings together influences from Seattle's first wave of late 80's grunge alongside the influential "noise" scene happening in Austin throughout the 90's. The album's single, "All Chickened Out", even received some airplay on BBC Radio 1 by John Peel…a sure sign of the prestige such ugly, aggressive and deconstructed "music" would receive over the coming decades.
This is where it all started for CHERUBS and somehow it's still happening over three decades later.
CHERUBS Tour Dates:
North America East Coast
July 14 Austin, TX @ Lost Well (w/ Whores)
July 15 Denton, TX @ Rubber Gloves (w/ Whores)
July 16 Houston, TX @ Black Magic Social Club (w/ Whores)
July 17 New Orleans, LA @ Gasa Gasa (w/ Whores)
July 18 Atlanta, GA @ Boggs Social & Supply (w/ Whores)
July 19 Charlotte, NC @ Snug Harbor
July 20 Washington, DC @ The Runaway
July 21 Baltimore, MD @ The Crown
July 22 Philadelphia, PA @ Kung Fu Necktie
July 23 Ridgewood, NY @ TV Eye
July 25 Cambridge, MA @ Middle East/Upstairs
July 26 Montreal, QC @ Bar Le Ritz PDB
July 27 Toronto, ON @ The Baby G
July 28 Pittsburgh, PA @ Mr. Smalls Funhouse
July 30 Cleveland, OH @ No Class
Tickets are available HERE
About CHERUBS:

Rightfully hailed as "the noisiest pop music on the planet" by Pitchfork, Austin, TX's cult noise rock trio CHERUBS have been purveyors of sonic bedlam since their inception in 1991.

After an unforeseen return to the scene from a two-decade hiatus in 2014 with their album '2 Ynfynty' (Brutal Panda), CHERUBS later joined forces with the equally revered Relapse Records for the release of their fifth long-player, 'Immaculada High', in 2019.

One EP and one pandemic later, CHERUBS continue to loudly proclaim their title as bonafide noise rock legends with the unique ability to forge transgressive yet remarkably accessible punk for a jaded world.
CHERUBS are:

Kevin Whitley – Guitar, Vocals

Pete Shore – Bass

Brent Prager – Drums