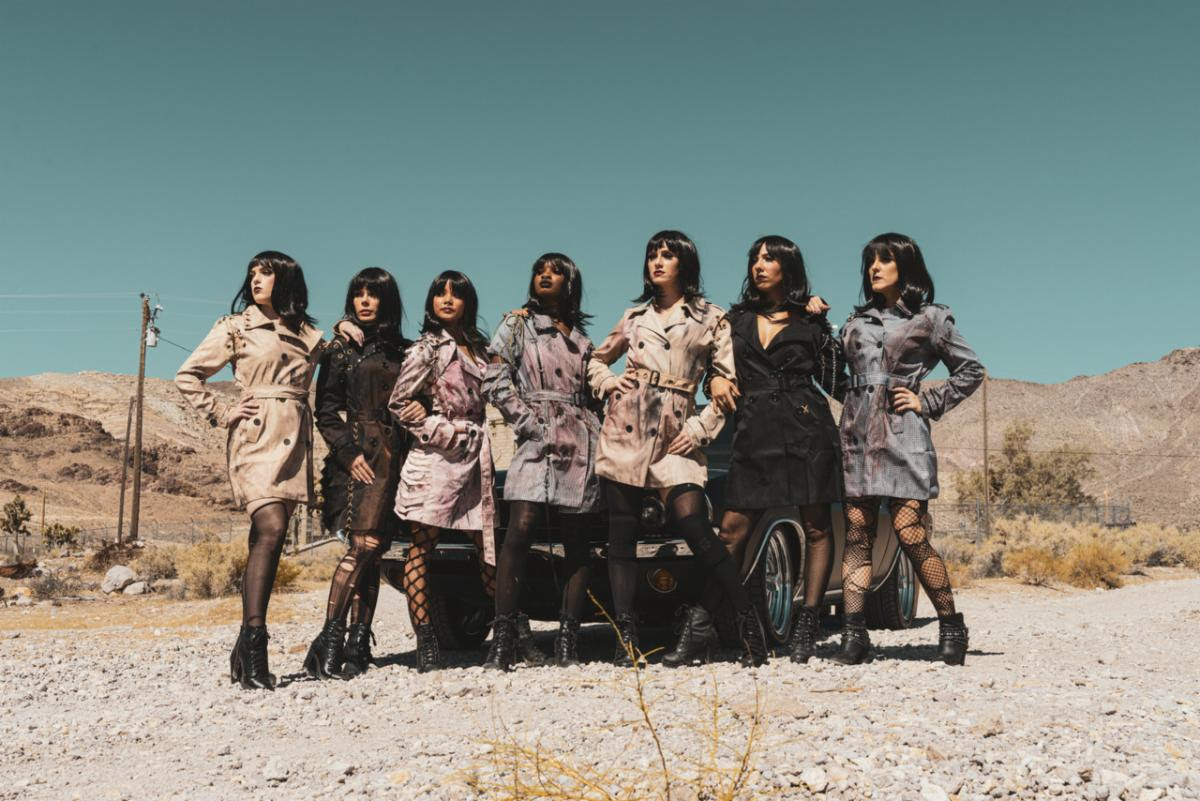 CHERRY BOMBS Announce
"Macabarét"
Show Dates January 1-3, 2021
Debut Virtual Show from Las Vegas-Based
Dance/Cirque Rock 'n' Roll Collective
Monday, November 2, 2020 – Las Vegas-based rock n' roll girl gang, CHERRY BOMBS are set to bring their incendiary dance & cirque performance art to a virtual theater for the very first time in January 2021. The high-octane collective have unveiled details of their debut streaming extravaganza, Macabarét, with viewers able to select from three show dates (1st, 2nd & 3rd January 2021) and two start times per day (12pm & 6pm Pacific, 3pm & 9pm Eastern, 8pm & 2am GMT, 9pm & 3am CET). Shows broadcast 'as live', with no post-event playback. Tickets are available now for purchase
here
.
Macabarét follows the story of a man tangled in a delicious web of torment and retribution. When he finds himself stranded in the middle of the desert, he makes his way to an unassuming saloon, hoping for help, but what he finds is a taste of his own medicine. Visually stunning and sonically intense, Macabarét is the next step in the evolution of the CHERRY BOMBS' already high-octane show, combining dance, fire and aerial skill sets within a storyline about what happens to someone who runs out of luck… at the White Dog Saloon. Check out the trailer for Macabarét
here
or by clicking the image below.
Tickets are on sale now, priced at an early bird rate of $15 each until November 27 by clicking
here
or by heading over to
whitedogsaloon.com
. Thereafter, tickets increase in price to $20 and ticketing ends at 12 Noon PST on December 31. Merch & ticket bundles are also available, including exclusive Macabarét merch, the 2021 CHERRY BOMBS official calendar, a directors cut of the virtual show and VIP virtual Meet & Greet options.
Alicia Taylor, CHERRY BOMBS' founder, creative lead and artistic director, says:
"Macabarét is the next step in the evolution of CHERRY BOMBS. Traditionally, we presented our shows in variety-style, but this time, I wanted to do something completely different. I spent months writing a fun and entertaining storyline for this new production, loosely based on folklore surrounding the goddess Pele and what happens to those who cross her, something I learned while living in Hawaii. CHERRY BOMBS will bring all the familiar daredevil elements that our fans expect and love, along with a few new surprises. There is intention behind every detail: every movement, piece of wardrobe, music choice, and character. Having to cancel our tour due to COVID seemingly ruined our chances of debuting this show to our fans. However, a light in this storm has emerged as an opportunity to bring this show globally, and in a distinctive and artistic cinematic style. If you're a fan of rock and metal music, you will enjoy experiencing some of your favorite songs in an entirely new way."
Who are the CHERRY BOMBS? If you're unfamiliar, check out Episode 1 of Girl Gang at the link below.
Also in the works is Girl Gang Season 3 – which will document the 'behind the scenes' story of the Macabarét endeavor, as Alicia pushes on with creating the Las Vegas group and building the new show in its entirety from the ground up, via choreography, fire and aerial skills to wardrobe, the video and photo campaign, rehearsals… all navigated through the restrictions of COVID and myriad hurdles along the way. Expect to see Girl Gang Season 3 premiere in early 2021.