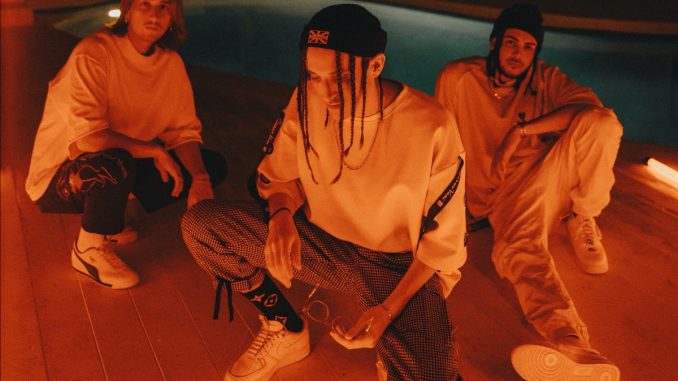 LIVESTREAM SET FOR SATURDAY, FEBRUARY 20

FEARLESS RECORDS DEBUT BEAUTY IN DEATH OUT MARCH 5
Boundary-blurring trio CHASE ATLANTIC, who represent the missing link between woozy trap, nocturnal R&B, and psychedelic alternative through creative sonic experimentation, has shared the lyric video for their new single "EMPTY." Watch and listen here.
The band's Fearless Records debut BEAUTY IN DEATH is out March 5. Pre-order it here and here.
Chase Atlantic previously shared "OUT THE ROOF" and "MOLLY."
The band's livestream is set for Saturday, February 20 at 12pm PST/3pm EST.
During this exclusive event, Chase Atlantic will be performing some of their biggest hits, as well as the first-ever performances of new material.
Go here for details.
Since forming, Chase Atlantic have amassed over 200 million streams and received acclaim from Billboard, OnesToWatch, mxdwn, PopCrush, Alternative Press, Substream Magazine, and Rock Sound, of which they graced the cover. The Australia-born and Los Angeles-based trio — Mitchel Cave, Clinton Cave, and Christian Anthony — boldly pushes forward again on their forthcoming debut for the label.
A prolific creative journey brought Chase Atlantic to this point. The band unleashed a string of EPs — Dalliance [2014], Nostalgia [2015], and Paradise [2017] — before their self-titled, full-length debut, Chase Atlantic. They put up serious numbers on the likes of "Friends" [55.9 million Spotify streams], "Swim" [41.8 million Spotify streams], "Into It" [37.3 million Spotify streams], and "Okay" [21.7 million Spotify streams], to name a few. In 2019, their sophomore album, PHASES, attracted widespread praise. OnesToWatch predicted "while we would say the sky is the limit for Chase Atlantic with a showing this strong, chances are they would just break out of the stratosphere in the year to come."
Along the way, they canvased multiple continents, headlined across the US, UK, and Europe, and sold out venues such as Webster Hall in New York, Kentish Town Forum in the UK, and The Regent Theater in Los Angeles, in addition to gracing the stages of high-profile festivals such as Bonnaroo, Lollapalooza, and Reading and Leeds.