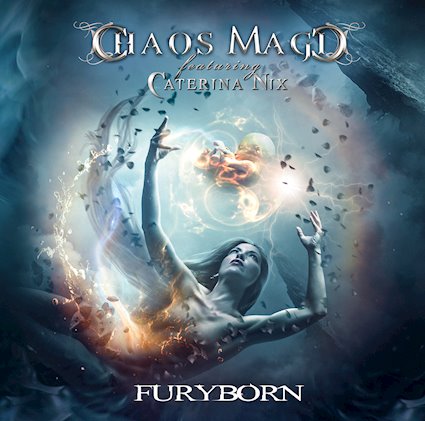 There is no better high than discovery. – E. O. Wilson (Brainyquote)
Symphonic Metal.
I'm sorry. What?
If that is the phrase that comes to mind when your brain tries to put symphonic melodies and metal music in the same album, never fear. I have the perfect answer to the question.
Frontiers Music s.r.l. is releasing Furyborn by Chaos Magic on June 14, 2019. The collaborative work from Chilean producer, singer and musician Nasson and fellow Chilean, vocalist Caterina Nix more than shows that not only can 'symphonic" and "metal' co-exist – they can rock.
Opening track "You Will Breathe Again" isn't something you'd expect on an album that promises metal music. The guitar comes in hard, but Caterina Nix makes good on the melodic metal part. Her voice comes in soft, but builds with the song and before you know it you're singing along with the chorus in your head (or maybe outloud…).
WTH moments…
Title song, "Furyborn" featuring Evergrey's Tom Englund, reminds us this is a melodic metal album with heavy guitar and a strong rock beat. Englund and Nix are hard from the start trading off vocals like they've been singing together for years. The spooky piano right in the middle has you looking over your shoulder in a 'WTH' moment, but the drums and guitar runs return to bring us back to safe and familiar ground.
Caterina is back in full force with "Like Never Before". The song definitely carries a metal beat and Nix definitely carries the melodic part with ease. This is another one that has your head banging to the beat.
Unexpected styles…
Things slow down…way down…with "Beware of Silent Waters". Nix's voice is featured on this song and what a treat it is. With Mistheria on the keyboards this song has its own sound that's not really metal but fits in on the album with no problem.
Futuristic sounds and percussion open "Falling Again", which brings in both Nix and Nasson on vocals. The track has a good rhythm and Nasson's guitar is just as good as his voice in this one.
Ailyn Giminez (formerly of Sirenia) joins Caterina for "Bravely Beautiful", another song that really doesn't have the metal vocals. However, the blending of symphonic and metal styles make it simply one more part of the overall picture the album paints.
We've got another break with "I'd Give It All'. The song is acoustic in style, with a single guitar and orchestral backup. I have to say, I love it when hard rock and metal bands bring in orchestral instruments and while the rest of the metal in the album is great, this was easily my favorite song.
Just when Caterina has you all relaxed, the drums and guitar wake you back up with "Path of the Brave" featuring Ronnie Romero (Rainbow and CoreLeoni). This is perhaps Caterina's 'hardest' sounding song and she does a really good job with it. It is the song that makes me look forward to hearing what she does next.
Wrapping it up in style…
For fans of the bass guitar, "My Affliction" is your tune. Dark, deep and seductive, the song stands out for its unique style and lyrics within the collection. "I'm Your Cancer" wraps loud, fast and in true symphonic metal style.
This may not be the hard-core metal sound you're used to, but it is truly a hidden gem. Give it a try and discover another flavor of 'metal' that you may not have originally considered, but I'm sure will earn a place on your playlist.