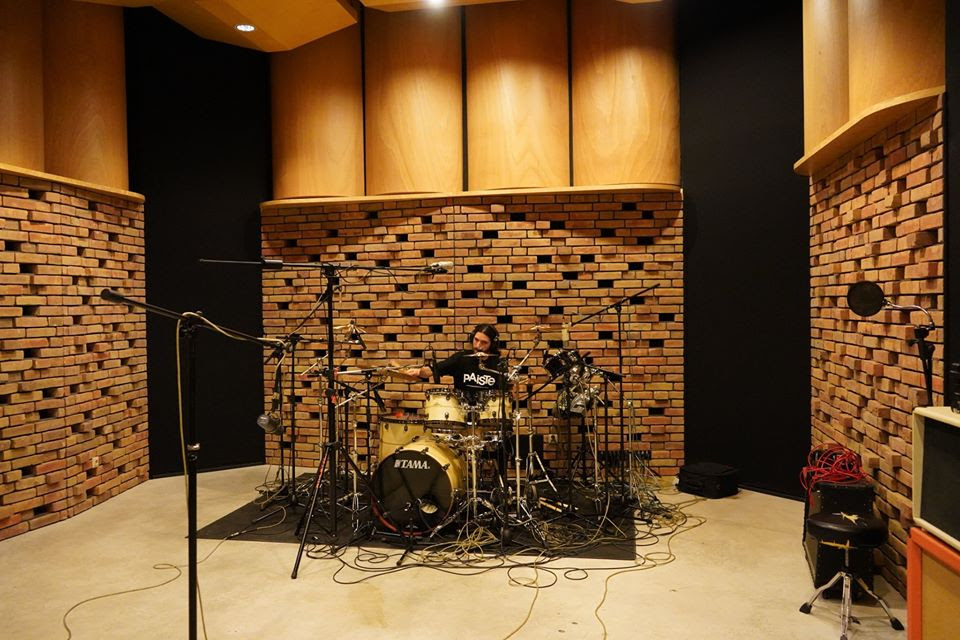 Belgian death metal outfit CARNATION have begun building the foundation of their next massive aural soundscape! The band has entered the Hertz Studio in Białystok, Poland to record their upcoming second full-length, which is tentatively scheduled for a fall release via Season of Mist.

CARNATION comment on the recording: "The first step in recording the second Carnation album has already been completed. Our drummer Vincent Verstrepen has been hard at work to finish recording his drum parts at the Hertz Recording Studio in Bialystok, Poland. The foundation has now been laid… And the remaining instruments and vocals are set to be recorded during the next couple of weeks in our trusty Project Zero Studio. Be prepared for our second offering of unrelenting death metal madness!"

For further updates on the recording process, follow the band on their Facebook and/or Instagram accounts!
CARNATION
's debut record 'Chapel of Abhorrence,' was released in 2018 and can be listened to in full
here
! The cover artwork and album info can be viewed below.
Track-list
1. The Whisperer (6:16)
2. Hellfire (4:17)
3. Chapel of Abhorrence (3:23)
4. The Unconquerable Sun (4:10)
5. Disciples of Bloodlust (3:28)
6. Hatred Unleashed (3:23)
7. Plaguebreeder (3:45)
8. Magnum Chaos (4:41)
9. Sermon of the Dead (4:38)
10. Fathomless Depths (5:38)
11. Power Trip (4:02)
Total playing time: 47:41
Embrace the new death metal overlords with their death metal offering, 'Chapel of Abhorrence'!
CARNATION equals blistering death metal madness from Belgium. Early 2013, guitar player Jonathan Verstrepen created the band to show his appreciation for the old school death metal legends from the '80s & early '90s. Vocalist Simon Duson, bass player Yarne Heylen, guitar player Bert Vervoort, and drummer Vincent Verstrepen were summoned to complete the band, and it didn't take long until the chemistry between this quintet to hit critical mass.
2015 marks the year that the first offering entitled 'Cemetery of the Insane' was released upon the masses. Tracks such as "Explosive Cadavers" or "The Rituals of Flesh" take you back in time to the better days of shredding riffs, neck-breaking drums, and skull-crushing guttural vocals.
The live rituals that followed were executed with stone cold merciless aggression. CARNATION delivered their bloodbath at select festivals across Europe during 2015 and 2016. Their next journey led them to distant Asia for their first tour across mainland Japan. This resulted in the infamous 'Live at Asakusa Deathfest' recording (2017). These releases, combined with their reputation as a notoriously impressive live act, drew the attention of fans worldwide and provided CARNATION with the opportunity to perform at several European festivals and saw the band touring alongside PESTILENCE during their special Brazilian tour in April 2018.
With 'Chapel of Abhorrence', CARNATION welcome you to death's domain and invite you to witness them rise to their throne!
Line-up
Simon Duson: vocals
Jonathan Verstrepen: guitars
Bert Vervoort: guitars
Yarne Heylen: bass
Vincent Verstrepen: drums
Style: Death Metal
Recording: Project Zero Studio (Belgium)
Produced/mixed: Yarne Heylen & Bert Vervoort
Mastering: Dan Swanö – Unisound Studio
Cover art: Juanjo Castellano
Press-Kit: https://presskit.season-of-mist.com/Carnation/
Shop: http://smarturl.it/ChapelofCarnation
Available formats
CD
Vinyl LP in various colours
For more on CARNATION, visit their official WEBSITE, FACEBOOK, INSTAGRAM, and YOUTUBE.